May 21st, 2015
Cheating Is When You Lie To Get What You Want
Arrogance is thinking you're entitled to someone's trust anyway.   This came across my Facebook stream just   now…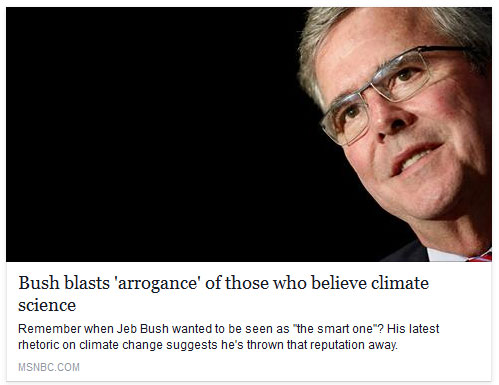 "And for the people to say the science is decided on this is just really arrogant, to be honest with you. It's this intellectual arrogance that now you can't have a conversation about it even."
Never mind that the science regarding global warming is about as solid as it gets, here's the thing about that. Jacob Bronowski in his magnificent book and BBC series on the history of science, The Ascent of Man, devoted an entire episode to the difference between truth and dogma, titled Knowledge or Certainty. He begins with the face of his friend, Stephan Borgrajewicz who, like himself, was born in Poland. And he asks us, how well, how precisely, can we describe this man's face? He asks a painter to render it, and says…
"We are aware the these pictures do not fix the face so much as explore it; that the artist is tracing the detail almost as if by touch; and that each line that is added strengthens picture but never makes it final. We accept that as the method of the artist. But what physics has now done is to show that that is the only method to knowledge. There is no absolute knowledge. And those who claim it, whether they are scientists or dogmatists, open the door to tragedy. All information is imperfect. We have to treat it with humility. That is the human condition; and that is what quantum physics says. I mean that literally."
Science, says Bronowski, "…is a very human form of knowledge. We are always at the brink of the known; we always feel forward for what is to be hoped. Every judgment in science stands on the edge of error and is personal. Science is a tribute to what we can know although we are fallible. "
The arrogance that Bush is accusing those of us to believe the science of isn't about the measured, careful judgements of the evidence of global warming. The arrogance we're being accused of is to even think that science can tell us things about our world, about our universe, that the dogmas of the mob he represents cannot. There are two sides to this argument and it is not over the science, It is an argument about the nature of knowledge. One side believes that knowledge is something that is received. The other, that knowledge is something that is discovered, and which can always be challenged and discarded as new facts emerge. Whether it is religious dogma or political dogma, the practice of science rejects wholly the belief that any knowledge is certain, absolute, and can never be questioned.
That is the arrogance Bush means: that we think we can question for ourselves what the pulpit, the party leadership, the corporate interests tell us is true, and reject it if the evidence does not support it. That is not arrogance though it may seem like it to the authoritarians. It is humility. It is understanding and accepting the human status, that the god's eye view is not ours, not anyone's, not humanity's to have, that every prophet who says thou shalt not question is a false prophet, that our lot in life is we must always ask ourselves what do we know, and how do we know it.
Prove to us that our understanding of global warming is incorrect. And if you can't then tell us what authority you would have us follow, who says the fate of the human race and planet earth is of less importance than our blind obedience.