August 4th, 2014
The Militant Homosexual I Became Was Nurtured By Hollywood's Homosexual
A friend on Facebook turned me onto this…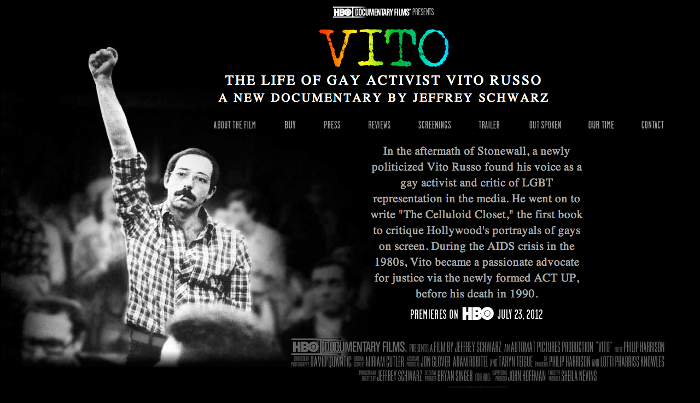 I have both editions of "The Celluloid Closet" published while he was still with us. If any one thing could have been said to have radicalized my attitudes toward gay equality it was this one, even more so than "And The Band Played On".  The book opens with a story about how a gay friend of his was telling another gay friend about a new movie that had a gay character in it, and the other friend immediately asks how the character dies. In a nutshell, that's how it was.
I ordered the DVD of Vito and it came Friday and I had housework to do so it just sat for a while. Last night before bed I watched the first two thirds of it. It filled in a lot of blanks for me because I only knew of Vito Russo from his groundbreaking film history The Celluloid Closet. I didn't know, but I should have guessed, how the activist predated the historian. The part showing him struggling to pull together all the hidden threads of our presence in the movies really brought back home to me that sense of isolation and cultural invisibility I hadn't felt in decades.
Back in the 1970s, that homosexual characters were occasionally included in movies, either for laughs if they were flaming sissies or as the embodiment of unnatural evil, was something probably everyone knew. Russo was the first person to actually gather all the pieces together, all the little walk on toss off parts along with the major roles, all the sissies, all the evil psychos, all the tragically dammed, and look at all critically.  And the book he produced hit gay people everywhere who read it like a ton of bricks, because you knew the scapegoating and stereotyping weren't just how your heterosexual neighbors were taught to look at you, but also how you were taught to see yourself.  Heterosexuals could dream of the happily ever after, could see that dream on the silver screen, could picture themselves there, having that life, or something like it.  Hollywood flushed our dreams into the sewer from the moment we first walked into a movie house.  We weren't lovers, we were sissies, we were dangerous sexual psychopaths, we were the butt of dirty jokes, we were the personification of unnatural evil, we were pathetic, we were terrifying, we were not human. But you really didn't see it all that clearly because the one thing we were most of all was something not to be discussed in public among decent normal people.
Then Vito Russo gathered it all together and put it in front of us.  And it just took your breath away…to see it all there, laid out in front of you.
And it made you angry…