June 7th, 2013
Nothing To See Here…
He created a TV series whose central plot hook was wiretapping…his business is entertainment…which gives him more credibility as to how modern computer networks, data storage and data archiving and mining technologies work than the news media. Yes, Mr. Simon, you may well be right about that.  Sadly.  However…
When the Guardian, or the Washington Post or the New York Times editorial board – which displayed an astonishing ignorance of the realities of modern electronic surveillance in its quick, shallow wade into this non-controversy – are able to cite the misuse of the data for reasons other than the interception of terrorist communication, or to show that Americans actually had their communications monitored without sufficient probable cause and judicial review and approval of that monitoring, then we will have ourselves a nice, workable scandal.
…and then…
And in fairness, having the FISA courts rulings so hidden from citizen review, makes even the discovery of such misuse problematic.
I'd have to say that is eminently fair.
"Frankly, I'm a bit amazed that the NSA and FBI have their shit together enough to be consistently doing what they should be doing with the vast big-data stream of electronic communication."  I'm sure you are Mr. TV writer sir.  Because like a lot of people you're focusing on the amount of the data.  Yes, it's very large isn't it. Huge even.
I am but a mere computer geek who happens to be working on a space science project that does, in fact, involve capturing a fucking torrent of data, archiving it, and providing tools to researchers to help them make that data make sense.  Before that I did the same as a contract software engineer designing and implementing business systems.  I've been working in this world for decades now.  You're looking at the wrong problem.
Let me tell you something about data Mr. Simon.  Data doesn't matter.  It's the connections between the data that matter.   It isn't what you said, it's who you talk to and who they talk to and who they talk to, that tells a story about your life, about who you are.  You remember don't you, all the fuss not very long ago when someone showed Facebook users how much information about their private lives anyone could glean, simply by looking at their friend's lists?  Remember that Forbes Magazine article about how Target found out a teenage girl was pregnant before her father did?  They didn't have to read her email or private text messages and it was easy.  All they needed was enough data to make good connections between products and lives.
Do research for your TV shows do you?   A bit surprised that NSA and FBI can do anything with that "…vast big-data stream…" are you?  Hahahahahahahaha.  The bigger the data stream, the more precise your profiles. Sure, if you had to listen in on every goddamn phone conversation in the United States of America, as opposed to just the phone calls of a few drug dealers in Baltimore…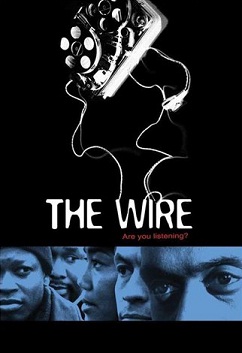 …you'd be swamped.  You couldn't possibly make sense of it all.  But that's not what happens.  For their purposes Mr Simon, more is better.   Much, Much better.
Conversations are noise.  It's the connections that matter.  You're looking at the wrong problem.  But that's okay.  That's where you're supposed to be looking.
by
Bruce
|
Link
|
Comments Off

on Nothing To See Here…