December 4th, 2011
Who Is John Doe?
I suppose by now you've seen a few of these…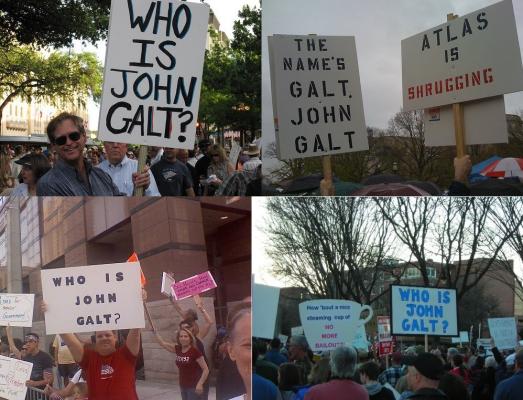 Behold Atlas, holding the world upon his shoulders…beset upon by socialist moochers, second-handers and looters…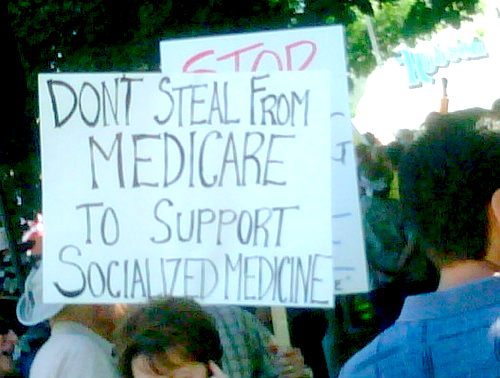 …not.  Let's be real here…no welfare queen ever had a larger sense of entitlement then the tea partiers.
Its easy to point and laugh at signs like the one above…and this one…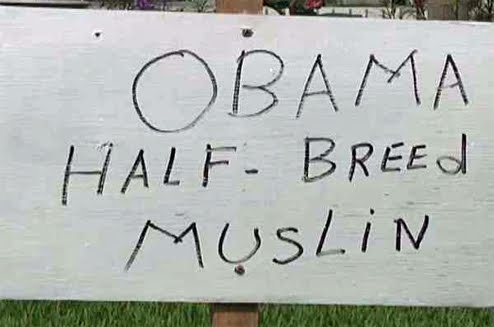 But it isn't just the crazies who've been taken in and lit up by the right wing noise machine.  To one degree or another, the nation as a whole has accepted a disastrously false economic construct: that the economy is driven by businesses, banks and wealthy investors.  Producers produce wealth, consumers consume it.  Producers build factories, establish businesses, engage in commerce and thereby create jobs…almost as a side effect of their economic vitality.  It's their world, they built it, these Atlases of commerce.  The rest of us just live in it. Without the Atlases the rest of us would have nothing.
Hence the bellyaching about going Galt.  It's like the constantly nagging and entitled parent or grandparent who keeps warning You'll be sorry when I'm gone and after so many years of it you've begun planning a party to celebrate the event.  There's a scene in Atlas Shrugged where the worthless playboy Francisco d'Anconia (secretly an agent of the Galt's Gulch strikers) talks with industrialist Hank Rearden, owner of Rearden Steel and inventor of Rearden Metal.  They are at a party at Readen's magnificent mansion.  They stand at a window as a storm rages in the night outside…
"It's a terrible night for any animal caught unprotected on that plain," said Francisco d'Anconia.  "This is when one should appreciate the meaning of being a man."

Rearden did not answer for a moment; then he said, as if in answer to himself, a tone of wonder in his voice, "Funny…"

"What?"

"You told me what I was thinking just a while ago…"

"You were?"

"…only I didn't have the words for it."

"Shall I tell you the rest of the words?"

"Go ahead."

"You stood here and watched the storm with the greatest pride one can ever feel – because you are able to have summer flowers and half-naked women in your house on a night like this, in demonstration of your victory over that storm.  And if it weren't for you, most of those who are here would be left helpless at the mercy of that wind in the middle of some such plain."
…and just never you mind the people who designed and engineered that house, who mined its marble floors and brass and gold for its fixtures, who felled and milled the trees and laid the bricks and stones.  See…they don't even exist in the right winger frame of mind, let alone the world of Ayn Rand, except as looters, moochers and second-handers, leaching off the vitality of the world's Atlases like vampires.  But without all those looters, those second-handers, those moochers paying rents for their own modest apartments, or buying their own modest homes, purchasing their own little economy cars and appliances, patronizing various merchants, making the building of all those things economically viable, Hank Rearden's foundries would have nothing to do and his magnificent mansion would have never been built and he'd be shit out of luck on that open plain too.
Whose, really, is the motor of the world?  Nick Hanauer, himself a venture capitalist, sees where it really is:
It is unquestionably true that without entrepreneurs and investors, you can't have a dynamic and growing capitalist economy. But it's equally true that without consumers, you can't have entrepreneurs and investors. And the more we have happy customers with lots of disposable income, the better our businesses will do.

That's why our current policies are so upside down. When the American middle class defends a tax system in which the lion's share of benefits accrues to the richest, all in the name of job creation, all that happens is that the rich get richer.

And that's what has been happening in the U.S. for the last 30 years.

Since 1980, the share of the nation's income for fat cats like me in the top 0.1 percent has increased a shocking 400 percent, while the share for the bottom 50 percent of Americans has declined 33 percent. At the same time, effective tax rates on the superwealthy fell to 16.6 percent in 2007, from 42 percent at the peak of U.S. productivity in the early 1960s, and about 30 percent during the expansion of the 1990s. In my case, that means that this year, I paid an 11 percent rate on an eight-figure income.

One reason this policy is so wrong-headed is that there can never be enough superrich Americans to power a great economy. The annual earnings of people like me are hundreds, if not thousands, of times greater than those of the average American, but we don't buy hundreds or thousands of times more stuff…

I can't buy enough of anything to make up for the fact that millions of unemployed and underemployed Americans can't buy any new clothes or enjoy any meals out. Or to make up for the decreasing consumption of the tens of millions of middle-class families that are barely squeaking by, buried by spiraling costs and trapped by stagnant or declining wages…

We've had it backward for the last 30 years. Rich businesspeople like me don't create jobs. Middle-class consumers do, and when they thrive, U.S. businesses grow and profit…

So let's give a break to the true job creators. Let's tax the rich like we once did and use that money to spur growth by putting purchasing power back in the hands of the middle class. And let's remember that capitalists without customers are out of business…
The meme, the Randian dogma, the right wing spin the nation has bought into since Reagan sold us on it, that it is the rich industrialists who create jobs.  No. Customers create jobs. The flow of money from employer to employee to employer again creates jobs.  Building factories and office space where there is no demand for goods, simply because you suddenly have tons of money to do something with, is what happens in this thing they call a Bubble. Hey…let's build a factory because we can! No demand, no sales. No sales: bankruptcy. The factory closes, the employees loose their paychecks, the money stops flowing, the motors…were…stopping…
We've seen how that works, time and time again in the past thirty years, yet the right wingers keep insisting if we just give more free money to the rich they'll build factories, or offices space or something and then the rest of us will have jobs.  But nobody sane builds a factory if it isn't bloody likely to sell anything that it makes.
No. The super rich won't build factories.  Not if there is no money to be made doing that.  And if they can plainly see there is an easier way to make money, they'll do that instead.  And for them these days, there is.  It's called Wall Street. So if the middle class is dying, how are the rich making money these days…?
A newly-released study from the Congressional Research Service bolsters claims that the nation's largest banks profited off the Federal Reserve's financial crisis-era programs by borrowing cash for next to nothing, then lending it back to the federal government at substantially higher rates.

The report reinforces long-held beliefs that the banking system in essence engaged in taxpayer-financed arbitrage: They got money for free, then lent it back to Uncle Sam while collecting juicy returns.
They make paper profits by moving money back and forth among each other, and then when that blows up in their faces, they take it from the taxpayers…the middle class and the poor.  Obviously they're fine with that system and don't want it touched.  But it is not sustainable and they are not just putting the economy at risk, but our very democracy.
You see, trickle down economics really does work…but only from the middle down.  I grew up in the world Hanauer speaks of.  I remember it well.  I was raised by a single working mother back in a day when women made maybe 60 cents on the dollar a man made for doing the same work.  I wore a lot of hand-me-down clothes mom got from the church, but I never went out the door in dirty clothes.  We ate a simple, very bland English diet, but I never went to bed hungry.  I got a decent education because back in the late 50s and early 60s we were in a cold war with the Soviet Union and public education was something the nation was keen to spend money on so we didn't loose the technological race.  There were good jobs (at least if you were white).  And all those high paying union jobs went to families who spent that money on goods and services, not at the Wall Street casino.  And that made it possible for poorer, service sector workers, even single mothers, to still earn a living wage and raise kids.  I know this.  I am one of those kids.
Yes, when government sucks money out of the economy in the form of oppressive taxes, that will stifle economic growth and kill the middle class too.  But taxation isn't the only worry and big government isn't the only threat to the economy. You can kill the middle class by sucking their wages out in the form of taxes, but you can also kill it, as we are clearly seeing now, by slashing wages in order to maintain astronomical profits that do nothing more then grease the roulette wheels of Wall Street.  Big business can be every bit the threat to the economy and to democracy that big government can be.
There need to be brakes put on both.  For the sake of our cherished freedoms, and our children's and their children's.  Libertarianism, with its dogma of unregulated unfettered capitalism utterly removes the brakes on big business.  Anyone with eyes to see and a mind not completely corrupted by ideology can see in the decades after Reagan sold us that shining city on a hill what comes of that.  If the totalitarian police state is one side of a coin, Libertarianism is the other.  Heads, power collects in the hands of the few, the people become their slaves, the economy grinds to a halt and the country tailspins into economic collapse.  Tails: see heads.
Democracy gave the common man and woman, gave humanity as a whole, a level of prosperity that would have astonished the peasants who labored under the kings of old.  To live, it needs a robust and energetic economy.  And to have that, you need a stable and prosperous middle class.  Because those people take their money and they spend it on Things…on goods and services that other people earn money making…and that keeps the money circulating and the economy humming along.
John Galt isn't the motor of the world.  John and Jane Doe are.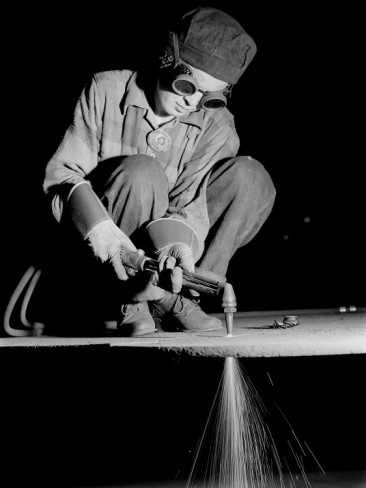 1943, Female Welder at Work in a Steel Mill by Margaret Bourke-White
by
Bruce
|
Link
|
React! (1)