August 19th, 2014
You Should Wonder About This From Time To Time…
Walking in to work this morning, I came across a small and very old woman trying hard to push her loaded grocery cart across the street before the light changed. She didn't make it, so I stood out in the street and waved oncoming traffic around her. She looked to be going from the big new Giant into the rowhouse neighborhood just down the street from that intersection which wasn't too far for her to go. But at that age nobody moves very fast either.
She began struggling to get her grocery cart up over the curb and onto the sidewalk and I walked over to help her. Â It took me back years.
I was raised by a single working mother, and grew up in a household that couldn't afford a car until I was well into my teens. Â One of my duties as the "man of the house" was pushing the loaded grocery cart back home from the store a couple miles away. It wasn't difficult, not even for a young boy. If you balanced the load just right on the wheels once you got it moving it was pretty much easy to keep it moving.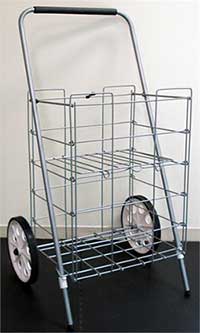 When I was 7 or 8 and I would look down at the wheels and pretend I was driving a car.
Nowadays the grocery carts have four wheels on them. Â I suppose that's for older people like the lady I was helping just then, who couldn't always keep a two wheeled cart balanced. We struggled together getting her cart up off the road and onto the sidewalk, she had the thing pretty well full. I'm guessing it was her food for the next couple weeks. But we got it up and she thanked me and went on her way, happy I hope to see a little politeness still left in the world.
I looked up. The light had turned red again and a city police car was stopped right there at the crosswalk. The cop inside was looking at me, smiled and nodded and I smiled back and went on my way. I suppose it does the police good to see people actually helping each other out from time to time too.
…and then I wondered what would have happened had I been a young black male and he saw me and that old woman struggling there with that grocery cart.
by
Bruce
|
Link
|
Comments Off

on You Should Wonder About This From Time To Time…