June 17th, 2013
Couldn't You At Least Pretend We Have Facts On Our Side?
This comes across my Google news stream this morning…
News organizations are far more likely to present a supportive view of same-sex marriage than an antagonistic view, according to a content study by the Pew Research Center to be released on Monday.
Yes, yes… I hear they take a pretty positive stance on the theory that the Earth is round too.
We'll be hearing all about how this proves the news media is biased against Christians from the kook pews for years to come, but what's happening is that the Proposition 8 trial pretty much destroyed the idea that the case against same-sex marriage has anything to support it other than animus.  Think back to how completely taken by surprise so much of the press seemed to be after that trial was over, that there wasn't more to the case against letting same sex couples marry.  Those of us who have been in this struggle for decades knew exactly how empty their rhetoric was, how utterly bogus was their junk science.  For decades they've been burying the political debate in bullshit and you have to admire how energetically they went about it.  Their think tanks and research institutes produced tons and tons of deceptive, mendacious, carefully crafted bullshit and the fact that there was just so damn much of it coming out of them seemed to convince even tolerant middle of the road types that there was something to it, that homosexuality was if not an abomination, at least a tragic outcome that ought not to be encouraged if possible.  And then came the trial, and they had to put all of that bullshit on the witness stand…
"In a court of law you've got to come in and you've got to support those opinions, you've got to stand up under oath and cross-examination," Boies said. "And what we saw at trial is that it's very easy for the people who want to deprive gay and lesbian citizens…to make all sorts of statements and campaign literature, or in debates where they can't be cross-examined.

"But when they come into court and they have to support those opinions and they have to defend those opinions under oath and cross-examination, those opinions just melt away. And that's what happened here. There simply wasn't any evidence, there weren't any of those studies. There weren't any empirical studies. That's just made up. That's junk science. It's easy to say that on television. But a witness stand is a lonely place to lie. And when you come into court you can't do that.

"That's what we proved: We put fear and prejudice on trial, and fear and prejudice lost." -David Boies
There were never any facts.  It was always about prejudice.  It was always about hate.  That's not trivial.  Hate has motivated the passage and enforcement of laws that persecute homosexuals for generations.  But hate is factual only in the sense that it exists, not that its excuses are themselves factual.
So another way of putting the outcome of that Pew study is that news organizations are likely to give greater weight to the facts than to bullshit, even passionately squawked bullshit.  And that's because, at least in theory, newspapers are supposed to report the facts.  And there are no facts that support bans on same-sex marriage.   There are only myths, lies and superstitions.  Those are the facts.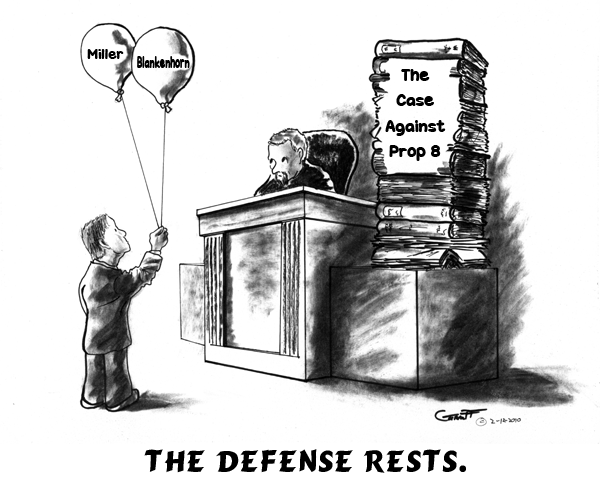 by
Bruce
|
Link
|
Comments Off

on Couldn't You At Least Pretend We Have Facts On Our Side?