December 4th, 2017
A Coming Out Story, Episode 23 On The Way!
ETA Sunday, December 10…
One of the cool things about doing A Coming Out Story is I get to bring back to life for a bit my beloved Rockville as it used to be when I was a kid. This episode takes place in the Congressional Plaza that once was. I used to burn off tons of nervous energy walking from the apartments at Village Square West to Congressional and then to the Super Giant and Korvettes and back down Randolph Road to home. But even before then, when mom and I lived in Courthouse Square, the Plaza was a center of gravity. And to this day I have a fondness for that 1950s-60s stack stone treatment on the facades of the storefronts. It will always take me back whenever I see it.
And oh God…you don't want to see what they did to it now. But that's okay. I can bring it back to life as it was in my artwork…
In this episode I consult with a world renown and highly respected oracle for some insight as to what the hell is going on with me. Here's some work-in-progress. I've got panel one of the tale pretty much done. The inks and dialogue in panels 2 and 3 are ready for lighting and texturing treatments. I do all my initial artwork in traditional media, but then I scan it in and finish it in Photoshop…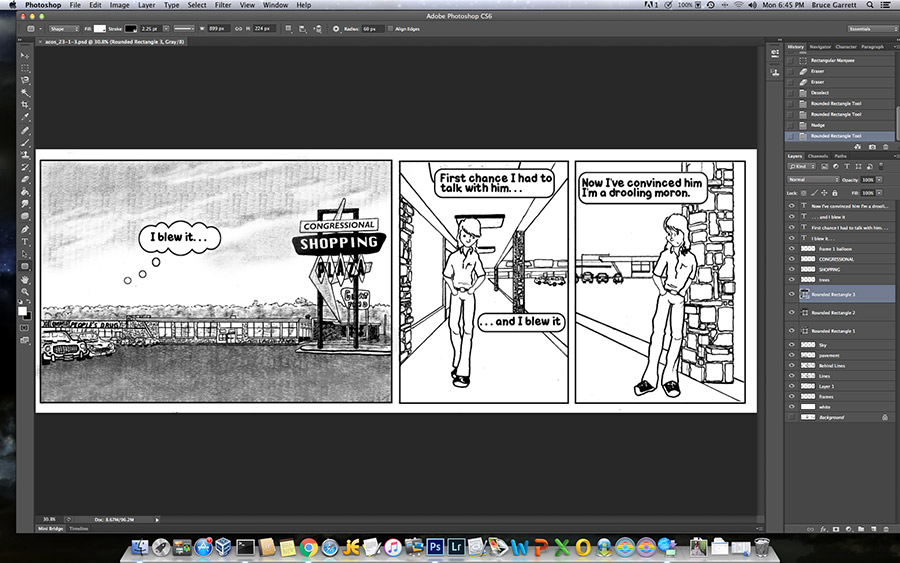 by
Bruce
|
Link
|
Comments Off

on A Coming Out Story, Episode 23 On The Way!