May 16th, 2023
Troll
The last time I felt like pouring my heart out on Facebook, when I was feeling like this, I got told basically to shut up. And back when I vented/brain dumped here on this life blog after my high school crush spit in my face I probably lost a few readers. I know a really nice guy who used to give me pingbacks stopped doing that then. Oh well. I reckon I'll keep wearing my heart on my blog, if not Facebook, because otherwise I'll just…well…nobody wants to hear that.
The Royal Farms on The Avenue plays what they assume is music to keep the local drug dealers and their customers from loitering. I object to classical music being used in this way, since it's a favorite musical form, and I wouldn't mind having it piped all along The Avenue. But apparently it works. Lately though, they've begun playing "easy listening" tunes.
My head is a mess…I probably won't go to Howard's memorial after all because I can barely motivate myself to leave the house to get the daily steps in my cardiologist wants. At the moment, I just don't care. But on the theory that a good walk has always been good for my head, I go out. I try to stay out of my favorite bars when it's like this because even my fondest cocktails would only drag my body down (it's getting worse the older I get) and do nothing for my head.
So I walk. And walking past Royal Farms I hear this…
The summer wind came blowin' in
From across the sea
It lingered there so warm and fair
To walk with me…
…and I knew I had it in my iTunes library because I'd bought when I heard it on Pandora long long ago in a gloom far far away. So I called it up and walked home with it playing.
And I had a memory flash of that really embarrassing gay bar scene in Advise and Consent. Vito Russo described it thusly:
The screen's first official gay bar, overloaded to create the desired effect of otherworldliness in a previously hidden subculture, is nevertheless quite tame compared to the more flamboyant versions of later films. As Anderson enters the dimly lit bar, he is confronted by three glaring decidedly "arch" men, one of whom holds a cigarette grandly aloft. He walks past the three men, down a narrow hallway and into a room in which colored spotlights punctuate the darkness, revealing scenes of men sitting together ay candlelit tables. The music coming from the juke box, features the voice of Frank Sinatra.

Love alone…
I have sung a loser's song alone.
Let me hear a voice
A secret voice
A voice that will say
Come to me
And be what I need you to be…

Anderson, visibly shaken, backs away and runs for the door…
Ever since I read The Celluloid Closet and even more later when I worked myself up to watching that movie, I've always felt it a cheap ready made Hollywood stereotype that gay bars had to have a lot of "arch" men with cigarettes held grandly aloft listening to Frank Sinatra. I figured "arch cigarette smoker" was a job listing for extras. "Must know how to hold a cigarette like a homosexual." I had a mental image of studio property managers getting a script that required a gay bar scene, dragging out of the warehouse a juke box with several dozen copies of that same single Sinatra song listed in the menu. The sound men would have a copy in their library next to The Wilhelm scream.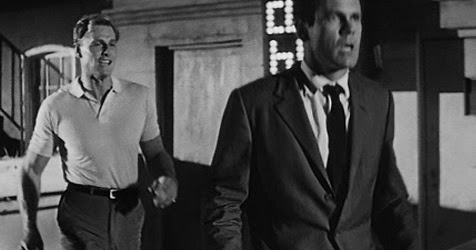 Wait…don't go…maybe the juke box has some Village People too!
And there I was, at night, in Baltimore, miserable, alone walking home listening to Sinatra. I'm the lonely old gay troll I swore I'd never become. All that was missing was the cigarette. But I was never able to get one of those into my lungs. Maybe all I need is to learn how to hold one. Archly.
And guess who sighs his lullabies
Through nights that never end…
by
Bruce
|
Link
|
React!