April 28th, 2023
My Little Dear
It's taken me a while to be able to post this one. Last April 16 I checked the cat bed a next door neighbor put out for the Calico and she was there napping. A few hours later I looked again and she was gone. I reckon it was time after all. I'd been hoping she would let it happen either in my house or on my porch so I could give her a decent memorial. But she decided to return to the streets from where she came to me.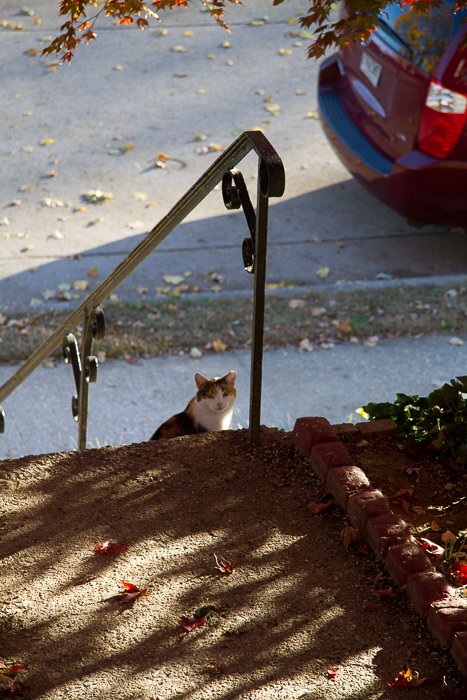 I never gave her a human name, though I'm certain she had a name among cats. It would have been scent based probably. I called her Little Dear, or Madam. I would say to her what 'cha want sweetie…what 'cha doin puddin. You want inside? You want some food? How about some better water in that dish? But I never gave her a name out of respect for her independence. She was a street cat. A feral. I always respected that. But my neighbor Jason named her Elenore so both times I had to have her trapped and taken to a vet, that was her name. But to me she was mostly Little Dear.
She started coming around to my bird feeders I'm pretty sure, back in 2005. By then some city animal control someone had already trapped her, taken her to a vet to be spade and given an initial round of shots, then tipped one ear as a signal that she'd already been trapped and would not produce more feral cats. But the city likes having them around as long as they've been fixed because they keep the rodent population down. You are not supposed to trap or bother the ear tipped cats.
One day a hurricane came up the bay, and while the wind was howling and the rain pouring buckets I stepped out onto my porch and saw her huddled in my basement window well. I figured I was going to find a dead little kitty next day but she was gone. I had a twinge of sympathy…she was a beautiful little thing…so I got a distinctive looking yellow Fiestaware bowl and put some tuna in it and put it on the window well. I knew I was making a commitment then…I really wasn't interested in having another pet, but I went ahead with it. A few hours later the tuna was gone but I didn't see her. Next day I saw her stalking my bird feeders and went back inside and got the same yellow bowl, put some more tuna into it, and walked out where she could see me. Feral cats are very skittish but the moment she saw the bowl she seemed to recognise it. I held it up for her to look at, then put it down on my porch and walked back inside. A few moments later the tuna and the cat were gone.
Later that day I got out my car care kit and began washing my car, which was parked on the street in front of my house. While I worked I noticed the calico walking toward me and I just stood still. She sat down in what I call perfume ad cat pose and gave me a heavy stare for about a couple minutes. She was sizing me up, taking me in, fixing me somewhere in mental storage. Then she just casually walked off. But I figured that somehow, some way, she made me hers in that moment. They say dogs have owners and cats have staff. That day I became staff to a street cat. It lasted 18 more years.
The photo above was taken in November 2010, and while I'm pretty sure the first time I fed her was five years before that I can't just now find those first few photos I took of her. Ten years ago when I took that she was still keeping her distance but would come to my porch for food and water. She was still hunting the birds around me feeders though, and that step was a favorite spot. She was an amazing hunter and I was always moving the feeders around to keep them safe from her hiding places. Problem was birds are messy eaters and the ones perched on the feeders would scatter seed all over the ground and then the ground feeders would come and those were the ones the cat got regularly.
It wasn't until about six years later I could get in a few pets, but only with my feet with cotton socks on. This I figured, was because feet can't grab and she remembered being trapped and taken to the vet where she got her ear tipped. Cats don't forget things like that. Then a couple years after that I was able to coax her into the house but only briefly. Then it became a thing and it was around that time I was able to pet her with my hands. I put up a couple YouTubes to prove it because it's very rare anyone gets to touch, let alone pet a feral cat.
But after she started trusting me eventually giving pets became mandatory.
The front of the sofa you see there was the spot. If I didn't walk right over to the sofa after I let her in, like if I went to the kitchen to make my morning coffee, she'd come into the kitchen and meow…Loudly…and I would have to go sit on the sofa and give pets until she'd had enough. Then it was either she'd nap on the cat bed I'd provided or want to go back outside.
We developed a signal. If she was just watching through the storm door then it stayed shut. But when she put her nose into the bottom left corner of the storm door then it was time for me to open it. Right up to the very end that was the signal and I always complied whether I thought it was a good idea or not. There were times when it was pouring buckets out there and she still wanted out. Yes Ma-'am…whatever you say…and I'd open the door. I never forgot she was a street cat and I'm certain that was why she trusted me.
She kept her distance from everyone except Bob from Topeka who would occasionally come over and house sit for me while I was away, and Heather and Jason my next door neighbors, and them only provisionally. I seem to have been the only one allowed to give extensive petting. Under the chin, around the face, pretty much everywhere except the belly. I learned her body language and could see the look that said okay I've had enough take your hands off me now. Occasionally I would get a swat, but never with claws out. She had her boundaries.
She was getting very old for a cat, let alone a feral cat. I did my best, but now, maybe it's natural, I wonder if I wasn't stupid after all. Heather helped trap her so I could take her to the vet for a urinary tract infection. She was having difficulty urinating and then she started bleeding. They gave her antibiotics and for a while it was looking good. She never stopped letting me pet her and I could get her purring, and that little trilling sound she would make now and then. But she never really got well. And I think partly it was the trauma of being captured inside my house. I really wish I hadn't had to do that but I was afraid the infection would kill her. Now I wonder if it wasn't something the vet did that shot her aging health to bits. My neighbor and I had to call around to even find a vet that would treat a feral, and while the nurses at the place I took her all fussed over her I'm not so sure the doctor really cared about her like they would have had she been my pet.
She was a feral cat, not mine, just a pretty little wild thing I made friends with. Had she been my cat she'd have been used to being put into the carrier and taken periodically to the vet. But she was feral. When I got her back from the vet she hid down in my basement, but eventually came back upstairs. I let her come and go despite how wobbly she got because outside seemed to perk her up. Or maybe it was knowing she still had her freedom. Every time I let her out she seemed to get a little better. But also freedom to come and go was the bargain. I always kept my side of the bargain.
As she got weaker, thinner and more wobbly I still figured letting her outside would be okay because she wasn't going further then my or my neighbor's porches. And freedom to come and go was the bargain, the bases of the trust she'd given me. I considered trapping her again and taking her back to the vet, but I'd become convinced that vet, whatever they did, only made things worse. I didn't know what to do except wait and hope she got better. But 18 years old is a long time for any cat.
Then abruptly she was gone and she wasn't in any shape to be going far. So I searched. I searched all her places nearby, and up and down the street. Nobody had seen her for days.
I found out though that lots of folks up and down my street were also feeding her. They loved her. Beauty has its benefits. She was a beautiful little calico. Everyone said so.
Now she's gone. And I'm just going through my days on autopilot. I wake up in the morning and for an instant I want to open the front door to see if she wants inside. I step outside to check the weather and I glance around to see if she's coming. She would always come running when she saw me at the door, even if it was just to dart inside for a few nibbles an some water and then go back out. Today it's cold and rainy outside and the feeling keeps tapping me on the shoulder that I need to go look and see if she wants inside. She would let me dry her off with a terry cloth towel if her fur was wet. She gave me an amazing amount of trust.
From the city streets she came to me, and to the city streets she returned. A piece of my heart went with her.
My little dear…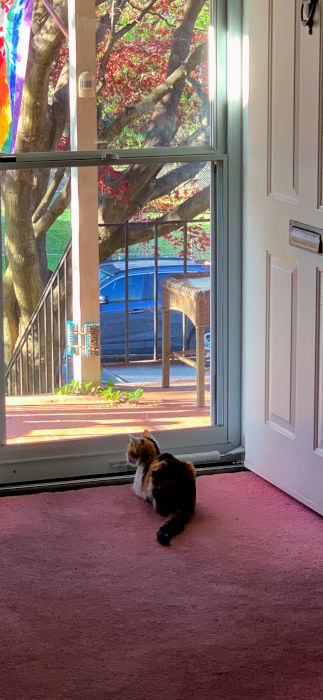 by
Bruce
|
Link
|
React! (1)