April 5th, 2015
Driving In The Nails For Easter (Message In A Bottle…)
This came across my Facebook stream tonight…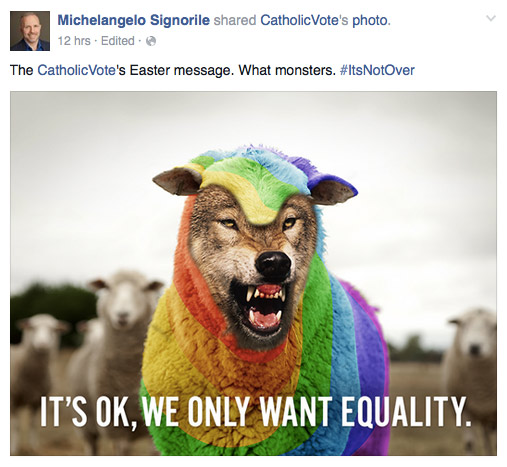 This is actually pretty typical. If you are shocked by this I assure you I am not. The imagery here comes from a right wing Catholic group but don't be paying much attention to that because the sentiment isn't specific to any one religion or religion in particular and it's not about how they see us so much as how they want us to be seen. This is the real thing. Most of your gay and lesbian neighbors, except the very lucky maybe, have felt this breathing down our necks all our adult lives.
When other kids start having their first crushes and start discovering love and desire, this is what the gay ones find themselves facing. This is what haunts what should have been one of this life's most magical times. It cuts you deep. Some people never manage to love wholeheartedly their entire lives because of it.
And others search endlessly for one who can. I was looking at my Facebook stream just a moment ago and this graphic flashed on my screen and for an instant I saw certain someone's face and relived the conversation I had with him just one week ago…
I need to stay in my comfort zone…
I know. And I'm so sorry…so very sorry. It is what it is. You stayed inside because you had to and I got the hell out because I had to but we are all damaged by it in one way or another. Easter they say is when Jesus of Nazareth died for their sins. So why did we have to die for their sins too?

Posted In: Life
Tags: Gods And Monsters, Hate, Message In A Bottle, The Human Gutter, The Struggle For Our Lives
by
Bruce
|
Link
|
Comments Off