January 31st, 2006
Here's To The New Face…Same As The Old Face…
Chris Crain, Executive Editor of The Washington Blade writes about the new face of the democratic party…
The Democratic Party announced on Friday that Virginia Gov. Tim Kaine will deliver the party's official response to President Bush's "State of the Union" address later this month. Party leaders tapped Kaine because they wanted to reach outside the beltway and pick a fresh face who has proven succes with "red state" voters.
A statement issued by the party praised Kaine, just one week on the job, for being "a champion for working families, putting their priorities above the needs of the special interests."
That description will surprise the "working families" of Virginia headed up by gay and lesbian couples. Because the same day Kaine was picked to be "the new face" of the Democratic Party, the Washington Blade reported that he supports and will sign into law an amendment to the Virginia constitution that not only bans gay marriage and civil unions, but domestic partnerships as well, and may even deprive us the protection of domestic violence laws.
…
…If Howard Dean and other party leaders truly believe Kaine is a "champion for working families who puts their priorities above the needs of the special interests," then we can only conclude that the Democratic Party now views the civil rights of our working families as "special interests" to be sacrificed on Election Day.
Tim Kaine may be the new face for Democrats, but he certainly isn't their spine.
Actually…he probably is. And that's the problem.
A lot of people, when they heard last week that Kaine was going to give the Democratic response to the state of the union, went ballistic. To many people Kaine is an appalling choice to speak for the Democratic party. Pam's House Blend has been all over it:
For gays living under Kaine and his endorsement of a marriage amendment, it's a clear message that your life partner relationship has no legal footing or recognition in the state — and it will NEVER be recognized. Oh, and keep paying taxes for that luxury.
Yet that's fine and dandy with the Democratic Party establishment, which tacitly endorses Kaine's position with this pick. Defenders will say: "just ignore that and look at 'the whole package' or 'the long view'.
Well, I'm looking at the long view, and so far all I see are states falling, one by one, passing marriage amendments because Dems are silent. I take that as either an endorsement of the bigotry, or complete impotence and incompetence on how to counter the message coming out of the right wing.
That's when you know that civil equality is not a core value in this party.
To me, a true fresh face from Virginia is Delegate David Englin. He is a Fighting Dem that had the balls to publicly slap back at bigotry in his statehouse with a speech that should be read by Howard Dean and the rest of the shiftless, bleating Dem talking heads. The party leadership had plenty of choices to tap for this speech — and they chose Republican lite.
But that's just fine with some democrats, who seem perfectly willing to throw their gay and lesbian neighbors to the wolves if they think it'll win them back the Archie Bunker vote:
For liberal bloggers who want to get exercised about something really important: Where are the Democrats or liberals talking about Ford laying off some 30,000 workers, the end of middle class benefits for working Americans, IBM's gutting of pension security, and the collapse of American manufacturing?
…
If you want to know why Dems don't win elections, it won't be because Kaine is talking this Tuesday night. It's because the mainstream leadership of the Democratic party doesn't think, feel, viscerally respond to the increasing insecurities of working americans.
Fine. Let's talk about pension security: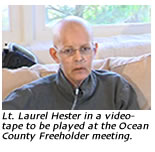 When a dying Laurel Hester appealed to the Ocean County freeholders a month ago, she sat in front of them in Toms River, spoke in a soft voice and asked the five- member board to allow her pension benefits to be extended to her life partner.
Yesterday, Hester was in front of the freeholders again — but this time she was in a videotaped message played on a laptop computer at the freeholders meeting — making what could be her last plea to them before her cancer kills her. Although the freeholders appeared moved by the three-minute video, they were not budging from their decision to not extend Hester's pension benefits to her life partner, Stacie Andree. At least one freeholder said the board would not change its mind before Hester's death.
"The board has said so far it is a legitimate and reasonable position we've taken," Freeholder John Bartlett Jr. said after the meeting. "In my opinion, I don't see any need to change it."
Laurel Hestor, a New Jersey policewoman who put her life on the line every day for the security of her community, was begging that community to do for her life partner, what it would routinely do for a married heterosexual couple. Without this, her partner would have had to sell the house they lived in together for many years after Laurel's death. The freeholders, under pressure from state republicans reversed themselves last week and granted the extension of Laurel's pension benefits to her partner. Pension security.
Kaine would have it taken away from Hestor and her partner. And there are plenty of democrats, like Katrina vanden Heuvel who I quoted above (via Steve Gilliard, who has a thing or two to say about democrats like her), who wouldn't give ratshit about it either, so long as the pensions of real people aren't touched. The insecurities of working Americans is it Katrina? My ass. Just say "prejudices" Katrina. It's what you meant after all. Democrats have to pander to the lowest prejudices of working class americans once more, like the party used to back in the 1950s, if it wants to start winning elections again. That about sum it up?
But we're suppose to keep supporting the party anyway, with our dollars, and our energy, and our votes. Last week I got into a brief argument with one of these democrats in a comment thread on AmericaBlog, who told us straight up that we should be willing to sacrifice our right to marriage, and with it any hope for the security of our households and our unions, to "save America" from the republicans. But America is the land of liberty and justice for all. America is the land of equal justice under law. America is the land where we're all endowed by our creator with rights to life, liberty, and the pursuit of happiness. When you've allowed all that to be destroyed, what is it exactly that you're saving? I'll hazard a guess: Democrats like Katrina don't want to save America, they just want to save themselves. And we're supposed to help them save themselves, by grandly offering to sacrfice our homes, our families, and all our hopes and all our dreams, so that they can keep selling America out piecemeal to the republicans. I've got a middle finger right here Katrina that has my answer to you written all over it.
As Franklin once said, we'll all hang together or for sure we'll all hang separately. Throwing your gay and lesbian neighbors overboard isn't going to help keep your ship afloat. It'll sink it. You won't get the bigot vote. If each and every democrat running for office personally put a knife in the heart of the first gay person they came across, they Still wouldn't get the bigot vote. The only way Democrats are going to start winning elections again is to fight like hell for America, for the American dream of liberty and justice for all. As Truman once said, if you give people a choice between a republican and a republican, they'll elect the republican every time.
But…I guess you have to actually believe in the American dream, to want to fight for it. If you think that the rights of your gay and lesbian neighbors are negotiable, then you don't believe in it. It really is as simple as that. You can't say that some Americans are more equal then others and then out of the other side of your mouth claim you still believe in an America where we're all equal. You're just looking out for yourself. But nobody buys their own rights, at the expense of their neighbor's.
First they came for the jews…
by
Bruce
|
Link
|
Comments Off

on Here's To The New Face…Same As The Old Face…