June 9th, 2021
The Wrecking Ball That Breaks Your Heart One Day, Lifts Your Spirits The Next
Time passes…the universe expands…I've lived long enough to see so many of my kidhood haunts coming down. Rockville it seems, is a city that just wants to eat itself all the time. Shortly after mom and I moved there, they tore down the old city center and built a doomed shopping mall they eventually tore down just a decade or so later, and then tore down what they'd built on top of that. A classmate posted that you can't go home again, and I replied that's especially true if home was Rockville, because you'll get lost they've re-routed so many of the roads we used to drive down. I'm still stunned that Randolph Road now goes under Rockville Pike. My beloved high school got torn down recently and I'm still miserable over it, but I got a keepsake brick so there's that. So much of my past is vanishing under the wrecking ball. But it's not all bad. In fact, sometimes it's wonderful.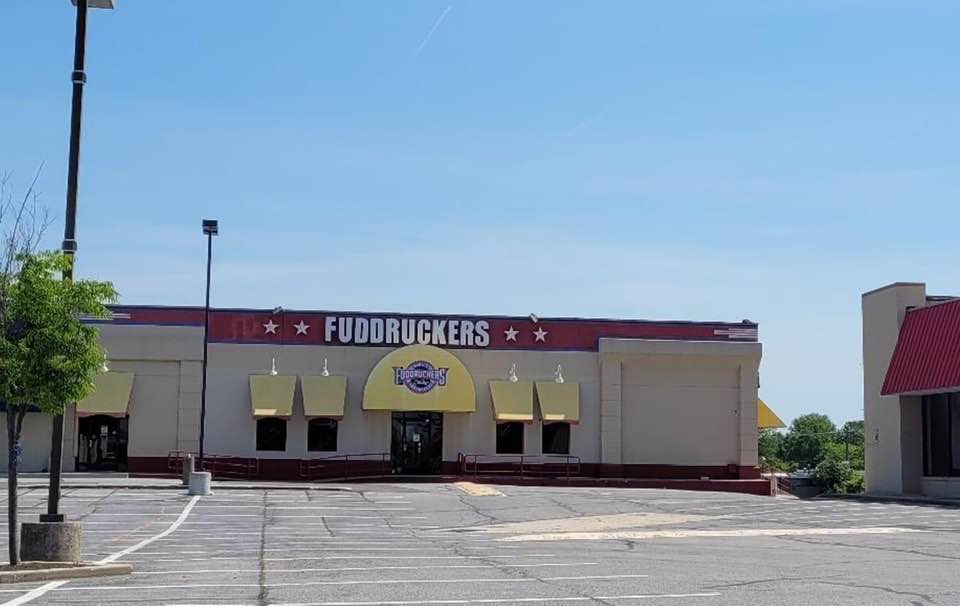 Just heard on another page that this place is going under the wrecking ball next week. I couldn't be more delighted. It was originally called Fritzbe's. I have a particularly bad memory…a really Bad Memory…that place played a supporting role in. I have wanted to see it razed for decades.
What Happened:
It was a lovely summer night in 1981. I was in my middle twenties and on the downside of my second disastrous crush. We were close, or so I thought. I sent him love letters from the road while on a road trip with friends in the southwest. On my return it seemed we became even closer. But he was straight. What I learned from it is that straight guys can fall in love with other guys too, but for them it's a purely platonic thing. For the gay guy who gets that deeply involved with a straight guy it's a heart wrenching mess.
That night in 1981 he suggested we go to this new place that opened. It would have been at one time an easy walk, nearly a straight line from the apartment I grew up in to Congressional Plaza or the Radio Shack across the street from it. But the new Metro subway system was under construction and my path across the railroad tracks was now forever blocked, so my friend picked me up at the apartment and we went to Fritzbe's. At Fritzbe's I learned another lesson.
I was having a night out at a new place with the guy I was still crushing on madly. So I put on my best blue jeans and favorite shirt, got my long hair all washed and blow dried, put on my new Nike's. But let's face it, I was a scrawny ugly faced twenty-something no matter how well I dressed, and the summer humidity probably didn't do wonders for my hair either. We got to the door to Fritzbe's and there were two doormen standing there. One of them said my friend could go inside, but I couldn't.
I was stunned. My friend told me he wanted to go in and just look around for a bit. So he did and I waited while the doormen made sure I stayed outside. When he returned it was clear to me that he wanted to spend the evening with the other cool people inside but first he had to figure out a way to dump me without making it look like he was dumping me. My memory of the rest of that night is a bit fuzzy, but I clearly recall saying something on the order of what's wrong with me that I can't come in I look okay, and under his breath he said "actually no you don't". So that was that. I politely excused myself from the evening and walked back home.
I got put in my place…which, of course I was. What was I thinking when I went out that night? Me? Really? The weird kid from the other side of the tracks. Clothes he bought at Sears or JC Penney…hair's a mess…crooked teeth…no social skills at all…queer… Oh I know… Falling in love feels so wonderful, until the moment you hit the ground. It was impossible anyway, he was straight after all, but had the positions been reversed I'd have walked away from that place rather than go inside without my friend. I've actually done that a time or two. But that night I saw I was disposable. And that's never just a circumstantial thing. It is what you are. Always.
People who look like that, want people who look like that…
Fritzbe's eventually folded…I can't imagine why. Well yes I can. Turn the uncool away as a matter of policy, to cultivate the shallow beautiful people, and eventually they'll flit away to the Next Big Thing and what's left are all the customers you might have had if you hadn't pissed them off. So the name on the door changed but I never set foot in there. I was told not to go in and I don't need telling twice. And now it's going under the wrecking ball.
In its place, so I'm told, will be a massive new development of some sort that will occupy the entire block. Until that eventually gets torn down. Rockville just does that to itself. But eventually so does everywhere. The only thing that endures is the reputation you made for yourself. Whoever owned that chain and set its policies and created its theming probably made a lot of beautiful people very happy for a little while, and broke a lot of hearts for much, much longer. And in the end the love you take is equal to the love you make.
I probably shouldn't blame the poor building. Like Hill House in Shirley Jackson's novel, some places cannot help but take the shape of their builders souls. And the people who occasionally occupy them. But I am definitely taking one of my cameras down to the old neighborhood and snapping a few shots of the destruction. I'm toying with the idea of taking a few c notes with me and asking the wrecking crew if I can pay them to let me take a few whacks at it myself. But probably I'll just go watch for a while, snap a few photos, and applaud at inappropriate moments.
I could hope they sow the ground with salt afterward. But concrete and asphalt will do.