January 6th, 2020
The Air Was Filled With Phantoms…
The air was filled with phantoms, wandering hither and thither in restless haste, and moaning as they went. Every one of them wore chains like Marley's Ghost; some few (they might be guilty governments) were linked together; none were free. Many had been personally known to Scrooge in their lives. He had been quite familiar with one old ghost in a white waistcoat, with a monstrous iron safe attached to its ankle, who cried piteously at being unable to assist a wretched woman with an infant, whom it saw below upon a doorstep. The misery with them all was, clearly, that they sought to interfere, for good, in human matters, and had lost the power for ever.

Whether these creatures faded into mist, or mist enshrouded them, he could not tell. But they and their spirit voices faded together; and the night became as it had been when he walked home.
You wonder where it goes sometimes…or at least I often wonder. Is there some place, some spectral land in the twilight between the living world and the world that could have, should have been, but never was, where all the love that never got a chance to be wanders aimlessly, alone, bewildered. Like that scene in A Christmas Carol, when Scrooge looks out of his window and beholds all the poor miserable souls who could have made the world a better place, but chose greed and selfishness instead, now burdened forever by the chains they forged in life, condemned to see everything that needs doing, and unable now to do it, aching to atone, and cannot. I wonder sometimes if all the love that never got a chance to be wanders that place between worlds, aching to fulfil and be fulfilled, and cannot. But those phantoms are doubly burdened for their blamelessness. Love, as Buzz Murdoch said, is a skinny kid that can catch cold and die from just standing outside a locked door begging to come in. These phantoms tried, but the door was shut, and the chains they wear were forged on them by others. Cold, empty others.
This article came across my Facebook stream the other day…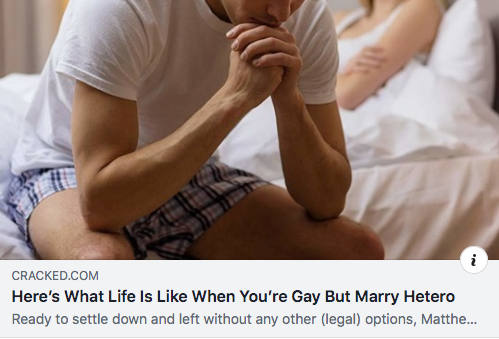 It's a personal hobby horse of mine, how so many gay guys of my generation were terrified into ex-gay therapy and heterosexual marriage as a way to degay themselves. After that first crush I was never ashamed, never doubted that the love between same sex couples could be joyful and life affirming. But raised in the household I was, perhaps it was that anyway, I always found myself attracted to the nice guys…the ones that, in a better world, I might have met at a church youth social or at school, and I'd have brought one home to mom and told her I was in love and had that magical first romance and maybe, just maybe, we'd have made a life together. But when I was a teenager all those nice boys were terrified. They didn't want their families to hate them. They didn't want god to hate them. And so it went. And now I'm 66.  And I look at this article and see a guy who is perfectly capable of maintaining a marriage but could bring himself to nothing but random casual sex with other guys and I think it was mostly internalized homophobia that kept him from settling down with a guy, not so much access to legal marriage. In a culture that barrages you with negative images of homosexuality it's unsurprising that people can't visualize having a stable fulfilling same sex marriage.
But it isn't their fault. Don't be pointing your finger at them and saying they just needed some courage and self respect. If you didn't grow up then, if you weren't a gay kid living under that relentless barrage of loathing and contempt, lucky you, you cannot know how it was. I don't see myself as the better man for not giving in, just stubborn. Love took me completely by surprise. I was lucky. Lots of gay guys of my generation weren't.
And I can almost look out my window some nights, especially during the holidays, having had my visits with the Ghosts of Love That Almost Was, and see the phantoms outside. Maybe someday I'll walk among them. What's missing from stories like this man's, ghosted, invisible, lost even to themselves, is the guy who could have loved him, and will never know. Like ghosts wandering through a Dickens landscape, true to themselves, living an honest life, yet still having to wear the chains of other people's hatreds, bearing down upon us just as surely as if we were living in the closet too.