March 3rd, 2019
The Bidet…A Couple Weeks Later
So…the bidet… And if you think this is oversharing feel free to change the channel. But some people expressed interest in how well the thing actually works.
Just to recap, I bought one of those bidet toilet seat conversions when I saw a really nice one that Costco was selling for slightly better than half off. I'm assuming it's an about to be discontinued model, because when I last checked they still have it listed on the manufacturer's website.
It was a pretty simple and straightforward installation, but then I have a bunch of tools and a near lifetime of experience doing my own simple household repairs and improvements. Even growing up in a bunch of suburban garden apartments you found that fixing leaks yourself got the job done quicker than calling the landlord, plus it kept strangers out of your nest. The thing most people get wrong when replacing things like a toilet float, hoses and faucet washers is they over tighten the connections and then they leak. Hand tighten, and then just a tad more with the wrench will usually do it. (When changing an oil filter, Only hand tighten.) This time I had to go back and gently add some torque to a couple of the connections a day later when I noticed some minor drippage, but it was pretty simple otherwise. My bathroom had outlets nearby but I did have to run a power strip to the wall behind the toilet. The instructions said to use a surge protector.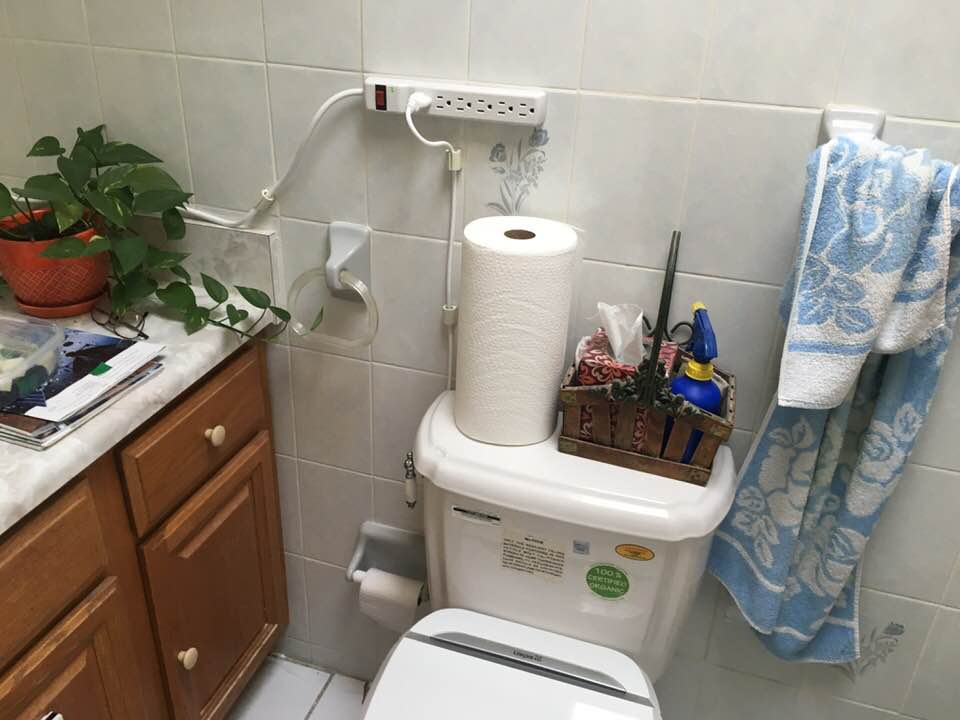 Does it work? Well I can't speak to how well it works on lady parts, but as to the part we all share…yes. Absolutely! Gets you spic and span. Much Much better and more hygienically than paper. But there are adjustments you need to tweak: water temperature, pressure, nozzle position and whether to turn on the aerator. The spray is timed for a minute and then automatically stops, or stops instantly if you get off the seat. Repeat as needed. My experience is adjusting the position of the nozzle back and forth while it's working gives best results. I only use toilet paper now to dry myself and that's cut down my use of it considerably, and counter intuitively it's also cut down water consumption. That's from flushing the paper down. Now I flush less often, so that's less water down the drain. There's an air dry function that's timed for three minutes but I have no patience.
There's a seat warmer which is nice, and is adjustable. There's a fan that turns on and pulls air out of the bowl while you're sitting on it, and out through a carbon filter to keep the bathroom stink free. It shines a soft blue light into the bowl which is nice for when your bladder insists in the middle of the night. I give it a thumbs up. Money well spent.
Except… Due to being needed at Goddard first thing Friday morning I rented a room in Greenbelt Thursday night. Shortly after I got there I realized that when I travel from now on I'm going to miss having that bidet whenever wherever I need to hit the john. All technology is a two edged sword.