June 18th, 2022
How To Turn Blood Into Votes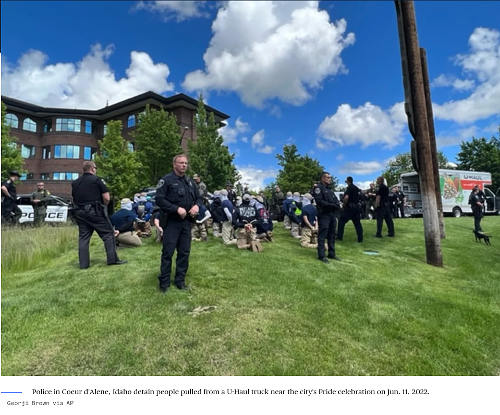 Anti-LGBTQ threats, fueled by internet's far right 'machine,' shut down trans rights and drag events

Inundated with threats during Pride Month, LGBTQ+ rights advocates and allies have been forced to cancel events and involve local law enforcement authorities after a group of white nationalists were arrested outside a Pride event in Coeur D'Alene, Idaho.
You could say this is nothing new because the republican machine has been ginning up fear and hatred of gay people to drive their base to the polls, ever since Anita Bryant showed them back in 1977 how well it worked. I have examples of republican hate pamphlets mailed out in critical races and swing states for almost every election cycle since the 90s.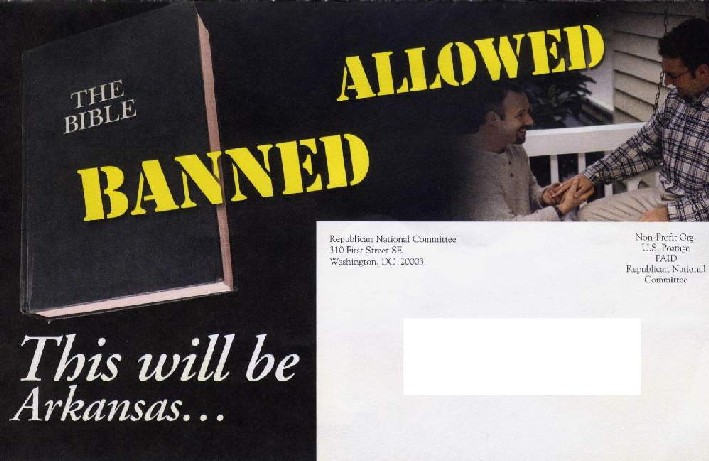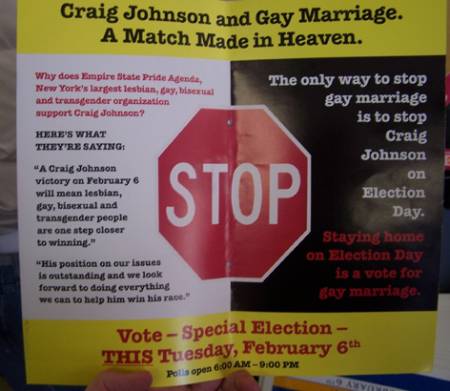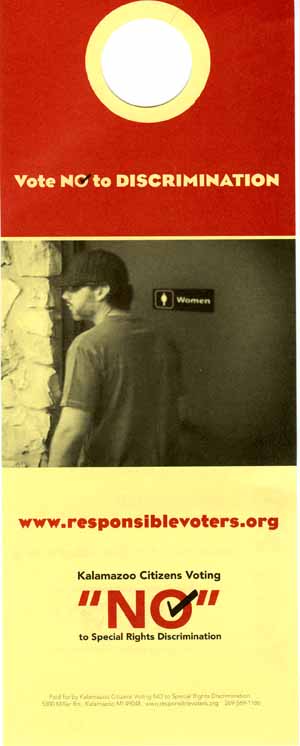 What's different now is the overt threat of violence, coming against a background of multiple mass shootings in recent years, the violent January 6 storming of the United States Capitol, and a president of the United States that didn't merely condone political violence, but actively employed it. And he had every reason to believe he could get away with it, because he did it all throughout his campaign in 2016 and instead of rejecting him republican voters flocked to him and he won. With Donald Trump a Rubicon was crossed.
Now we have open carry laws in states already deeply hostile toward LGBT Americans. Now we have mass shootings in places of work, churches, grocery stores, elementary schools. Now we have republican state governors and legislators openly inciting religious and social passions against us, and writing laws allegedly to protect children from us, threatening businesses that treat us with respect, calling out everyone who opposes their hate-mongering as "groomers" and pedophiles, all deliberately calculated to incite fear and hatred toward us. For votes. There is no other reason.
Then come the violent street gangs. Our blood on the pavement, their votes on election day.
There is a political machine behind the targeting of Pride events by this element. A right wing political machine. A republican political machine. What you see there in the photo taken in Coeur D'Alene is no more spontaneous than January 6 was. And just like with the Big Lie, the respectable republican cloth coat establishment is fine with it, and with whatever bloodshed it may bring. So long as it stays far enough away from them personally that they can maintain their aura of establishment respectability, and it delivers them more votes from the mob than it costs them with decent Americans.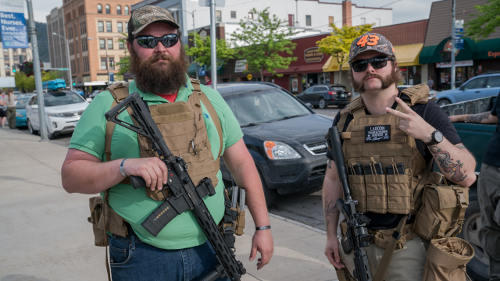 Posted In: Life Politics Thumping My Pulpit
Tags: Anti-Gay Violence, Republican America, The Abyss
by
Bruce
|
Link
|
React!