September 19th, 2023
The Tribulation As A Low Budget Reality Show
Some time ago I saw this in my Twitter feed and immediately thought of
Fred Clark
and his amazing series of reviews of the Left Behind books…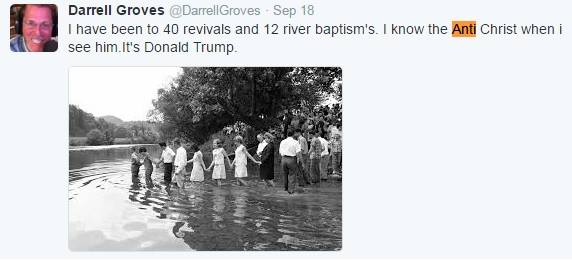 This is an angle the writers of various tribulation stories always overlook, because for some reason the AntiChrist needs to always to be portrayed as a smooth operator. An international celebrity whose words and deeds completely hypnotize the masses into doing his bidding. But imagine a different take…
…Imagine for a moment, the AntiChrist as a reality show buffoon. A transparently bogus swindler, a cheat, a carnival con artist. A bar stool bigot who isn't fooling anybody. It's the AntiChrist not as a smooth operator with a silken voice and impeccable manners, but a loudmouthed ignoramus, a second rate swindler. He's not impressive, he's pathetic.
And yet civilization falls.
Then, in the midst of all the wreck and ruin, have Satan appear and declare that this buffoonish Antichrist was his final gesture of contempt for humanity and the God that created it. Oh, he knows what's coming…he knows he cannot win…it's all preordained. This is his final middle finger at God Almighty. The world ends, civilization is defeated, not by a master liar and clever manipulator, but by a babbling bragging buffoon even a half wit could see through, and that so many were willing to follow anyway, not because they were deceived but because he validated them.

Posted In: Thumping My Pulpit
Tags: Furiously Thumping My Pulpit, The Abyss
by
Bruce
|
Link
|
React!