April 10th, 2015
How To Laugh Until You Cry…
A friend who's been in the fight against ex-gay therapy with me since the Love In Action protests posted this Onion article to his Facebook page the other day…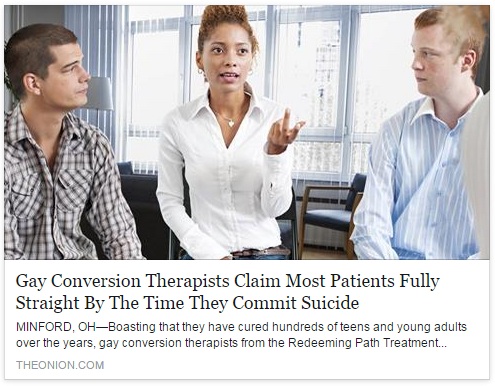 "We've found that a combination of group interventions, narrative therapy, and cognitive-behavioral approaches fully eliminates homosexual urges before the individual takes his or her own life," said program director Christian Weber, adding that many of their biggest success stories are even in stable, heterosexual relationships when they're found lifeless in their own home or dredged from a nearby body of water.
Full Onion Article Here.  You know the kind of laugh you get sometimes when it's funny but painful at the same time…?

Posted In: Life Politics
Tags: ex-gays, Sexual Orientation, The Struggle For Our Lives
by
Bruce
|
Link
|
React!