! The Weekly Cartoon> <! Created by Bruce Garrett> <! Created using MultiEdit for Windows>

<!BODY BACKGROUND="backgrnd.jpg"> <!BODY bgcolor="#FFEBCD">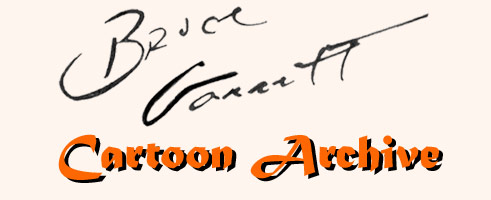 ---
December 12, 2005
---
The American Family Association began trumpeting a victory over Ford Motor Corporation this week, claiming that Ford had averted a boycott by agreeing to its demands that it stop being a gay friendly corporation.

Ford spokesdroids seemed to initially agree with the AFA's assessment of the situation, but as anger erupted around them from all quarters of the civilized world, Ford began to spin it as a mere business decision. But as industry publication Wards Auto began publishing articles based on sources privy to the negotiations, it became increasingly uncertain just who the spin was meant to fool. The southern Ford dealers that demanded Ford meet with the AFA seemed to know perfectly well what was going on, and were more then willing to say so to industry insiders. Then after Ford sent an email to its gay employee group, stating that it regretted that some of its advertising to the gay community had offended people, there seemed little doubt that Ford had indeed crafted an agreement with the AFA, that suddenly neither seemed willing to discuss in public.

But as of this week the broad outlines of it seem clear: For will no longer advertise most of its brands in gay community publications, and the one brand it will continue to market directly to the gay community, will only do so by way of generic advertising, not advertising tailored to speak directly to gay and lesbian people. Ford will furthermore stop all sponsoring gay events and will no longer participate in fundraising activity for the gay community. These terms were apparently worked out with the help of David Leitch, and Ziad Ojakli. Mr. Leitch is general counsel and a senior vice president at Ford. Mr. Ojakli is Ford's vice-president of corporate affairs.

Both men have connections to the Bush Administration.

Ominously, AFA's Special Projects Director Randy Sharp, in a comment to Wards Auto, said that the AFA still had one issue outstanding with Ford, which was "non-negotiable". "We've made it very clear" he said, "that if Ford does not move on this one issue, the AFA will reinstate the boycott with renewed vigor."

Ford, at least for the moment, is still offering its gay and lesbian employees domestic partner benefits. Any guesses as to what that one outstanding non-negotiable issue is?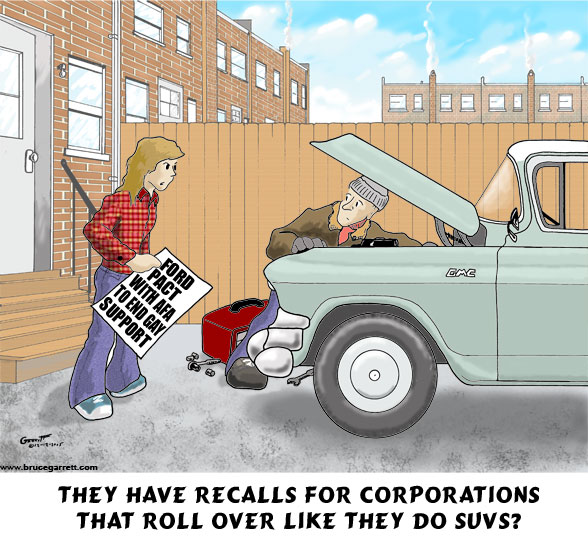 Copyright © December 12, 2005 by Bruce Garrett
All Rights Reserved.

Link
---
Bruce Garrett Cartoon. Weekly gay editorial cartoon. This HTML Document, and all linked images, unless otherwise noted, are copyright © 2005 by Bruce Garrett. All rights reserved. Send comments, questions and hysterical outbursts to: bruce@brucegarrett.com


This document was created using MultiEdit for Windows and/or BBEdit for Mac OS/X, The GIMP and/or Adobe Photoshop CS. It was proofed using Mozilla FireFox