! The Weekly Cartoon> <! Created by Bruce Garrett> <! Created using MultiEdit for Windows Version 8.0i>

<!BODY BACKGROUND="backgrnd.jpg"> <!BODY bgcolor="#FFEBCD">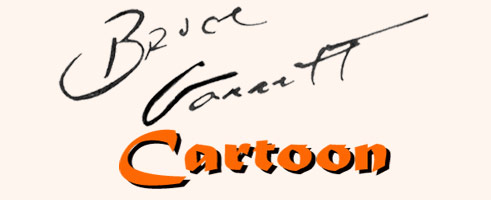 ---
September 30, 2002
---
News Item:
Bush Administration Resumes Fight To Allow Religious Groups To Discriminate While Receiving Federal Grants
The Bush Administration is preparing to unilaterally rewrite federal regulations, which prevent federal monies to go to charitable organizations that discriminate based on religion. The changes will allow the Education, Housing and Urban Development, Health and Human Services, Justice and Labor departments to give public money to faith-based charities which refuse to hire certain people.
Waiting for the rewrite are federal departments such as HHS, which will allow groups to pass portions of millions of dollars in grant money on to small churches and other religious groups, HUD, which will open access in eight government programs to religious groups previously barred because they refuse to hire people based on religious faith, and the Education Department, which will allow religious groups that discriminate in hiring to receive grants for after-school programs.
The move comes as the U.S. Senate continues its debate on a bill to permit "faith-based" charities to receive public funds, whether or not those charities may be allowed to discriminate and whether public money can pay for secular elements of a religious program.
Copyright © September 30, 2002 by Bruce Garrett
All Rights Reserved


This site hosted by:
---
This HTML Document, and all linked images, copyright © 2002 by Bruce Garrett. All rights reserved. Send comments, questions and hysterical outbursts to: bruce@brucegarrett.com


This document was created using MultiEdit for Windows, The GIMP and/or Adobe Photoshop Elements
It was proofed using Microsoft Internet Explorer 6