! The Weekly Cartoon> <! Created by Bruce Garrett> <! Created using MultiEdit for Windows Version 8.0i>

<!BODY BACKGROUND="backgrnd.jpg"> <!BODY bgcolor="#FFEBCD">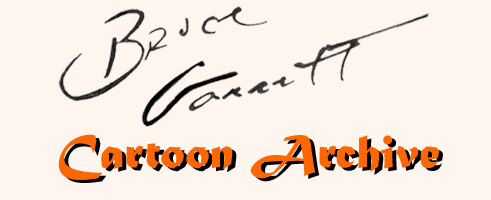 ---
September 3, 2002
---
News Item:
Milwaukee Boy Scouts Sign United Way Non-Discrimination Pledge, Cross Out 'Sexual Orientation'
Saying they've found a way to honor their national organization's ban on homosexuals and a local United Way policy against funding groups that discriminate against homosexuals, officials of the Milwaukee County Council of the Boy Scouts of America signed a United Way Pledge not to discriminate, after crossing out the words, 'Sexual Orientation'.
The Milwaukee Boy Scouts receive more than $650,000 from the United Way, which is their largest single donor. Asked how a local troop could the ban homosexuals and comply with the United Way's non-discrimination rule at the same time, Gregg Shields, national spokesman for the Boy Scouts of America, said, "That would be for the United Way to decide."
Sue Dragisic, United Way of Greater Milwaukee president, refused to confirm that the Boy Scouts had signed the non-discrimination policy. Vince Martin, the chair of the United Way's board of directors, said the board was "clearly pleased" that the local Scouts council signed. "The United Way seeks to serve the broad community," he said.
Copyright © September 3, 2002 by Bruce Garrett
All Rights Reserved


This site hosted by:
---
This HTML Document, and all linked images, copyright © 2002 by Bruce Garrett. All rights reserved. Send comments, questions and hysterical outbursts to: bruce@brucegarrett.com


This document was created using MultiEdit for Windows, The GIMP and/or Adobe Photoshop Elements
It was proofed using Microsoft Internet Explorer 6