! The Weekly Cartoon> <! Created by Bruce Garrett> <! Created using MultiEdit for Windows Version 8.0i>

<!BODY BACKGROUND="backgrnd.jpg"> <!BODY bgcolor="#FFEBCD">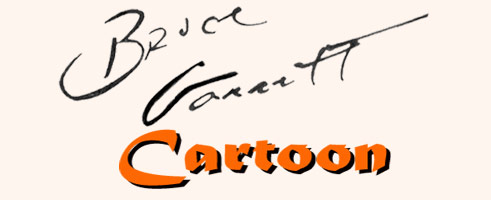 ---
August 5, 2002
---
News Item:
King Center Denounces King Image on Anti-Gay Flier
The Martin Luther King Jr. Center has denounced the use of King's image on a flier produced by the anti-Gay group Take Back Miami.
Take Back Miami, which is waging a bitter campaign to repeal the non-discrimination ordiance passed last year, produced the flier with King's image on it, that reads in part: "Martin Luther King Jr. would be OUTRAGED! If he knew homosexualist extremists were abusing the civil rights movement to get special rights based on their sexual behavior."
Coretta Scott King, in a statement Thursday, said, "I appeal to everybody who believes in Martin Luther King Jr.'s dream to make room at the table of brother and sisterhood for lesbians and gay people." Lynn Cothren, special assistant to Ms King, said that while Mr. King never publicly discussed his views on homosexuality, he told his wife he was concerned about discrimination against gays and lesbians.
Nathaniel Wilcox, Take Take Back Miami/Dade's assistant director, who helped prepare the flier, defended the use of King's image on it, saying, "I fear other people might be trying to speak for him but, as a minister, he believed in the word of God. The Book of Romans speaks against homosexual relations. And if Dr. Martin Luther King was the man of God I think he was, then he preached against all sorts of immorality – including lying, stealing and homosexuality." Early in the campaign, Wilcox compared the non-discrimination ordinance, which outlaws discrimination in jobs and housing on the basis of sexual orientation, to the notorious Tuskegee Experiment.
Four organizations are listed on the flier as endorsers: the African American Council of Christian Clergy, the Democratic League of Miami-Dade County, Families Strengthening Communities for the Good Life and People United to Lead the Struggle for Equality.
Copyright © August 5, 2002 by Bruce A. Garrett
All Rights Reserved


This site hosted by:
---
This HTML Document, and all linked images, copyright © 2002 by Bruce A. Garrett. All rights reserved. Send comments, questions and hysterical outbursts to: bruce@brucegarrett.com


This document was created using MultiEdit for Windows, The GIMP and/or Adobe Photoshop Elements
It was proofed using Microsoft Internet Explorer 6