! The Weekly Cartoon> <! Created by Bruce Garrett> <! Created using MultiEdit for Windows Version 8.0i>

<!BODY BACKGROUND="backgrnd.jpg"> <!BODY bgcolor="#FFEBCD">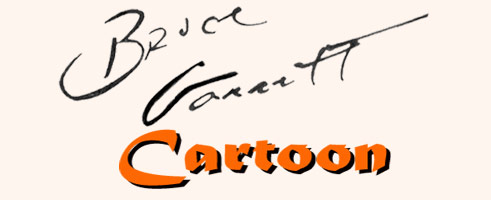 ---
August 26, 2002
---
News Item:
Take Back Miami/Dade Workers Arrested
Four members of Take Back Miami/Dade were arrested this week on charges relating to petition fraud, including Anthony Verdugo Jr., chairman of the Miami-Dade County Christian Coalition. A 17-year-old boy was arrested on seven counts of falsely swearing that he had witnessed someone signing a petition. Two other volunteers were arrested for notarizing their own petitions, which is a third-degree felony, punishable by up to five years in prison. Mr. Verdugo was arrested on one count of falsely swearing.
Since its inception, the Take Back Miami/Dade petition drive to repeal the addition of sexual orientation to the Dade County anti-discrimination ordinance has been racked by charges of fraud. A court case is pending, over charges that the signatures on many of the petition sheets were all signed by the same person.
In a previous incident, two other notaries working for Take Back Miami/Dade, Anton and Julie Svadbik, were charged with fraud in an scheme unrelated to the petition drive, involving fraudulently notarized automobile titles. Their notary seals appear on the petitions of nearly half of the signatures collected from October to December 2000.
Copyright © August 26, 2002 by Bruce Garrett
All Rights Reserved


This site hosted by:
---
This HTML Document, and all linked images, copyright © 2002 by Bruce Garrett. All rights reserved. Send comments, questions and hysterical outbursts to: bruce@brucegarrett.com


This document was created using MultiEdit for Windows, The GIMP and/or Adobe Photoshop Elements
It was proofed using Microsoft Internet Explorer 6