! The Weekly Cartoon> <! Created by Bruce Garrett> <! Created using MultiEdit for Windows Version 8.0i>

<!BODY BACKGROUND="backgrnd.jpg"> <!BODY bgcolor="#FFEBCD">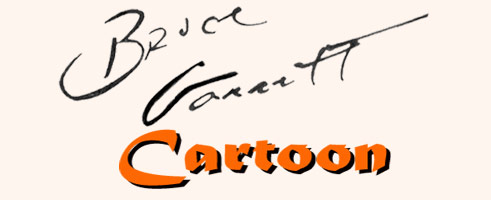 ---
August 12, 2002
---
News Item:
Gay Baseball Player Advises Others To Stay Closeted
During a two-minute July 21 appearance on HBO's Arli$$, former San Diego Padre outfielder Billy Bean advised the fictional sports super agent to keep one of his players in the closet.
In the episode titled, "Playing it Safe", sports agent Arliss Michaels seeks advise from Bean, who plays himself, about a star baseball player who wants to come out. Bean warns the agent that it would be the end of the man's career if he did. In the end, although the agent decides to support the player, upon hearing homophobic comments from his teammates, the player decides to stay closeted.
Bean quit Major League Baseball in 1995 and came out of the closet three years later. His appearance on the HBO show disappointed some, such as Jim Buzinski, former sports editor for The Long Beach Press-Telegram, who later launched Outsports.com. "If someone said, 'I wanted to do this,'" said Buzinski, "it would be nice to hear words of encouragement. [Bean] simply says 'Career suicide. Shouldn't happen.'" Others however, defended Bean for simply telling it like it is.
Gay Major League Baseball players who come out stand to lose millions of dollars in income, according to Bean. "[Gay athletes] are trying to make a living. Sometimes, you just have to keep your private life private."
Copyright © August 12, 2002 by Bruce A. Garrett
All Rights Reserved


This site hosted by:
---
This HTML Document, and all linked images, copyright © 2002 by Bruce A. Garrett. All rights reserved. Send comments, questions and hysterical outbursts to: bruce@brucegarrett.com


This document was created using MultiEdit for Windows, The GIMP and/or Adobe Photoshop Elements
It was proofed using Microsoft Internet Explorer 6