! The Weekly Cartoon> <! Created by Bruce Garrett> <! Created using MultiEdit for Windows>

<!BODY BACKGROUND="backgrnd.jpg"> <!BODY bgcolor="#FFEBCD">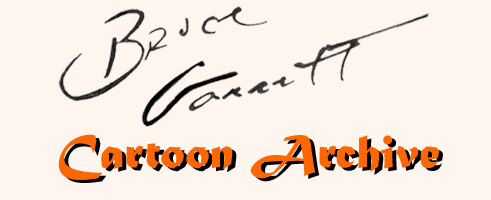 ---
July 11, 2005
---
News Item:
Tennessee Department Of Health Investigates "Love In Action" Over State License Requirement
The Tennessee Department of Health is investigating "Love In Action" over accusations that it is operating an unlicensed alcohol and drug treatment program. In a letter recently sent to John Smid, the Department of Health stated that "Love In Action" must "have a license from the Tennessee Department of Health to provide these services" The letter went on to state, "If you do not wish to become licensed, you must immediately cease operations and transfer any residents/patients to other appropriate placement. Failure to comply with state law may result in legal action by your local District Attorney or the Tennessee Department of Health."

John Smid has claimed alternately that "Love In Action" is a "Christ-centered ministry for the prevention or treatment of unhealthy and destructive behaviors facing families, adults, and adolescents", an "addictions treatment center", and a "professional recovery treatment center".

Protests against Love In Action began after a teenager named Zach posted desperate messages to his blog, telling friends that after coming out to his parents, he was being forced into the program. In one post, the teenager discussed thoughts of suicide.

At a press conference held shortly after the protests began, Smid presented Doctor Steven Rice, an investigator with Clinical Neuroscience Solutions, Inc. of Memphis, and member of the LIA board of directors, to rebut charges that LIA is not qualified to treat teenagers in a mental health capacity. Rice, licensed as an adolescent and senior psychiatrist, lists among other professional organizations, membership in the American Psychiatric Association, a group which, in December of 1998, rejected reparative therapy as ineffective and potentially destructive. Their Board of Trustees unanimously adopted a position statement opposing reparative therapy.


Copyright © July 11, 2005 by Bruce Garrett
All Rights Reserved.

Link
This site hosted by:
---
Bruce Garrett Cartoon. Weekly gay editorial cartoon. This HTML Document, and all linked images, unless otherwise noted, are copyright © 2005 by Bruce Garrett. All rights reserved. Send comments, questions and hysterical outbursts to: bruce@brucegarrett.com


This document was created using MultiEdit for Windows and/or BBEdit for Mac OS/X, The GIMP and/or Adobe Photoshop CS. It was proofed using Mozilla FireFox