! The Weekly Cartoon> <! Created by Bruce Garrett> <! Created using MultiEdit for Windows>

<!BODY BACKGROUND="backgrnd.jpg"> <!BODY bgcolor="#FFEBCD">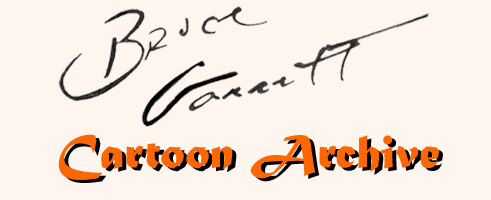 ---
July 11, 2005
---
News Item:
PFOX States Belief In "Tolerance", "Equality", and "Self Determination". Nominates Sodomy Law Supporter To Sex Ed. Board.
The Group, Parents And Friends Of Ex Gays (PFOX) released its statement to the Montgomery County (MD) Board of Education, in which it's spokesperson, Richard Cohen, said, "Regarding homosexuality, we at PFOX are Pro-Choice. We believe in everyone's right of self-determination." PFOX has been fighting the Montgomery County Board of Education over proposed sex education material, critical of reparative therapy.

In a proposed settlement to the lawsuit, an advisory panel to help create a new sex-education curriculum was established. PFOX and Citizens for a Responsible Curriculum (CRC), who are in favor of the course material PFOX sued to remove, have each nominated one person to represent their interests on the panel. PFOX's nominee is Peter Sprigg, a Focus On The Family member who made submission jointly with Focus when the Supreme Court took on the case of Lawrence v Texas, asking that homosexuality remain a criminal act. Sprigg has vigorously supported the criminalization of homosexual sex in public forums nationwide.

In his statement to the Montgomery County Board of Education, Richard Cohen said, "We at PFOX believe wholeheartedly in Tolerance, Diversity and Equality for all people."
Copyright © July 11, 2005 by Bruce Garrett
All Rights Reserved.

Link
This site hosted by:
---
Bruce Garrett Cartoon. Weekly gay editorial cartoon. This HTML Document, and all linked images, unless otherwise noted, are copyright © 2005 by Bruce Garrett. All rights reserved. Send comments, questions and hysterical outbursts to: bruce@brucegarrett.com


This document was created using MultiEdit for Windows and/or BBEdit for Mac OS/X, The GIMP and/or Adobe Photoshop CS. It was proofed using Mozilla FireFox