! The Weekly Cartoon> <! Created by Bruce Garrett> <! Created using MultiEdit for Windows>

<!BODY BACKGROUND="backgrnd.jpg"> <!BODY bgcolor="#FFEBCD">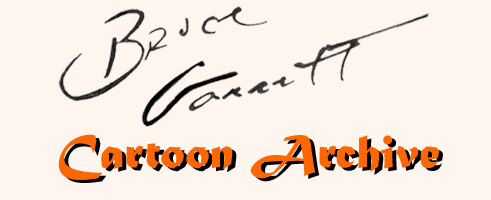 ---
June 20, 2005
---
News Item:
"Love In Action" Holds Damage Control Press Conference
As protests continued in front of the site of "Love In Action" over the forced participation of unwilling gay teens, it's director, John Smid, called a press conference designed to rebut criticisms that the program, based on reparative therapy models widely discredited and opposed by mental health care professionals, amounted to child abuse.

Smid presented only one staff health care professional, Steven Rice, who appeared before reporters wearing a lab coat. Rice, an investigator with Clinical Neuroscience Solutions, Inc. of Memphis lists among other professional organizations, membership in the American Psychiatric Association, a group which, in December of 1998, rejected reparative therapy as ineffective and potentially destructive.

The APA statement said in part:

"The potential risks of 'reparative therapy' are great, including depression, anxiety and self-destructive behavior, since therapist alignment with societal prejudices against homosexuality may reinforce self-hatred already experienced by the patient."

"Many patients who have undergone 'reparative therapy' relate that they were inaccurately told that homosexuals are lonely, unhappy individuals who never achieve acceptance or satisfaction."

"The possibility that the person might achieve happiness and satisfying interpersonal relationships as a gay man or lesbian is not presented, nor are alternative approaches to dealing with the effects of societal stigmatization discussed."

"Therefore, the American Psychiatric Association opposes any psychiatric treatment, such as 'reparative' or 'conversion' therapy which is based upon the assumption that homosexuality per se is a mental disorder or based upon a prior assumption that the patient should change his/her homosexual orientation.

The protests began after a teenager named Zach posted desperate messages to his blog, telling friends that after coming out to his parents, he was being forced into the program. In one post, the teenager discussed thoughts of suicide.

Love In Action's involuntary teen program, called Refuge, lists as staff many former clients who sought treatment for a variety of sexual, emotional and substance abuse problems. Currently there are no laws regulating such organizations, and no independent oversight of their treatment of minors.
Copyright © June 20, 2005 by Bruce Garrett
All Rights Reserved.

Link
This site hosted by:
---
Bruce Garrett Cartoon. Weekly gay editorial cartoon. This HTML Document, and all linked images, unless otherwise noted, are copyright © 2005 by Bruce Garrett. All rights reserved. Send comments, questions and hysterical outbursts to: bruce@brucegarrett.com


This document was created using MultiEdit for Windows and/or BBEdit for Mac OS/X, The GIMP and/or Adobe Photoshop CS. It was proofed using Mozilla FireFox