! The Weekly Cartoon> <! Created by Bruce Garrett> <! Created using MultiEdit for Windows>

<!BODY BACKGROUND="backgrnd.jpg"> <!BODY bgcolor="#FFEBCD">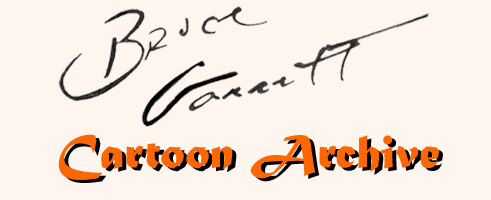 ---
May 15, 2006
---
Warning Italy's brand new left-of-center government that he intends to use all the power the Vatican has at it's fingertips to kill any move to recognize same-sex couples in Italy, Pope Benedict the (whatever)th (previously the Cardinal known as Joseph Ratzinger), let loose yet another in what has become a steady stream of papal denunciations of gay people, civil rights laws that protect gay people, and especially any recognition whatsoever of same sex unions.

"Only the foundation of complete and irrevocable love between man and woman is capable of forming the basis of a society that becomes the home of all men," says Ratzinger "confusing marriage with other types of weak love" should be avoided.

And speaking of weak love...who was it again who said, "Love Thy Neighbor"...? In other news last week, police in Bridgeport, Connecticut arrested Two teenagers for beating of a fellow high school student, presumably because they didn't have enough time to charge the other dozen or so who were observed taking part in the kid's beating too. Rumors about the beaten students' sexuality are said to have provoked ongoing tension at Central. Students are saying the school is doing little to protect their LGBT classmates. Weak Love.
Copyright © May 15, 2006 by Bruce Garrett
All Rights Reserved.

Link
---
Bruce Garrett Cartoon. Weekly gay editorial cartoon. This HTML Document, and all linked images, unless otherwise noted, are copyright © 2006 by Bruce Garrett. All rights reserved. Send comments, questions and hysterical outbursts to: bruce@brucegarrett.com


This document was created using MultiEdit for Windows and/or BBEdit for Mac OS/X, The GIMP and/or Adobe Photoshop CS. It was proofed using Mozilla FireFox