! The Weekly Cartoon> <! Created by Bruce Garrett> <! Created using MultiEdit for Windows Version 9.b>

<!BODY BACKGROUND="backgrnd.jpg"> <!BODY bgcolor="#FFEBCD">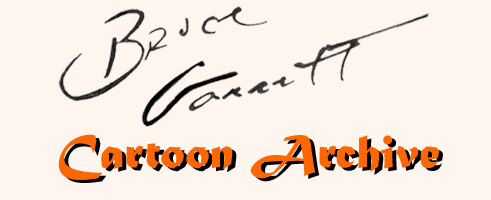 ---
March 4, 2002
News Item:
Maryland Shock Trauma Center Bars Gay Man From His Partner's Room Because He Is Not "Family"
For four hours, officials at the Maryland Shock Trauma Center barred William Robert Flanigan Jr. from his dying partner's bedside, saying he was not "family", and that 'partners' did not qualify. Though Flanigan had legal power of attorney for his partner, Robert Lee Daniel, officials at the Shock Trauma Center insisted he would not be allowed his partner's bedside. Only when Daniel's mother arrived from New Mexico, was Flanigan allowed into Daniel's room. By that time, Daniel had lost consciousness. He would die two days later.

Because Flanigan was not present during Daniel's final four hours of consciousness, Flanigan was unable to tell Shock Trauma that Daniel did not want breathing tubes or a respirator. When Daniel tried to rip the tubes out of his throat, staff members put his arms in restraints.


Copyright © March 4, 2002 by Bruce Garrett
All Rights Reserved.

Link
This site hosted by:
---
Bruce Garrett Cartoon. Weekly gay editorial cartoon. This HTML Document, and all linked images, unless otherwise noted, are copyright © 2002 by Bruce Garrett. All rights reserved. Send comments, questions and hysterical outbursts to: bruce@brucegarrett.com


This document was created using MultiEdit for Windows and/or Crisp for Linux, The GIMP and/or Adobe Photoshop Elements. It was proofed using Microsoft Internet Explorer 6 and/or Mozilla 2.5