! The Weekly Cartoon> <! Created by Bruce Garrett> <! Created using MultiEdit for Windows>

<!BODY BACKGROUND="backgrnd.jpg"> <!BODY bgcolor="#FFEBCD">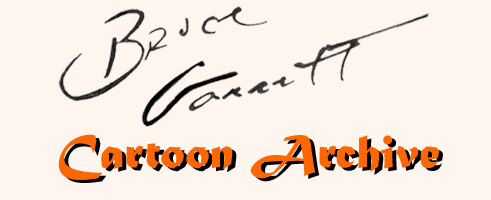 ---
March 27, 2006
---
For some weeks now, a group of students have been traveling across the country to draw attention to colleges that exclude gays and lesbians. Organized by Mel White's Soulforce, the Equality Ride students have endured everything from minor harassment to outright arrest as they tried to engage other students at these discriminatory colleges in dialogue.

In Oklahoma they stopped at the Oklahoma Baptist University in Shawnee where, this time, there were no police waiting to take them into custody the moment they stepped off the bus. But as the students finished up their stay in Oklahoma, the Oklahoma state school board sent it's own message to them, and to glbt students across the state, overturning a policy that had protecting gay students from discrimination from teachers.

The previous policy said that teachers could not deny benefits to any student, or grant any advantage to any student, based on sexual orientation. The new policy simply requires teachers to comply with all federal and state anti-discrimination laws. It's about as cynical as it gets with red state bigots: Federal and state laws, of course, do not protect students on the basis of sexual orientation or gender identity.

On the surface the new policy is limited to the actions of teachers, but in practice it gives the green light to any and all students who want to make school life hell for their gay and lesbian peers. By very publicly withdrawing protections from gay and lesbian kids, the school board is giving adult teachers permission to degrade and harass children in their care. They're telling every bully in the state that they won't mind if they take a few swings at those kids, so long as they do it in front of a teacher who doesn't mind either. And they're doing it, in the name of morals and values.

State Representative republican (surprise, surprise) Kevin Calvey of Del City, later said that prior arrests of Soulforce equality riders were proof that the regulation needed to be changed, to "protect" students from LGBT activist groups. But the regulation spoke to the student teacher relationship, not to the rights of non-students visiting any state campus. What the homophobes of Oklahoma did was deliberately, cynically, sickeningly, encourage teachers to either abuse gay kids themselves, or silently condone it, in retribution for Soulforce's visit to religious colleges. This is what passes for Christianity in the heartland.
Copyright © March 27, 2006 by Bruce Garrett
All Rights Reserved.

Link
---
Bruce Garrett Cartoon. Weekly gay editorial cartoon. This HTML Document, and all linked images, unless otherwise noted, are copyright © 2006 by Bruce Garrett. All rights reserved. Send comments, questions and hysterical outbursts to: bruce@brucegarrett.com


This document was created using MultiEdit for Windows and/or BBEdit for Mac OS/X, The GIMP and/or Adobe Photoshop CS. It was proofed using Mozilla FireFox