! The Weekly Cartoon> <! Created by Bruce Garrett> <! Created using MultiEdit for Windows>

<!BODY BACKGROUND="backgrnd.jpg"> <!BODY bgcolor="#FFEBCD">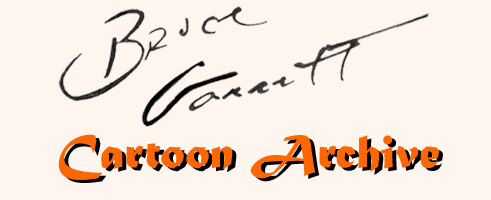 ---
January 23, 2006
---
Within literally days after Maryland's anti-Gay governor Robert Ehrlich announced his scraps from the table offering of an Advance Directives Registry to take the place of the Medical Directives Registry he vetoed last year, a Maryland Judge declared discrimination against same sex couples was against the state constitution.

To appreciate why Maryland gay rights activists were willing to eat the governor's scraps, you need only consider the case of Ocean County New Jersey policewoman Laurel Hester, who while dying of cancer, had to fight the Ocean County freeholders for the right to leave her pension to her spouse after she died, so her spouse could continue living in the home they shared for years. And anyone who thinks a simple will could solve that problem has never had to navigate the complexities of joint property ownership outside of marriage. It doesn't work. Marriage makes a couple into a single economic unit in a way nothing else does. The tax burden alone can force the spouse left behind out of the home they shared for years.

But to bigots like Robert Ehrlich and his political base, so much the better. In a relatively liberal state like Maryland, Ehrlich had to be seen to at least be offering same sex couples something...even if it was barely anything. And gay rights activists would have to accept even that meager pittance because it might make the difference between survival and calamity for some couples.

But now Maryland gets to have its conversation about same sex marriage, and that great cornucopia of rights heterosexual couples take for granted as merely their due, that same sex couples can, for now, only dream about. When its over, if nothing else, we'll all know who can see the people for the homosexuals.
Copyright © January 23, 2006 by Bruce Garrett
All Rights Reserved.

Link
---
Bruce Garrett Cartoon. Weekly gay editorial cartoon. This HTML Document, and all linked images, unless otherwise noted, are copyright © 2006 by Bruce Garrett. All rights reserved. Send comments, questions and hysterical outbursts to: bruce@brucegarrett.com


This document was created using MultiEdit for Windows and/or BBEdit for Mac OS/X, The GIMP and/or Adobe Photoshop CS. It was proofed using Mozilla FireFox