! The Weekly Cartoon> <! Created by Bruce Garrett> <! Created using MultiEdit for Windows>

<!BODY BACKGROUND="backgrnd.jpg"> <!BODY bgcolor="#FFEBCD">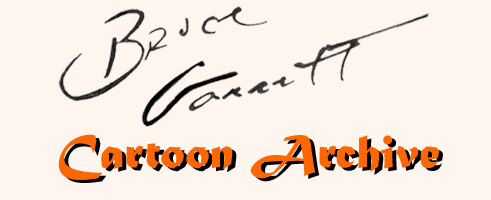 ---
December 5, 2005
---
In Indianapolis a group of nearly a dozen black pastors, without any visible sense of either history or irony, gathered in the Indianapolis City Council building last week to hold a prayer vigil where they called for divine intervention to block...no...not same sex marriage, but a proposed law banning discrimination against gay people in employment, education, public accommodations, and housing. Separate water fountains for gays anyone?

Rev. Melvin Jackson of the ironically named Christian Love Missionary Baptist Church said that it was an offense to black people "...to be used - that the blood of our fathers and our own blood that was spilled on the pathways to civil rights should be used - as a lever to get legal license to make their [gay and lesbian people] own choices law."

In other news, in Alabama this week there were calls for gays to be added to that state's hate crimes law, following beatings of two gay men that left one in a coma and the other dead. More blood on the pathway to civil rights for all Americans, that a few ersatz men of god in Indianapolis last week couldn't be bothered to take notice of, as they walked over it.
Copyright © December 5, 2005 by Bruce Garrett
All Rights Reserved.

Link
This site hosted by:
---
Bruce Garrett Cartoon. Weekly gay editorial cartoon. This HTML Document, and all linked images, unless otherwise noted, are copyright © 2005 by Bruce Garrett. All rights reserved. Send comments, questions and hysterical outbursts to: bruce@brucegarrett.com


This document was created using MultiEdit for Windows and/or BBEdit for Mac OS/X, The GIMP and/or Adobe Photoshop CS. It was proofed using Mozilla FireFox