! The Weekly Cartoon> <! Created by Bruce Garrett> <! Created using MultiEdit for Windows Version 8.0i>

<!BODY BACKGROUND="backgrnd.jpg"> <!BODY bgcolor="#FFEBCD">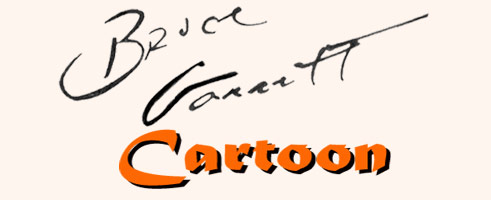 ---
October 7, 2002
---
News Item:
Bush Administration Cancels Funding For Conference On Lesbian Health, Policy Pattern On Health Care Seen
Federal officials notified the organizers of "Healing Works", a conference on lesbian health issues, that they would no longer fund the conference, even though funding was approved for last year's conference. Two high-ranking Health and Human Services staffers told conference organizers that a "conference on lesbian health did not fit with Secretary Thompson's vision."
This move comes amidst a background of Bush administration decisions to withhold or limit funding on women's health, gay and lesbian health, HIV prevention, and sex education for minors. Time Magazine reports this month that a "quiet battle" is raging over a Bush Administration plan to appoint a religious fundamentalist with few medical credentials, to head an influential Food and Drug Administration (FDA) panel on women's health policy. Other news reports have cited Bush Administration moves to replace credentialed members of scientific advisory boards with individuals more in agreement with Bush policies, regardless of their scientific merit. Information explaining the effectiveness of condoms in preventing HIV transmission was pulled from the Centers for Disease Control and Prevention Web site, as well as a section titled "programs that work," which highlighted several programs proved effective in fighting the spread of HIV, that involve condom use.
Health care advocates have expressed concern that the Bush Administration is conducting a "witch hunt" on programs that do not strictly adhere to an "abstinence only" methodology. "It's a campaign to censor science and research, and it's a campaign to use government auditors to intimidate opponents of the administration on key policy issues," said James Wagoner, president of Advocates for Youth, a group that promotes education about birth control and condom use.
The Commerce Department said this week that the number of Americans without health insurance is up by 1.4 million. The loss is due largely to workers loosing steady full time jobs which offer health insurance, and depending on part time work which typically does not offer benefits.
Copyright © October 7, 2002 by Bruce Garrett
All Rights Reserved


This site hosted by:
---
This HTML Document, and all linked images, copyright © 2002 by Bruce Garrett. All rights reserved. Send comments, questions and hysterical outbursts to: bruce@brucegarrett.com


This document was created using MultiEdit for Windows, The GIMP and/or Adobe Photoshop Elements
It was proofed using Microsoft Internet Explorer 6