December 5th, 2023
No Rest For The Facebook Weary
At some point after I've finished with the next and final-ish episode of A Coming Out Story, I will need to set up a page and sub galleries for my stand alone artwork and sketches. Because all of that I've posted on my Facebook page is going away.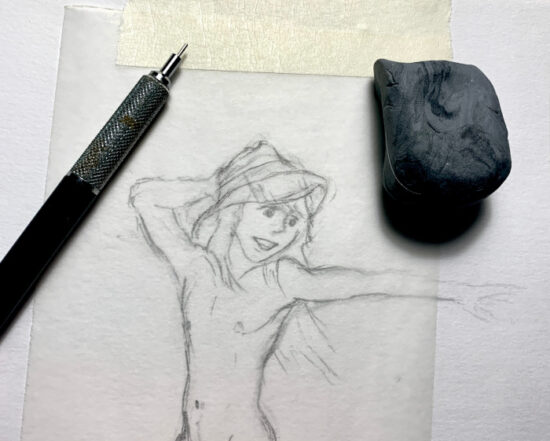 Disengaging from online commercial social media may have another benefit besides not having to endure the censor algorithms. Less time with my face in a smartphone app, more time at the drafting table.
The sketches above are for a cartoon I have been trying to get out of me for, no kidding, four years now. A lot of that is my struggling with how sexy to make it and still not go over the line into cheap thrills. I've drawn and re-drawn the frames in it many multiple times because I want it to be authentically what I meant without any ridiculous self-censorship. But when all is said and done it's still my own personal take on a particular song, nobody else's, and there's a reason why the character of my libido in A Coming Out Story is wearing a fig leaf. "I'm your libido not Robert Crumb's libido…"
If I'd grown up in a more sexually relaxed culture I probably wouldn't be fighting with myself about this. Also…being raised in a Yankee Baptist household isn't helping.
by
Bruce
|
Link
|
React!