August 13th, 2023
Back When Guys Could Be Sexy And Beautiful And Not Worry About Being Queer Baited
It was an all too brief period of time in young American male fashion. But I look back upon it fondly, and reminisce about the life I once had, before the heart attack, before I found myself suddenly knocking at the door to 70 and realizing that dating and mating part of my life is all in the rear view mirror now, and I didn't even get to partake because back then gay teenagers didn't exist and gay men were all better off dead than in love.
I have this theory that the fashions and styles we find attractive as adults are what were in vogue when we were coming of age. We glom onto that period and all those first crushes and first heartbreaks, and forever after it's what gets the heart beating.
The problem for me (artistically and…otherwise) is that while "retro" fashions seem to have made a comeback, it's only among the ladies. Long hair low risers and cutoffs haven't made much headway among males young and slender enough that, IMO, they could benefit from them. Okay…so I could benefit from them.
It's a shame. So when I get an itch to do some sexy sketching I usually end up riffing on photos of pretty young ladies I see online or in magazine fashion ads. When you know the basic skeletal and muscular differences between the sexes it's not hard to convert female to male if you really, really like what they're wearing or how they've done their hair. This drawing I posting some months ago being a good example…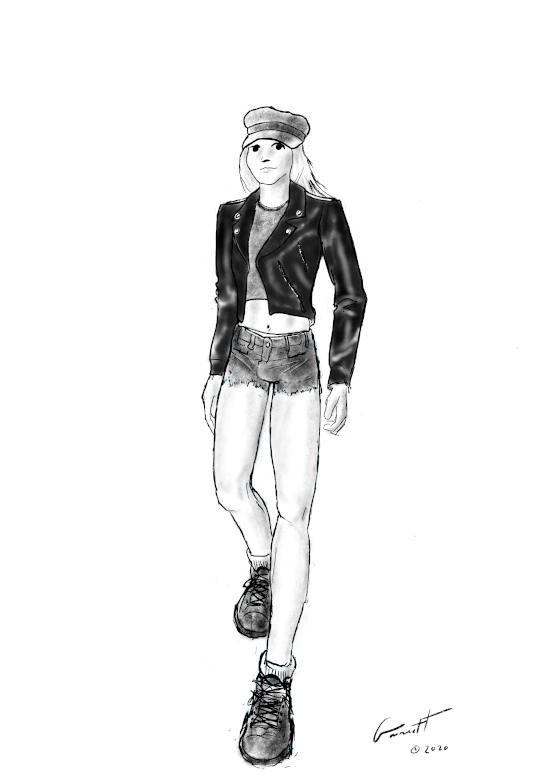 I actually sold a print of that one.
I have a folder in my NAS of pose material that maybe I'll get to someday and make a drawing from. Stuff I've got from various online sites and Facebook pages. Like the one I just started following a few days ago of 70s memories.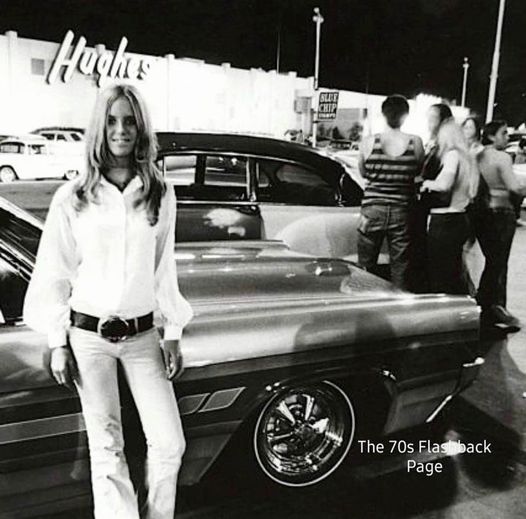 That photo was labelled Teenagers hanging out on Van Nuys Blvd. Obviously from the styles and the cars it was taken in the very early 1970s, or maybe even the late 60s. The time of my sexual awakening and that first magical crush. I'm thinking it's a night shot under very bright street lamps, otherwise why would the sky above that store in the background be so dark. The comments on it are mostly about how street racing at that location was a thing back in the day. Mostly.
I take one look at this photo and instantly the longhair leaning up against the foreground car (check out the mag wheels) gets my attention. Nice jeans, thinks I…okay…I can do something with that. No smirking, please…I didn't realize at first…. Anyway, it definitely speaks to that time in my life. Those low risers. That long beautiful hair. The floppy sleave shirt. I don't think many people nowadays get how wide belts were back then, and the huge belt buckles that went with them. You can't see the feet, but I'm pretty sure those are bells.
So I immediately grab a copy of the image for my "poses" folder. And I'm already thinking about what I need to change around a tad to make her a cute long haired guy…
I'll have to adjust her pelvis a tad…oh…wait…
Nope. Don't have to adjust anything.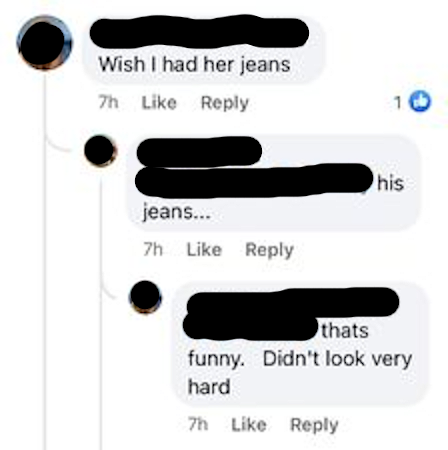 The pose was just enough to make it unclear which sex you were looking at. What clued me in was figuring out how to change the curve of the hips to the thighs and then realizing that work had already been done for me. I wish I had his jeans too. And the 20-something body I had once upon a time that fit into them.
And…a boyfriend back then.
I wish I had more beautiful guys like that in my world now. Even if, as I said, that part of my life is in the rear view mirror. It would still be nice to have some beauty in my life, even if it's just to look at now and then. But American males don't like those styles anymore because HEY ARE YOU SOME KINDA QUEER OR WHAT!? I'm not even all that pretty, and wasn't back in the day, and I got cat-called lots just for wearing my hair long. I Still get those cat-calls. HEY HIPPY…ARE YOU A BOY OR A GIRL…HAW HAW HAW…
But what's refreshing about the comments on that photo on that page is there wasn't any of that. If you remember those days fondly enough to be following 70s memories pages, then you remember that was how guys dressed and wore their hair back then.
And it was all good. At least it was to coming of age gay teenager me.
So…anyway…if I do something with the figure in that photo I'll post it here. Probably not use the shirt though.
by
Bruce
|
Link
|
Comments Off

on Back When Guys Could Be Sexy And Beautiful And Not Worry About Being Queer Baited