December 24th, 2022
Beautiful Men Being Beautiful
Wonkette writes thusly…
Republicans would have you believe that drag queens are some new phenomenon, a radical escalation in the culture wars thanks to an overly permissive society. (Thanks, Obama!) This is obviously nonsense, and a social media post reminded me that back in 1995, the camp classic To Wong Fu, Thanks For Everything Julie Newmar was released with little to no backlash, certainly no bomb threats targeting theaters showing the film.
I still haven't watched that and I really should because it's moved into a little slice of gay history. But as I've written previously, my interest in drag is limited. The guys I find most convincing at it, are always guys I would rather appreciate out of costume than in it. But the point being made here is a good one and can't be made too often in this climate of hate mongering. Nobody really cared that much about drag…gay drag especially existed in its own little nitch. Drag has a long history in the movies and on stage. A Twitter feed I just started following is "All-male college musicals" ("Paying tribute to the oh-so-lovely but very manly drag performers in the womanless, gay college musicals of a century ago."). It's so far been a treasure trove of drag history from the 1940s…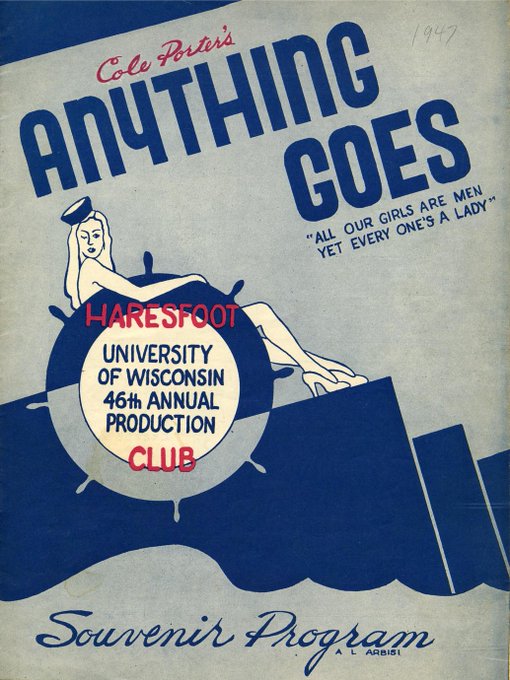 This was a real thing back in the day…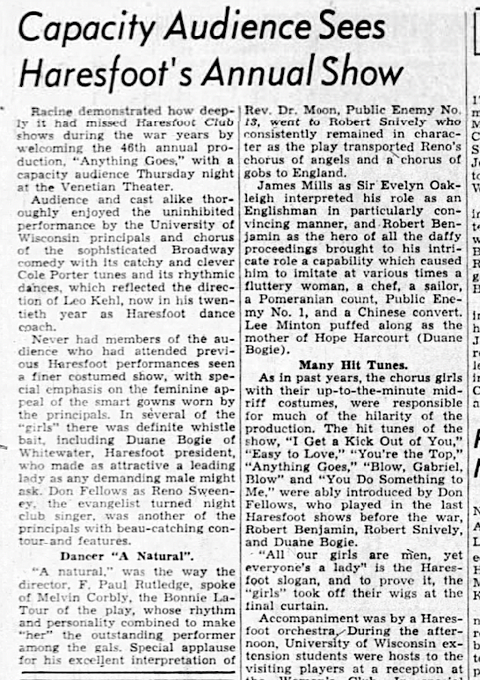 Dig the slogan on the souvenir program, "All our girls are men yet every one's a lady." I wouldn't say the drag performers back then had it going on like some of them do now, but clearly everyone was having fun. Now it's become a culture war flashpoint, to the degree armed fascist protesters are showing up at drag shows now, sometimes facing armed counter protestors. You fear for what it's all building up to, and then you realize that blood has already been spilled.
Again, Wonkette…
Unlike Some Like It Hot and the less artistically relevant Sorority Boys and White Chicks, Swayze, Snipes, and Leguizamo's characters aren't forced into drag (either to save their lives or solve a crime). It's the life they've chosen, and they are happy to live openly as themselves.

Fox News was in its infancy at the time, so there wasn't a marathon of content complaining about the overtly pro-drag queen narrative. While temporarily stranded in rural, small town America, the drag queens — Vida, Noxeema, and Chi-Chi — bond with the local women, who are inspired by their sense of style and colorful attitude. The townspeople as a whole defend the ladies from a bigoted cop, and instead of turning them over to him, there's a Spartacus-inspired scene where every woman claims she's a drag queen. We need to see more of this whenever busybodies try to inspect the genitals of women playing sports or using a public restroom.
There are times I wish I had more theater in me, especially back when I was younger and cuter. Every kid should be able to believe deep down inside that they are beautiful. And also, every old man too. But at least I can still appreciate a beautiful man, and feel that life is good whenever I see one.
And Happy Holidays to You Robbie (aka Mrs Cuba), wherever you are…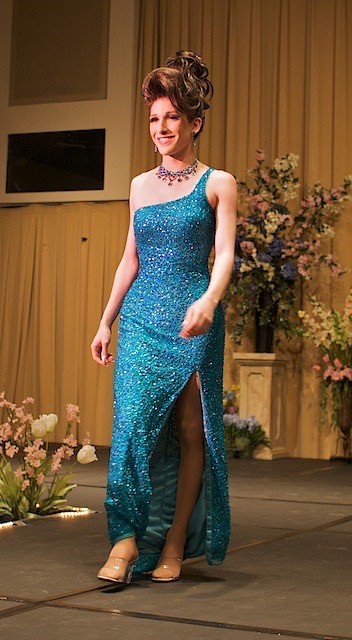 My cameras could have given you a lot of love…but alas…
by
Bruce
|
Link
|
React!