September 25th, 2022
Fear Of Dating, Fear Of Intimacy
For some reason so I'm told, Jeffrey Dahmer was trending on commercial social media, which prompted a repost of this powerful essay by Dan Savage from 2018…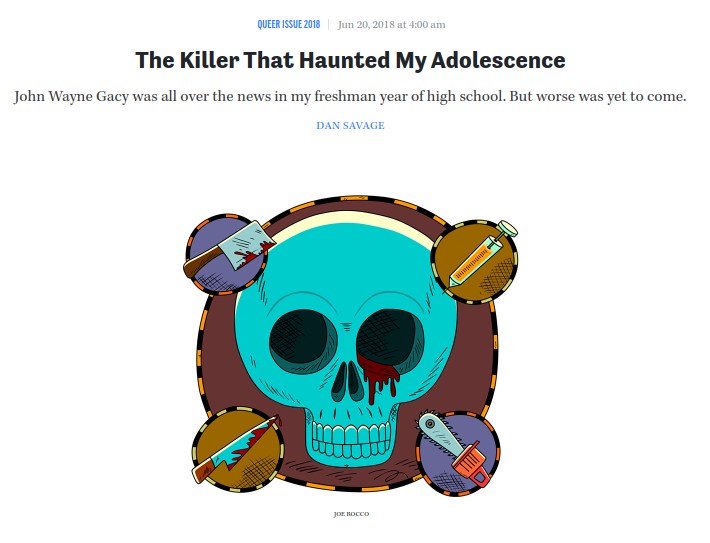 You should go read it. This, among other things (that "worse was yet to come" he mentions), is a reason why so many of us had trouble dating, finding and holding on to love. Where most heterosexuals could have that usual coming of age experience in adolescence, and dating and going to the prom and that first wonderful life affirming sweet romance…
"Once upon a time, there was a girl I knew, who lived across the street. Brown hair, brown eyes. When she smiled, I smiled. When she cried, I cried. Every single thing that ever happened to me that mattered, in some way had to do with her. That day, Winnie and I promised each other that no matter what, that we'd always be together. It was a promise full of passion and truth and wisdom. It was the kind of promise that can only come from the hearts of the very young." -Narrator, The Wonder Years
…what we came of age into was a world where reaching out to another might likely get you killed.
I'm almost ashamed to say that while I get how scared he was, reading this essay I'm also very envious of the adolescence he had. I'm sure he doesn't think it was all that wonderful.  But he was out to himself at 14. He could be out to himself at 14. Terrifying as it probably was. When I was 14 Stonewall hadn't happened yet and only one state, Illinois had repealed its sodomy law, and that almost by accident. I came of age in total ignorance of what was happening with me as my body developed and I started having sex dreams about other guys at school. It made no sense given what the pop culture told me about homosexuals. So I just never really looked at it, just shoved it into a back corner of my mind and didn't think too deeply about it. I wasn't out to myself until December of 1971 and I had just turned 18.
But what really makes me envious here is he had a bunch of gay friends he could talk to and socialize with. Oh dear god almighty how I wish I'd had that! That didn't happen until I got connected with a gay BBS back in the mid 1980s and I was in my thirties. From my teens to my mid thirties I was completely isolated. And partly that was due to the fears Savage speaks of. But also, the world I was living in didn't exactly offer gay guys any spaces to socialize, and maybe find a date, other than seedy bars I never felt completely at ease inside of.
I was looking for romance, not a hook-up. As I wrote previously…
…what I was always looking for was that nice boy…someone in a better world that I might have met at a church social or youth coffeehouse like The Lost and Found was. Someone I could take home to mom and she'd be pleased to meet them and invite them to stay for dinner. Someone I'd take to the prom. Someone I could make a life together with.

But I came of age in the late 60s/early 70s, and back then all those nice boys were terrified. They didn't want their families to hate them. They didn't want their friends turning on them. They were terrified of getting those looks of disgust. And it's all the negative crap we were dumped on back then that's a big part of why…
But simply because I wasn't looking for the casual hookup does not mean I wasn't afraid, and constantly on the alert for trouble. So I'm not questioning his fears at all. I had many of the same ones, just a bit different only in the social context and my own life history. In 9th grade I had this horrible sex ed class taught by homophobic gym teachers who said that homosexuals were psychotic and usually killed their sex partners, and that most unsolved murders were committed by homosexuals. (I wished ever since that I'd had the presence of mind to ask if they're unsolved how to you know they were committed by homosexuals?)
When I fell in love and came out to myself I brushed all that away as rubbish, but the overwhelming hatred and loathing of gay people I grew up with made me skittish for decades about expressing an interest in the random guys that caught my fancy, even in the gayborhood. How do you negotiate flirting in a world where you might get a baseball bat over the head for it? Guys that seemed to be flirting with me made me nervous because I never knew if they were serious or just waiting for me to come out to them so they could gay bash me. 
She said in a level voice yes, Jack was pumping up a flat on the truck out on a back road when the tire blew up. The bead was damaged somehow and the force of the explosion slammed the rim into his face, broke his nose and jaw and knocked him unconscious on his back. By the time someone came along he had drowned in his own blood.

No, he thought, they got him with the tire iron.

-Annie Proulx – Brokeback Mountain
They didn't have to be serial killers. I'd be just as dead.
I was never pretty enough or brazen enough to attract the sort of predators that haunted Dan Savage's adolescence, and I wasn't out to myself for most of mine anyway. In my childhood I heard lots of news accounts of boys being abducted by strangers and so I had a more generalized fear of strange men approaching me and I would always flinch away if I got a look that made me uncomfortable. Back then I had no idea Why they wanted to kidnap boys (I am serious here), just that it was a thing to watch out for. That probably segued into my post out of the closet mindset in some way. So I never got over being nervous when some guy started flirting with me. Half of it was "Okay now what do I do?" and half if it was "Is this guy a gay basher…or worse?" Reading crime stories like the one about the Last Call murders didn't do anything to help.
Yes, I was afraid too. But…oh dear god how envious I am that Savage had gay friends his own age he could hang out with. Dan I am so sorry you were afraid. I was too. We all were. And it cut into us so very deep. But you had something good back then too. Something life saving even.
by
Bruce
|
Link
|
React!