December 3rd, 2015
A Recurring Theme Of Violence
This came across my Facebook stream this morning…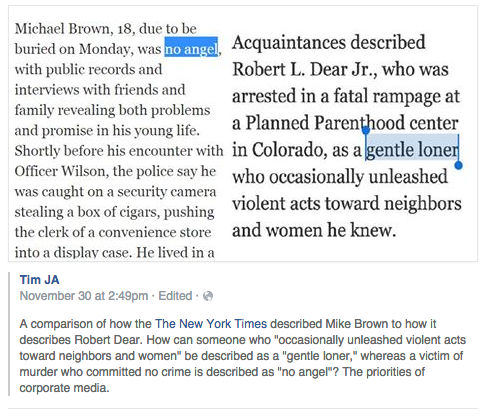 This comparison is worth noting, but I'm sharing this for another reason. In the arguments over gun control, and people (men almost always) who commit acts of violence with guns, I keep seeing this one thing popping out at me: a history of domestic violence or brutality toward women, sometimes children, sometimes animal torture. And also this…look at how the Times phrases it: "…who occasionally unleashed violent acts toward neighbors and women he knew." It's like they're describing a charming little eccentric personality quirk and not a scary indicator of a deeply rooted predatory nature that should have everyone concerned.
The NRA. its constipated culture warriors, its jittery paranoid drunken Ted Nugent following would howl loudly about it but I see an eminently reasonable basis to deny someone the ability to legally buy and own a firearm right there: domestic violence. Of course there would need to be due process, a right to appeal and have your case heard. Fine. But if that's what you are then the rest of us have more than enough cause to be afraid of what you might do with that gun.
I'm saying this as a gun owner myself, and as someone who believes the right of individual citizens to own their own firearms makes sense in a democracy. Overall gun violence is down. But these mass public shootings are on the rise and, in my judgement, they're showing a common theme that isn't necessarily about religious fundamentalism. Background checks won't prevent all shootings, but if done seriously and diligently they'd be a help. But this also needs to be taken into account: if children can't trust you, if your lover can't trust you, then who can? I would say this is even more telling about a person's potential for violence than a criminal record.
Look at it in the context of the overall mindset toward women, particularly among GOP politicians these days. The shooting at Planned Parenthood and the smear campaign against it are of a piece. You would have to assume, given the number of chest thumping runts now walking the halls of congress and the statehouses, that inconveniencing people at the gun shop, who occasionally unleash violent acts toward neighbors and women, would seem baffling to them at the least, if not an attack on their rights as men. Boys will be boys… The stereotype of the gun owner as having small dick issues is crude and misses it. It's not their dicks that are small, it's their hearts. The gun isn't a dick substitute. The dick is a heart substitute.
Bullies will be bullies. Guns don't matter. I realize to many that seems an outrageous thing to say but I keep finding it to be true. They say guns don't kill people, people kill people. Fine. But what kind of people? This ultimately I submit, is precisely why they imposed a funding ban on research into gun violence; because it is exactly what they don't want science to pin down. They can already see themselves in that mirror. It's not the gun that makes a person dangerous. It's the lack of heart that makes a person dangerous. And you really see it in how they treat their spouses, their lovers, children, neighbors. There's where it tells you that someone is not to be trusted. And maybe not just with a gun either, but also with a seat in congress. There's the big red warning sign. A criminal background check is not nearly as telling as that is.
by
Bruce
|
Link
|
Comments Off

on A Recurring Theme Of Violence