February 27th, 2023
The More Racists Change The More They Stay The Same
This from the Washington Post…
Musk defends 'Dilbert' creator, says media is 'racist against whites'

The Tesla and Twitter chief blasted media outlets for dropping Scott Adams's comic strip after the cartoonist's rant against Black people
It's to the point now where all you need to see is the name associated with the news item and you know pretty well what it's going to be about before you even read it. Musk is is one of those and so is Adams and that still hurts a bit because I used to love Dilbert. But that was back when I saw it as Dilbert being a somewhat naive computer geek like myself, surrounded by assholes the cartoonist was making fun of. It seems that over time Adams began to identify more with the assholes than the geek. I think it was when I saw the cartoon comparing a woman breast feeding a baby in public with a man pissing on flowers to water them that I began tuning him out. It was one of those things that tap you on the shoulder saying look at that…no really look at that… But there was still the occasional cartoon strip I found hilarious. Then he went all in for Trump, who was like the pointy haired boss personified and amplified and I just closed the book on him, wondering how much of what I enjoyed in his cartoons was really there to begin with.
That's the way it is with artists and creators you come to love and enjoy. What you see in their art is what you experienced seeing it and it's mostly you. It isn't necessarily what the artist themselves put into it or intended. But at least Adams was a creator. Musk on the other hand, is just rich.
He bought his way into Tesla and eventually kicked out its founders. SpaceX was born on his money and his need to cut the cost of rocket launches so he could start a garden on Mars. But it was built with the rocket engineering talents of others who came from the industry. Both those companies, so I'm told, had a board of directors and staff whose only job was to manage Musk's mood swings and nutty ideas and try to keep him focused. In Twitter we're seeing him totally in control and unfiltered, really for the first time. And it's really a squalid sight to see. 
They say men don't change, they reveal themselves. But if money is power, then absolute money also corrupts absolutely. This is a man who never really developed any internal brakes, and now all the possible external ones are gone. Maybe that's what happened to Adams too, but with a lot less money.
Replying to tweets about the controversy, Musk said it is actually the media that is "racist against whites & Asians." He offered no criticism of Adams's comments, in which the cartoonist called Black people a "hate group" and said, "I don't want to have anything to do with them."
I'm sixty-nine years old and knocking on the door to seventy. You have to appreciate how familiar this all feels to someone who actually lived through and remembers the civil rights protests of the 1960s. The white backlash rhetoric has never changed. Every tiny improvement in the status of racial minorities in this country, every miniscule effort to uncover and learn from the history of slavery and race segregation in America, has been met with howling about reverse racism from the usual suspects. None of it sounds any different than it did back then.
I did not expect my golden years to look so much like my childhood…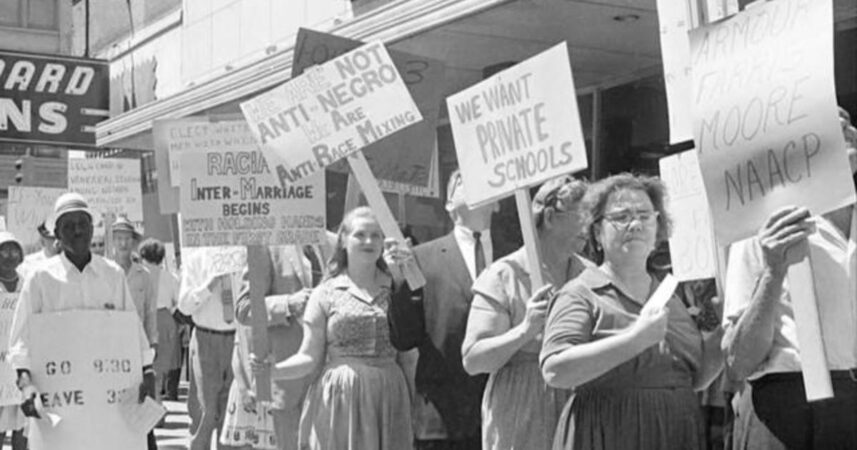 We are not anti-negro…
by
Bruce
|
Link
|
React!