July 20th, 2016
The Roy Cohn Branch Of The Family
I see the Roy Cohn branch of the family had its day at the GOP convention the other night…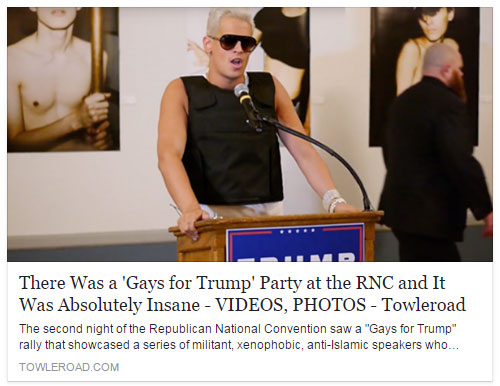 Headlined by the guy who just got the boot from Twitter for his racist and misogynist attack on Ghostbusters star Leslie Jones, an achievement considering the open sewer Twitter has allowed itself to become, on the same order as being too disgusting even for an S. Clay Wilson comic. He's also the guy behind the "Gamergate" attacks on women in the gaming community, and Twitter was his useful tool for that one too.
"Growing up gay wasn't that f**king bad." he declared from the podium, adding without any apparent irony, "…I still don't see the reason why the left-wing press mollycoddles and panders to an ideology that wants me dead." So he's changed his tune a bit since a year ago when he declared "If I could choose, I wouldn't be a homosexual." If I could choose, you wouldn't be one either guy. Perhaps you and Phil Robertson could have drinks together and ponder which abrahamic religions quote Leviticus with more style.
He was followed by Pam Geller who began with a joke: "A jihadi walks into a gay bar, and the bartender says, 'What'll you have?' The jihadi says, 'Shots for everyone!'"
Ha ha. And half that convention floor would have helped buy them for him Pam, and the other half would have paid for his defense lawyers. Especially after seeing the artwork on those walls there.
And that artwork…try to look past the fact that they're all barely, if that, of an age of consent. Photos of comely young guys are just fine by me. Swell even. But I'm a photographer and I can't avoid seeing these images on another level, and what leaps out at me immediately is the predatory gaze in all of them. These photos aren't about young male beauty but about young male naivete. The photographer invites you to look upon them not as objects of beauty and desire but as prey. Easy pickings.
Which fits nicely into the convention vibe though doesn't it? It's a cliché that when you scratch a homophobe you find a misogynist and vice versa. So the gay republican who reviled in organizing gamergate attacks on women on Twitter, and immediately zeroed in on the most socially vulnerable of the actresses in the new Ghostbusters movie, the one black woman, has his party zone plastered with images of teenage boys as sexual junk food. Because as nearly, if not exactly one-hundred percent of that convention floor would tell you, homosexuals don't love, they just have sex. And if you hate all those other homosexuals enough, you don't have to know how much you hate yourself.
by
Bruce
|
Link
|
Comments Off

on The Roy Cohn Branch Of The Family