April 22nd, 2012
And Now, For Something Completely Sexy…
Here's a little something for the (according to my server logs) fans of my sketches of cute guys in cutoffs. They're just wistful daydreaming on my part…I had no idea anyone really liked these. But while I was on vacation my web site got Google hits from people specifically looking for my name and cutoffs. Wow. I may be no Tom of Finland (whose males I never found attractive but I was in awe of his skill with a pencil) but I could do worse then be known for drawing beautiful guys in cutoffs.
Normally you Google for images of nice looking guys in cutoffs and what you get are a lot of pictures of guys who really shouldn't be wearing these at all, which people post as a way of ridiculing cutoffs…or at any rate, cutoffs on guys. Yes, yes…you need the physique for it…but lotsa guys have that and in any case the ridicule isn't about guys who have no fashion common sense, it's about reenforcing the male fear of looking too sexy below the waste because that's teh gay.
When I was a young adult this look wasn't uncommon even on straight guys (though admittedly straight guys didn't usually wear them quite This short…) and I guess my emerging libido just glommed onto it. But damn I like this look and I reckon I'll just keep drawing it…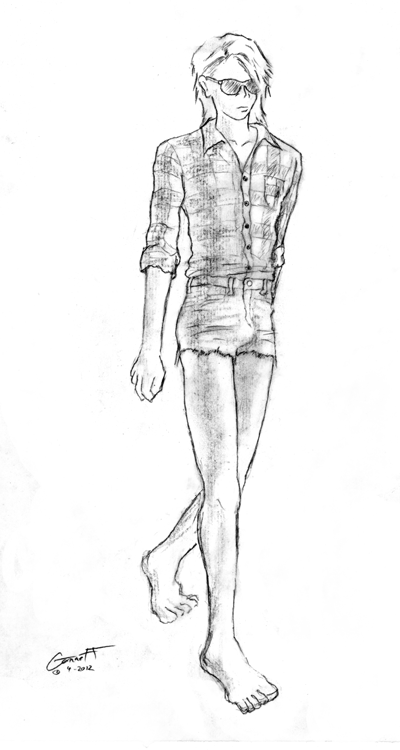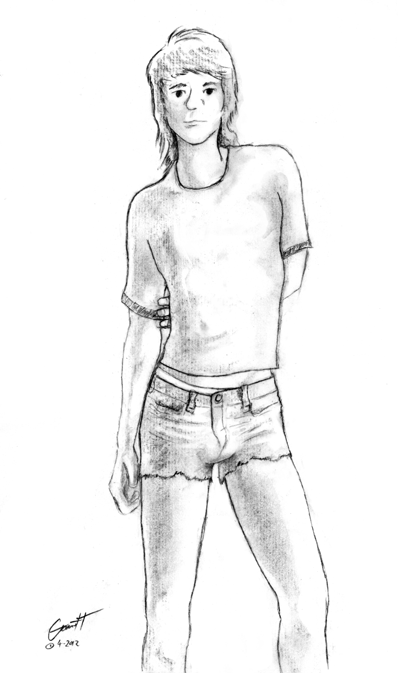 If this means I'm stuck in the past so be it. As I said, these are just the random wistful daydreams of a single guy. If you like them then I'm happy. If you think they're ridiculous then go away.
by
Bruce
|
Link
|
Comments Off