December 11th, 2012
B20 (and E15…continued)
Triple-A is warning drivers in Oklahoma to beware of E15…
Only about 12 million out of the more than 240 million light-duty vehicles on the roads today – less than five percent – are approved by manufacturers to use E15 gasoline, based on a survey conducted by AAA of auto manufacturers.
Yet the biofuel industry continues pushing this mixture (and B20) onto automobile and truck owners as if there is absolutely no problem with it at all.
The "Renewable Fuels Association" points to the EPA's approval of E15 for use in vehicles made after 2001 and says the AAA's "anti-ethanol stance is well known and tired" and that the organization's call for further testing "reflects a pathetic ignorance of EPA's unprecedented test program before approving E15 for commercial use."
Notice meanwhile they say nothing about the fact that…
Five manufacturers (BMW, Chrysler, Nissan, Toyota and Volkswagen) are on record saying their warranties will not cover fuel-related claims caused by the use of E15. Seven additional automakers (Ford, Honda, Hyundai, Kia, Mazda, Mercedes-Benz and Volvo) have stated that the use of E15 does not comply with the fuel requirements specified in their owner's manuals and may void warranty coverage.
Here's what both striking and appalling to this baby boomer, who bought his first car in 1973 and witnessed the first gasoline shortages and then the ever increasing emissions control requirements placed onto motor vehicles: When unleaded fuel was rolled out in the 1970s to deal with a form of air pollution, fuel nozzles were changed to prevent leaded from going into the tanks of cars made specifically for unleaded, because leaded fuel could damage the engines and emissions control systems of those cars. I remember this well. Why is that strategy not being advocated now? Simple. Biofuel makers and big Agra don't give a damn about damages their products cause so long as they don't have to pay for it. They have precisely zero economic interest in preventing that damage, and plenty of economic incentive to make everyone buy their product whether we want to or not and then pay for the damage it does to our cars out of our own pockets.
So what needs to happen in a saner world is the feds step in and at minimum mandate that pumps serving high concentration biofuels have nozzles on them preventing that fuel from going into automobiles that aren't engineered to burn it, and that cars that are have fuel inlets that accept those nozzles, just as it was when unleaded gasoline was rolled out.
Yes, yes…I can hear the complaints about Big Brother Government or The Nanny State or both, and just beneath it as always, the angry babbling about the oh-so heavy burden of added government regulation from biofuel makers, gas station owners, and big agra…all of whom have an interest in selling you something and then immediately wash wash washing their hands of whatever it did to your car. The cost to consumers from engine and emissions system damage do not come out of their pockets so they just don't fucking care. But it's worse then just casual indifference, they're telling people that it's okay to ignore their own car maker's warnings and the AAA's warnings because the EPA said it was all good.
…the Renewable Fuels Association says AAA's anti-ethanol stance is "well-known and tired." He says the organization's call for further testing of E15 "reflects a pathetic ignorance of EPA's unprecedented test program before approving E15 for commercial use." As for consumer education, Dineen says "the RFA is working with the petroleum industry, gas retailers, automakers and consumers to ensure E15 is used properly."
Oh really?
…An overwhelming 95 percent of consumers surveyed have not heard of E15…
I got a letter back from Mercedes-Benz USA in reply to the letter I sent them a couple weeks ago about B20, which I'll post later, but which says in part their warnings have been going unheeded and they are just as frustrated as I am.  So as far as I'm concerned the biofuels industry should be on the hook for any and all damages to automobiles too, then maybe they'd support at least making the pump nozzles different.
As it is now, those tanks of E15 (or B20) that ruined your engine was money in their pockets so it's all good to them. Responsibility for what their product does to the people they sell it to costs money so they're completely against that.  But that's how business is conducted now, since Reagan freed them from the chains of government regulation.  The chains are on us now, and it's big business holding the other ends.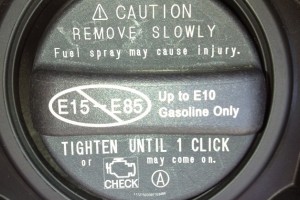 by
Bruce
|
Link
|
Comments Off