October 22nd, 2022
Where They Burn Art. . .
This has been making the rounds on social media…
School district officials and a high school student in Michigan have drawn the ire of parents who allege that a painted mural contains LGBTQ propaganda, a depiction of Satan and a message of witchcraft…
Here's a portion of it…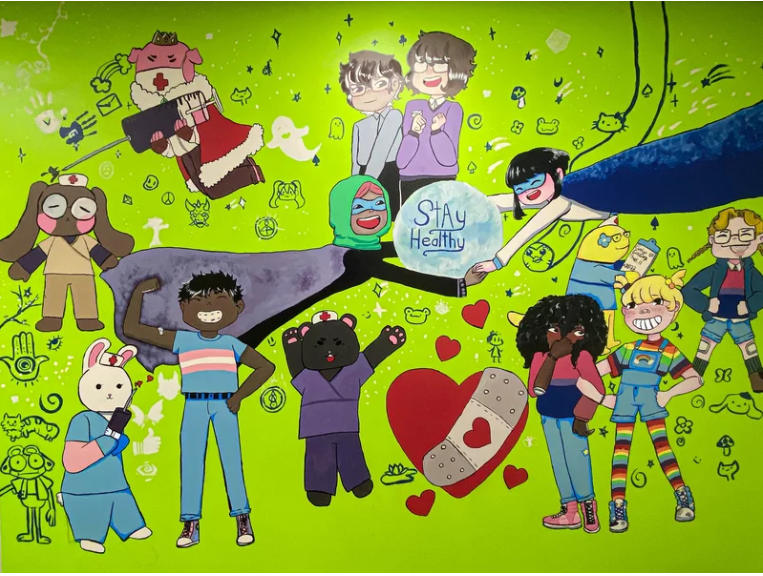 You can see right away what they were bellyaching about. No…not the rainbows. All the happy children. Hearts. Smiles. Friendship. Love. It was too much.
So it goes. And goes. And goes. And goes. Whenever these fights over art occur I think back to that Martin Niemöller quote (First they came for…) because it's missing a few. Homosexuals, yes, but what I'm thinking of when I read this article are the artists. They came for the artists too. Oh you bet your life they came for the artists.
I was watching a documentary recently on the Nazi takeover of the arts. Something I didn't appreciate previously was for a brief moment it amounted to a mini civil war within the party that Goebbels himself Lost, believe it or not. Goebbels liked modernist and expressionist art (yes…it sure surprised me). But the other major player in the propaganda war was Wilhelm Frick who wanted everything that wasn't classical and pure German stock burned. Hitler, also hating modernist art, supported Frick and Goebbels was forced to backtrack and eventually organized an exhibit, separate from Hitler's new Führermuseum, for the display and mockery of "degenerate art".
You have to wonder how many wonderful artworks met the fire back then, never to be seen.
Thereafter, artists in Germany had to obtain a license to produce art, even if it was only for advertising. Of course you could not be Jewish. But just as importantly, you had to have had no association with "degenerate" art or artists. An artist if they didn't toe the line could lose their license. Without a license an artist could not even make art in their own homes for their own private use. You could be denounced, and disappeared, just like that. Many artists, if they could, fled.
Wilhelm Frick, who won the culture war over Goebbels, was eventually tried after the war and hung for crimes against humanity. He had also been instrumental, in his role as Minister of the Interior, for formulating the Enabling Act and the Nuremberg Laws, and also for being one of the most senior people responsible for the existence of the concentration camps. Where they burn books, they also burn people. Also where they burn art.
by
Bruce
|
Link
|
Comments Off

on Where They Burn Art. . .