July 20th, 2020
That Feeling Of Wholeness
…or at least somewhat. I don't have a boyfriend, I probably never will. But I have a full paper darkroom now…sorta…and you take the feelings of completeness where you can find any.
So…following up on my post a while back about finally establishing a paper darkroom at Casa del Garrett…I did some of this over the weekend…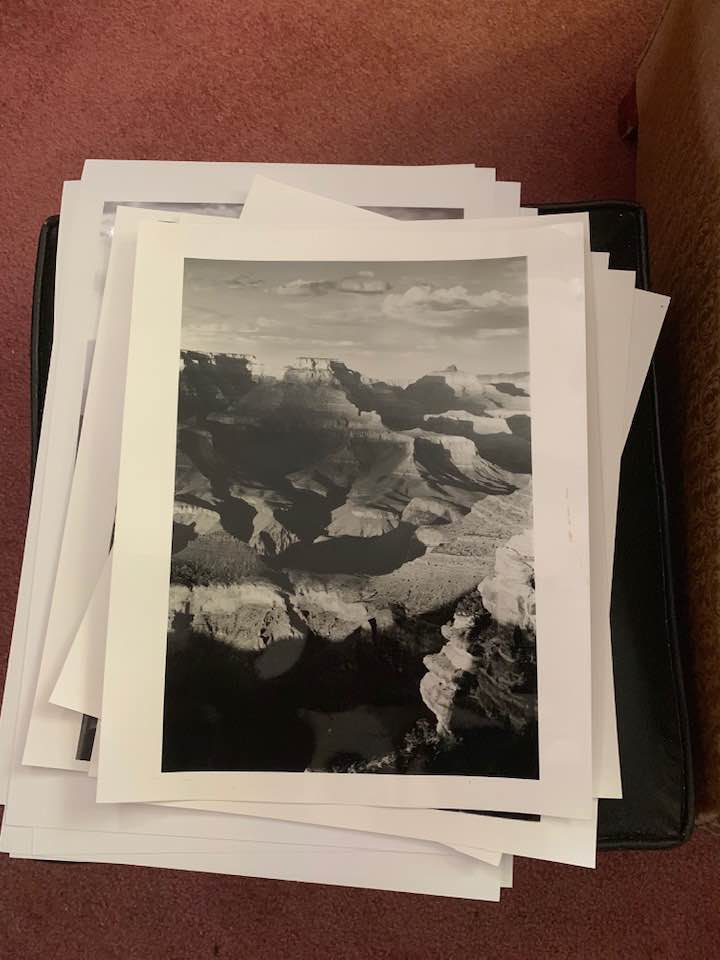 These are the first fiber base silver prints I've done in decades. Fiber based photo paper gives, in my very strong opinion, much Much better dynamic range in terms of darks versus whites than RC (Resin Coated) paper does. Although I'll grant that RC paper, and mult-contrast paper, have improved immensely since I was a young man finding his way around the darkroom.
But I'm still hassling the details. This one would be perfect except it's got a rust spot on it from a clip I used to weigh it down in the wash. A second attempt is in the print dryer. Because glossy fiber base prints must be dried in a print dryer, roller squeegeed face down on an absolutely clean and smooth chromium plate.
Photo-Flo makes an acceptable substitute for Pakosol, but I am still unhappy it isn't made anymore. Nothing put the gloss on glossy paper like Pakosol.
I think I have that "first good print" now that I promised the co-worker who gave me her granddad's Beseler 23c, but I'm still deciding.
I'd forgotten what a chore cleaning up after making silver prints is. Let alone the entire process of washing and drying fiber paper prints. I'll be very surprised if my water bill isn't a bit more next month.
I need to think about this for a while…now that I've done some silver prints, and against my experience with digital printing. Digital printing is no easy peasy thing either if you want everything just perfect. But the difficulties in getting to what you want are different in each process.
Sometime next week I want to set down my thoughts about it. Now that I have a paper darkroom set up I reckon I'll keep doing silver prints. But it really is an altogether different thing. Each individual print is its own work of craft and art. You have to work each print as though it's a custom, one-off work, even if you are printing dozens off the same negative. I suppose this gives the silver print its value. If the negative is a difficult one…needing lots of dodging and burning to get it right (I had to do some on that Grand Canyon shot, but it wasn't extensive), and some delicate touch-up work with a spotting brush afterward, you might really have to sweat each and every print you make.
Again…I suppose this is what gives the silver print its value…provided the print maker is good at it. At the moment I rate myself above average…but that's mostly coasting on what I learned back when I was a young man. I think I can get better the more I work with it…and I reckon I probably will if only for the personal and artistic challenge of it. The only thing that's changed for me since those days is I have a Much better enlarger now. Well…and multi-contrast and RC papers have apparently improved immensely. I was actually stunned at how much dynamic range these have now.
But the computer can make so many little corrections, spot touching, tonal adjustments, dodging and burning masks, that sort of thing, plus sharpening algorithms that correct for handheld blur you might not have even noticed until you got into bigger enlargements, that it's probably going to remain my primary tool going forward, even now that I have the paper darkroom I've always dreamed of having. Both of these media make me think about the final image differently, in their own ways, and that's a good thing. But it's the paper darkroom I realize now, that makes me a better photographer. That is why I'm going to keep doing this. But…not routinely because…whew…it IS a mess to clean up afterward let me tell you…
I remember long ago, when I got my first really nice German enlarging lens, a Rodenstock Rodigon 50mm. I remember how shocked I was at all the flaws in my negatives it revealed. It made me a better photographer. Likewise, I'm seeing things now that I would have otherwise just written off after I looked at the scans with a thought of "Oh I'll fix that in the computer". Everything starts with the initial photograph, whether it's digital or film. Get the focus right, keep the camera steady, get the exposure right, and what the camera gave you won't fight you every step of the way when it's time to make a print or pull off an image file to post somewhere.
by
Bruce
|
Link
|
Comments Off

on That Feeling Of Wholeness