May 13th, 2015
For Some Reason You're Acting Like It Hurt…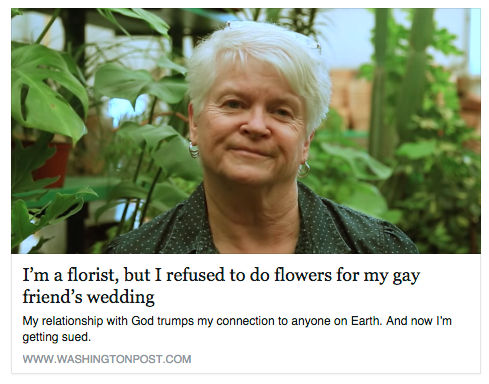 "One of my favorites was Rob Ingersoll. Ingersoll came in often and we'd talk. Like me, he had an artistic eye. I'd try to create really special arrangements for him. I knew he was gay, but it didn't matter — I enjoyed his company and his creativity…"
Yes, yes…It didn't matter, until it did. Which is to say it always mattered, just not until that moment in a way that she was willing to be honest with him about.
And now she's surprised that one of her favorite customers reacted with a lawsuit. That's more telling then that she refused her services. Favorite Ingersoll may have been, but clearly not as human as herself, Otherwise She Wouldn't Have Been Surprised. It's how Anyone would react to having their joy of getting married, of finding in this poor lonely angry world that special someone, that wholeness of heart and body and soul, having it suddenly treated like it was a dishonorable thing. Being told your feelings toward the one you love more than anything, the one that completes you, the one you would walk through fire for, are immoral, disgusting, offensive to God. But in a nice way. Ever so politely. I took his hands and said, "I'm sorry…" It cuts you deep. Especially since, if she's to be believed, he had understood himself to be a favorite customer of hers.
But homosexuals don't have feelings like the rest of us and so she's surprised. She "felt terrible" when she should have felt deeply ashamed of herself. A flower shop isn't a church and arranging flowers isn't a religion. If Ingersoll was just a stranger who walked in off the street wanting flowers for his wedding her behavior would have been bad enough. But see how she does not seem to grasp that boasting about how friendly she'd become with him, Despite The Fact That He Was Gay, makes the heartlessness of it worse, not better. She had been given an opportunity to see a Person not A Homosexual and she couldn't.
This is the part so many people miss about the anger of that reaction to getting slapped in the face by prejudice. Bad enough when it comes at you from strangers. He, if she is to be believed, opened up to her in a way gay people are Still highly uncomfortable with. He trusted her. Never mind she discriminated against a customer and a fellow American. This man trusted her enough to be open about himself. He trusted her enough to share his joy with her. She betrayed a friend.
by
Bruce
|
Link
|
Comments Off

on For Some Reason You're Acting Like It Hurt…