March 29th, 2016
A Coming Out Story – Still In Progress…
Despite, or perhaps even Because of recent events, I am more determined than ever to continue and finish A Coming Out Story.  So never fear if the installments keep coming at irregular intervals. I have a paying job that needs my attention too. Plus many other things in my life. But this story is important, not just for my own satisfaction of getting it out, but because as I said some time ago, it's a story of my generation. Not the only one certainly, but mine nonetheless, and worth getting out there. Because while gay kids have it better in many ways now then we did then, they still catch shit about what ought to be one of the most wonderful times in life…that moment when you discover love and desire. It's a crime against humanity that it is turned into a nightmare for some of us, so that others can build their stepping stones to heaven out of our hopes and dreams. It is a crime against humanity to put a knife into a kid's heart, just at that very moment they are discovering what love and desire is all about.
So I'm going to keep working on this. And for what it's worth, I feel now as if I've been given permission to tell the whole story, without censoring myself.
Still working on finishing up the Intermission.  Here's a sample panel. When the whole thing is complete I'll put a link up to it here and on the main ACOS page. Then I get to start on a more funner mini story arc.
Tacos figure into this one too…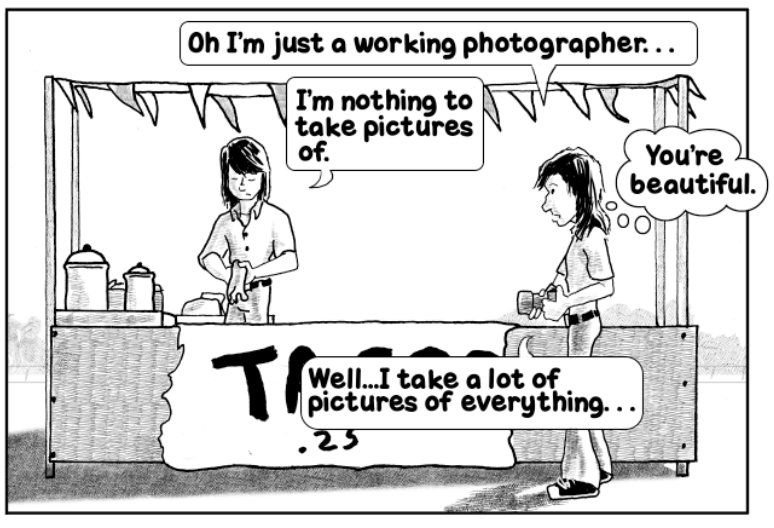 by
Bruce
|
Link
|
Comments Off

on A Coming Out Story – Still In Progress…