August 12th, 2015
Wishing For A Lost Old Friend…
I have a story to tell about my life that I really should have told here before now. It's about how a boy raised by a single working mother with very little household income and absolutely no hope of going to college, ended up working on the Hubble Space Telescope project and then the upcoming James Webb Space Telescope.
I got to thinking about it lately because I've begun a personal project at home to get a DOS virtual machine running. I wanted to be able to run some of my favorite old DOS programs again, XyWrite and PC-Outline, and archive and preserve some of my old DOS program and data files. It brought me back to a time when I was still just tinkering around with computers and had no idea what I was going to do for a living or what my future might hold, other than it would probably be as it had always been up to that point, just a series of low wage warehouse or service jobs. Mom had spent her entire working life as a low wage clerk for a company that processed ads in the Telephone directories, back when Ma Bell was a monopoly and you rented, not owned your telephone. I always figured my life would be pretty much the same as hers. Â But it wasn't. Â And the story goes further back than those days I spent tinkering with the IBM PC compatible I'd built from parts I got at a HAM Radio Fest.
I should tell the whole thing here because looking back on it now amazes me, and I actually lived it. Here's something I posted to my Facebook page reflecting on that first computer I built. I'll just leave it here, with a few editorial tweaks, as prologue…
—
I've been wishing for years now that I hadn't given away the first IBM PC compatible I built from parts. Yeah it was a parts machine, but it was my first hand built computer and I used the very best parts for it I could find at the time, and all in all in retrospect I'd actually designed a pretty good system.
It was based around an 8088 motherboard with the full 1.meg complement of memory (user memory was only 640k) and what was said to be the most compatible BIOS of the time. Just to make sure, I bought a shrink wrapped copy of IBM-PC DOS 3.1 just to verify that. If it would run PC DOS it was compatible enough for me.
I bought a "clamshell" PC case for it….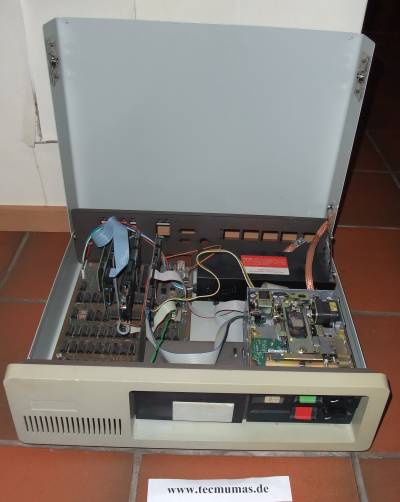 This one is very similar to the one I bought,
though the innards of mine were a tad different
and I'm pretty sure I had the floppy drives on the left
side of the bay.
Clamshells weren't FCC approved because they leaked radio emissions like crazy. If you ever run across an original IBM PC and wonder why it had that awkward metal sleeve over a metal frame construction, keeping it from leaking RF was partly why (also, back then IBM just over built everything because…IBM). I knew I would be constantly tweaking and improving the thing, and that case with its door opening like the hood of a car would make that easy. To the case I added a toggle switch, tucked under the front cover, to switch off the speaker. I was still living in the Rockville apartment with mom back then, and I didn't want her disturbed while she was trying to sleep. The switch was for things that went beep in the night.
I didn't have the money for a hard disk drive when I first built it. I bought two Teac 5 1/4 floppies which were then the best floppy drives made. Hard disks were hellaciously expensive then, but as it turned out, an expansion RAM disk card was affordable. I bought a two megabyte RAM expansion card, mostly for its speed. Then I would create floppy disks with batch files on them that copied my programs and their data to the RAM disk, and when finished, copied the data back from the RAM disk, and simultaneously to a backup disk I'd placed in drive B. Running things from the RAM drive made everything blazingly fast, even on an 8088, even off the hard drive I would later buy. Eventually I would add an external print spool device too, with a 250k RAM buffer that allowed programs to dump their print output quickly and give me back control. Most of you reading this will probably will never know the frustration of sending output to the printer and being unable to do Anything, even turn the PC off, until the printer was finished with your job. Ah…the bygone days of DOS…
Back then even the most expensive color cards and monitors were hard on the eyes when it came to displaying text. And I didn't have the money anyway. So I opted out of color altogether and bought a Princeton Graphics amber screen MDA TTL text monitor, which was the sharpest text display on the market then, and the amber color of the text was easier on the eyes IMO than the standard green. I paired it with a Hercules Graphics Plus card, which was the best monochrome graphics card of the time. It had a very nice video graphics mode which alas never caught on, although early versions of Microsoft Word could utilize it and its user defined RAMFONTS mode.
My first computer was a Coleco Adam that only lasted a few days before I had to take it back because the printer stopped working. I bought a Commodore C64 afterward, and for several years the Commodore was my introduction to the computer world and what I could do in it. I wrote my first BASIC programs in Commodore PET Basic (which I would later learn was a variant of Microsoft Basic). I took my first tentative steps into the online world with it. Hooked it up to my shortwave radio and read the teletype traffic. But the Commodore was a closed system aimed mostly at game play and lightweight household tasks. The IBM PC was the real business computer. The Commodore was an 8 bit machine that came with 64k of RAM, of which maybe 40k was user RAM. The IBM was a 16 bit machine that had an entire megabyte of RAM, 640k of which was user RAM. 640k! 16 bit! I remember that first day after I got mine all put together and it ran and booted PD-DOS, sitting in my room on the edge of my bed, just looking at it, awed by what I'd just done. It felt so wonderful…and yet so scary…to have all that power at my command. Maybe this was how normal boys felt about finally getting that Mustang they always wanted. "That's a real computer…" I kept thinking to myself. "What have I gotten myself into now…?"
Little did I know. Eventually I got a 20 meg hard disk for it. Eventually I got a copy of Microsoft PDS Basic, with the Jet database engine and learned to write business software on it. Eventually I got a 1400 baud modem for it, then a 2400 baud US Robotics and found my way to a gay community safely away from the bars where I could actually relate to anyone. Eventually I moved on to a hand built 386 tower with PC-DOS 5, then 6, and Windows, and Visual Basic. Eventually I got a job writing programs for Baltimore Gas and Electric, and then an apartment of my own and a new car. Eventually I got a job at the Space Telescope Science Institute and a house of my own.
I sure wish now I'd never given that first PC away after I moved on.
by
Bruce
|
Link
|
Comments Off

on Wishing For A Lost Old Friend…