July 26th, 2015
Would You Like The Knife Served With Or Without Love?
Oh look…the same damn thing I've heard a zillion times already…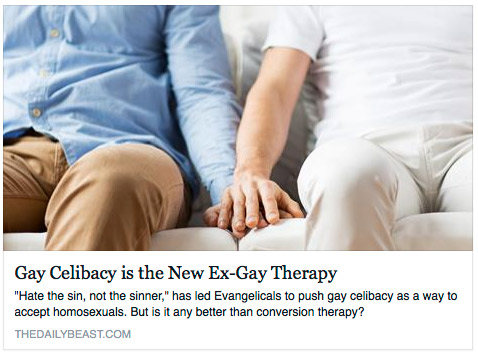 No. There is absolutely nothing new about this. It's the same old, same old. True there were lots of ex-gay outfits that claimed they could turn gay into straight. But there were always those who simply offered counseling and support for celibacy. Back in the 1980s, before the internet opened to commercial use, a user on the gay BBS I did volunteer work for, David Morrison, dived into a very rigidly conservative form of Catholicism, renounced his former gay activism, and signed on with their "Courage" (sic) ex-gay group which since 1980 has been counseling gay people against having sex. Eventually he wrote a book, "Beyond Gay", where he argued among other things, against what he was calling "cheap sex" before he left G.L.I.B.. (He later wrote a column for the New York Post, titled "What Crime Of Hate And Anger?" in which he argued that Matthew Shepard had it coming, because he had a history of risky sexual flirting with strangers. Loving The Sinner. The right wing site Eutopia reprinted it, along with a deftly edited portion of my letter to the Post challenging it so they could wag their fingers at those of us who value our "certitude of experience" over their "certitude of Truth"…)
The neat thing about the anti-gay industrial complex is its convenient fluidity. Don't like all that vitriolic gay bashing rhetoric? Well just walk right over here where we don't do that. We =Love= the sinner. No, really! Think all that love the homosexual stuff is a lot of pussyfooting around what god plainly condemns? Well right over here we have all the fire and brimstone your cold little heart desires! God Hates Fags and so do We!
We can stick the knife into your gay neighbor's heart any way that makes you comfortable…with or without love.
by
Bruce
|
Link
|
Comments Off

on Would You Like The Knife Served With Or Without Love?