January 25th, 2014
Stare Fleetingly Into This Pit…
If your German is nonexistent or as poor as mine you will need Google Translate to read this Der Spiegel article but I highly recommend it, and then following the link at the end to the more in depth article on this man's life.
He signed with "Your Heini" or "Your Daddy": In Israel, according to a newspaper report hundreds of letters from Heinrich Himmler have surfaced. The documents were apparently kept for a long time in a private household. The Federal Archives considers them to be genuine.
[Note: Google translation awkwardness in this post was corrected freely by me…my apologies to native German speakers if I got it wrong.]
Der Spiegel comes right out and says without Himmler there would have been no Holocaust, and their reasoning is that while yes the Nazi leadership were violent antisemites and ultimately on board with the final solution, it was Himmler who kept pushing mass murder as a policy forward at critical moments, simply by virtue of his utter remorselessness. He kept going where others hesitated, or simply never thought to go at the time. And that was simply, chillingly, because killing did not stir him emotionally one iota. He was neither attracted to it nor repulsed by it. It was simply a thing he regarded as necessary. That infamous quote of his, "It is because we can do such as this and still remain moral men, that we are great" captures him perfectly.
He was no raving vein throbbing ranter. Der Spiegel says of him:
Himmler is not a charismatic figure like the coarse and abusive Röhm, no pulpit thumper like Goering and no rousing demagogue like Goebbels. Steaming mobs, hypnotized masses – this is not the world of apparatchiks with pince-nez. He has other talents: He's hard-nosed as Röhm, nerves stronger than morphine dependent Goering, and even more ruthless than the cunning Goebbels. This is where the evil hides behind the mask of the banal.
To the end he lived inside his own world, utterly disinterested in the human story beyond. To kill millions and then sit down to tea and cakes with your fellow Nazis as though nothing much happened, you need not to care that those people had lives, let alone thoughts and ideas of their own worth listening to. It is all just so much irrelevant static. A telling detail, according to Der Spiegel, is that after he'd concluded the war was lost he still believed he could work a deal with the allies to help keep the communists out of Europe. He bragged that after the war without him Europe would be in shambles and that he only needed one hour with Eisenhower to convince him of it too. But in the end he ducked down the same escape hatch Hitler did. I sometimes wonder if the prospect of killing himself moved him any more than the millions of others he killed, or whether in the end he simply did it because it was necessary.
I find it stunning there is not more written about this man who, in my opinion, even more than Hitler was the very heart itself of the Third Reich. That might be because the very banality of his person seems superficially to make him appear uninteresting. When you look inside the man, seeking to know what it was about him that was missing, that made everything he did possible, it stuns you to discover how little there is in there to begin with. And that leads to a very disturbing place, which may be the other reason he isn't widely written about.
The myth that won't die is the Nazis, and the War, and the Holocaust were possible because of an innate character flaw in the German people. It's self serving bullshit.  The reality more likely is that there are many Himmler's walking among us right now, right this instant. Quiet, prim, orderly men of orderly habits, and what they're missing only is the power to act on their belief of what is necessary for the greater good.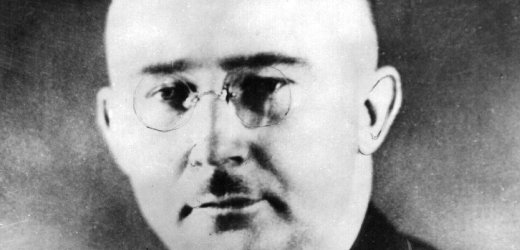 by
Bruce
|
Link
|
Comments Off

on Stare Fleetingly Into This Pit…