July 28th, 2010
Another Reason To Keep Processed Foods Out Of Your Kitchen
I'm beginning to regret my decision to buy a small chest freezer for Casa del Garrett last year. First it was my nephew, who went from a small, husky kind of kid into a lean and really handsome young man, simply by relentlessly cutting out all the processed food products from his diet.
He didn't go vegetarian, but every bit of meat he eats nowadays he buys as cuts from the meat department, not as a frozen ready-made entree, and he cooks it up himself.  Same with all his veggies…no frozen entrees, no canned or packaged this or that.   Nothing ready-made in his diet.  Nothing.  Everything he eats starts with the basic ingredients and he cleans, cuts and cooks it all himself.  And it made a big, no, an Amazing difference in his body mass and energy levels.
I've tried to learn from his example, but old habits die hard.  I still, for instance, feed from the bags of ready made french fries I keep in my chest freezer.  But since I went to visit my brother last year, and saw with my own eyes what my nephew's no-processed-foods diet has done for him, I've stopped buying TV dinners and other frozen entrees.  That's huge for me.  I am old enough to remember when TV dinners came in aluminum trays, and they've been an absolute staple of my diet for decades.  No more.
Just last night I discovered another reason to keep crap like that out of the kitchen: you never know who's making what you're eating…
HOLLAND, Mich. – A community group that is trying to make Holland more accepting of gay people planned to meet Wednesday, July 28, to decide how to respond to a full-page advertisement in the local daily newspaper that one of its leaders said included "blatant untruths" about gay people.

See the ad in its entirety here.

The ad, which was sponsored by the Family Research Council and Request Foods and published July 23 in The Holland Sentinel, made reference to efforts toward broadening the city's anti-discrimination ordinance to include sexual orientation and gender identity. The Holland City Council has referred the measure to its Human Resources Commission for review.

The ad stated that "pro-homosexual activists" were trying to give Holland gays and lesbians "special protections" under employment discrimination laws and called homosexuality a choice that is "harmful to individuals and to society."
The ad contained the usual FRC lies about gay people.  Alex McEwen over at Huffington Post details some of it…
To recap, The Top Ten Myths About Homosexuality is a fraudulent piece of work with many problems in regards to veracity including:

1. Ten Myths repeats the lie that the Robert Spitzer study proves that homosexuality is changeable, excluding the fact that Spitzer has said on more than one occasion that his research was being distorted.

2. Ten Myths utilizes the work of  the organization National Association for  Research and Therapy of Homosexuality (NARTH). The website Truth Wins Out calls NARTH  a discredited "ex-gay" fringe organization that peddles fraudulent "cures" for homosexuality.

3. Most importantly, Ten Myths intentionally distorts information to make it seem that negative behaviors, i.e. drug and alcohol abuse, are indicative of the LGBT orientation. The pamphlet accomplishes this by citing data in regards to the LGBT community and such negative behaviors while omitting the fact that much of the data places the blame on homophobia for these negative behaviors.
I'll only note in passing the FRC ad says on the one hand "homosexuals experience considerably higher levels of mental illness and substance abuse then heterosexuals.  A detailed review of the research has shown that "no other group of comparable size in society experiences such intense and widespread pathology."  And yet…  "Research shows that homosexuals actually have significantly higher levels of educational attainment then the general public, while the findings on homosexual income are mixed."  You have no idea how hard it is to be a pathological drug addicted substance abusing ivy leaguer and still manage all that hedge fund money.  I just don't know how I do it.
But note their sponsor.  Request Foods is one of those zillions of faceless little sub-contractors to the big food companies, whose products could be anywhere in the food chain and you, the consumer won't necessarily know it because they keep their client lists a Very Big secret.
What is known so far, is that Campbells Soup is one of their biggest customers.  But if you're thinking that Request's CEO Jack DeWitt is just a wee bit misinformed about his gay neighbors, some basically decent fellow who just happened to witlessly buy into FRC's steaming anti-gay crock-o-bigot-shit, let me show you the product Jack is proud to call his very own: Mary Ellen's Blessings at Home Frozen Entrees…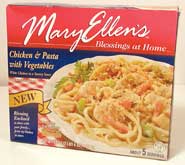 The frozen entree that comes with a little family blessing "table talk" card that families "can use to start discussions during mealtime." Sweet!
The Mary Ellen's brand and family of products are the brainchild of Request Foods President, Jack DeWitt and his wife Mary (Mary Ellen DeWitt). "Mary always wanted our family to be together at dinner time. It's where many of life's lessons are learned. We would share our feelings and make time for one another, even on the busiest days. People are so busy today, taking kids to soccer practice and band concerts. Dinner ought to be a time when everyone can sit and talk and enjoy a healthy meal together," explains Mr. DeWitt.

The "table talk" cards were developed by Dan Seaborn's ministry Winning at Home, whose primary focus is to provide every family the joy of "winning at home." Seaborn is an international speaker, author, radio commentator and pastor. "With all the studies affirming the importance of family development, Request Foods, with its introduction and expansion of Mary Ellen's Blessings at Home, is in the forefront of a rising new strategy to assist and strengthen families," Seaborn said.
It's not just the food that's processed, sterilized, pre-packaged and frozen, it's the piety.  Pity the poor kids whose parents buy this…food product.
The response to Mary Ellen's Blessings at Home has been incredible! John from Illinois says: "As a single father of two teens, many times I don't find time to prepare a good meal. I serve frozen meals at times to help with meal planning and time management. We found the product similar to a recipe we enjoy. I will continue to buy your product, as it is a food item we would buy anyway, but now we have the thoughts on the cards to look forward to. I'm off to check out your website, imagining how many families will be blessed by your message and how many will turn to God because of your witness."

Joe from Georgia writes: "My wife and I were doing some grocery shopping in Wal-Mart and picked up one of your entrees. We got home and opened the box and out popped this card with Scripture on it. I was amazed I read it to my wife and began looking closer at the box. It had one of my favorite Scriptures on it (Proverbs 3:5-6). We enjoyed the meal, and we will be going back for more of Mary Ellen's entrees because we were so impressed that you and your company have the courage to be open about your relationship with Christ. You're a witness to others who desperately need to hear about Him today. It was good to be reminded that I need to order my day so my family and I can have some quality time together at the dinner table."
Well if I was a kid in those households I know I could hardly wait for dinner time…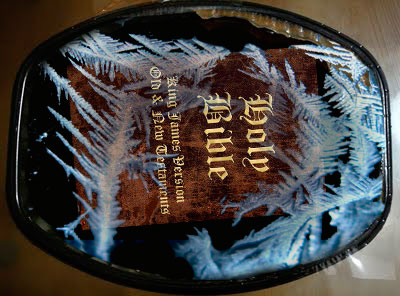 …to End.  But Request Food's motto is We make your brand…Better...  So I guess even Jesus's own words can be improved through the latest techniques in processed food manufacture.
Request Foods is one of the nation's largest custom-prepared frozen food companies. Their mission is to honor God in all they do, to help people develop, and to pursue excellence. "It is our hope and prayer that Mary Ellen's Blessings at Home entrees will bring busy families back together to share the blessings of a home-cooked meal and the fellowship of each other's company," said Mr. DeWitt.
I have a suggestion.  If you want to bring families together Mr. DeWitt, you can start by healing the wounds you've been gouging with your bare hands into families with gay family members.  Then start healing the wounds you've slashed into your community.  We are your neighbors Mr. DeWitt.  Stop spitting in our faces.  At least stop expecting us to thank you for saving our immortal souls while you're teaching our families to hate us.
And…if your goal is "to encourage confident, creative team members by demonstrating respect for every individual", and that "maintaining a supportive working environment enables everyone to work to their utmost potential", you can start by assuring you gay employees they won't be tossed out of a job simply because they are gay, and further, that you don't actually think they're the human garbage that FRC ad and its supporting pamphlet says they are.
And…if you want your "…team members to think of their positions as gratifying and enjoyable." you can at the very least tell your "team members", your gay employees, and their co-workers, that they're not working for you just to earn you money to give to the FRC so they can spit in their faces.
And finally…how does someone turn the bible into a collection of frozen entree dinner time fortune cookies and lecture their neighbors about the quality of their private lives with a straight face?  You got lucky numbers on the backs of those cards too?  I strongly suggest you pay a little less attention to the care of your neighbor's souls Mr. DeWitt and start looking hard at your own.  It's clearly been neglected for a long, long time.  In fact it's looking a tad…frozen.
by
Bruce
|
Link
|
React! (1)