May 30th, 2008
Gracias
As we walked toward customs at the Puerto Vallarta airport my friend Joe turned to me and said "Welcome to someplace other then the U.S." It was the first time in my life I'd ever set foot outside the country of my birth, and what was going through my mind at that moment was "I don't speak a word of Spanish." That's not entirely true, but as all I can do pretty much is say 'Hello' and 'Please" and 'Thank you', it might as well be.
I'm finding now that I'm immersed in someone else's language that it's not all that bad. Hearing a language spoken all around me that I simply don't fathom isn't as frightening as I thought it would be. I'm actually likely to pick up on some more of it before I leave Monday. At least here in a tourist zone, people expect that not everyone wandering the streets speaks the language, particularly if you look like a Yankee tourist. And what I'm discovering is that it doesn't matter if I come off like a damn fool while trying to fumble my way to "let me know when you want to clean my room and I'll leave", with the guest house help. I'm a gringo…I'm not only allowed to be a fool, I'm expected to be one.
The people here are so friendly I feel completely welcome here. The only irritant is the tons of condo sales droids wandering the streets, all trying to grab your attention. No fooling, about every block you walk around here, particularly in the gay neighborhood, you get a sales pitch that starts how "Hola Amego!" They may offer to direct you to a nearby restaurant or get you a taxi or tickets to some show or event, but it always comes bundled with a pitch to get you to go look at some nice condo somewhere. We were warned coming down here to be careful to get a regular cab and not one of the independents, some of whom claim to be working for hotels, because you'll get a condo sales pitch all the way to your destination.
Here's the view I wake up to in the morning from my room…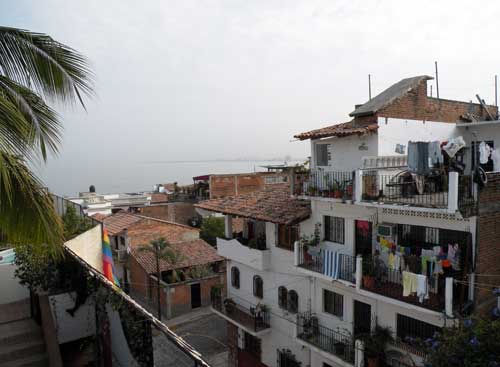 My room is to die for. If you go to the Villa David web site, it's #1…The Minx Room. I do not qualify as 'Minx', but the room is absolutely the best I have ever stayed in.
You really know you're someplace other then the U.S. when you can look out your window and see naked high voltage power lines less then an arm's reach away.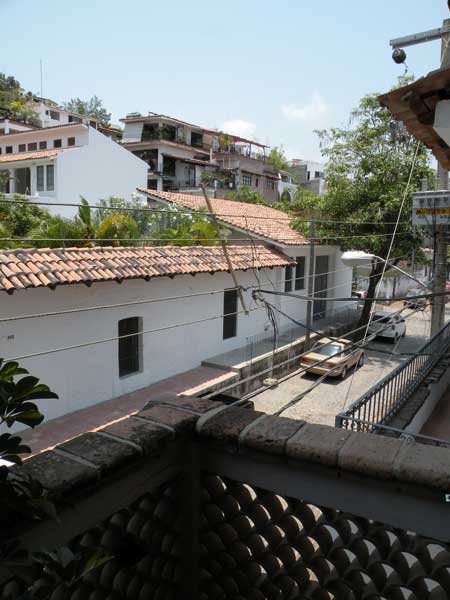 Look closely, and you can see how they tap the power for the guest house we're staying at. This ad hoc approach to everything seems to be the guiding principal here. And while I can see where it would become annoying, I'm finding it intensely enjoyable too. Something about the way things are just slapped together around here, and the near complete lack of traffic control, appeals to the inner anarchist in me. On the one hand I am in a place where I don't have the rights I do in America. There is no first Amendment here, no innocent until proven guilty. On the other hand, you have to like the way people here just get things done with what they have to work with. Germany and Switzerland this isn't. Judging by Puerto Vallarta, this country would drive a control freak absolutely nuts, very very quickly. In a way, you have to love that. Take your favorite control freak to Mexico for a holiday and tell them to loosen up a bit.
My infrequent trips to Manhattan prepared me, somewhat, for navigating the roads here on foot. Whereas in Manhattan the relationship between pedestrians and autos was just hectic, here it's positively anarchic. You Have to pay attention. There are maybe one or two stop signs in the entire town of Puerto Villarta and maybe as many traffic lights. I think right of way is determined by an informal game of chicken: whoever blinks first has to wait. I have never seen an intersection before in my life, where there is only one traffic light controlling one approach, and the other three are free to do as they damn well please.
Much of the old town is built on the hillsides over looking the Pacific and it is beautiful and charming in just the way you always imagined a real Mexican town would be. But they don't do switchbacks here. Even San Francisco does switchbacks. Not here. Here they just go straight up the damn hillside. No kidding, one of the roads to our Guest house had lateral grooves cut into the pavement so cars could get enough traction to climb it. I'd say it was somewhere between a 60 and 70 degree incline.
And these are narrow little neighborhood streets. The cars negotiate right of way on an ad hoc basis constantly, just as they do at intersections. The drivers here seem to have a second sense of how close they are to getting their sides scraped. Several times on the way to the villa, our driver came so close to the cars parked on the side of the streets you couldn't have put a credit card between us. When people park around here, I see them always folding their side view mirrors in.
The original Volkswagon Beetle lives on here in Mexico. I've never seen so many on the streets since I was a kid. Late yesterday afternoon I heard one wandering up the side roads next to our Villa, blaring something in Spanish out of two loudspeakers mounted on the roof. I walked out onto my balcony to look and figured the two guys inside were either advertising something or hawking some political candidate. They stopped at a nearby corner, and one by one people came out to them with their dogs. As I watched, one guy stepped out with a syringe and vaccine bottle while the other took notes on a clipboard and they gave the dogs shots of some sort. Maybe it was for rabies or some such.
Here's how they deliver gas here…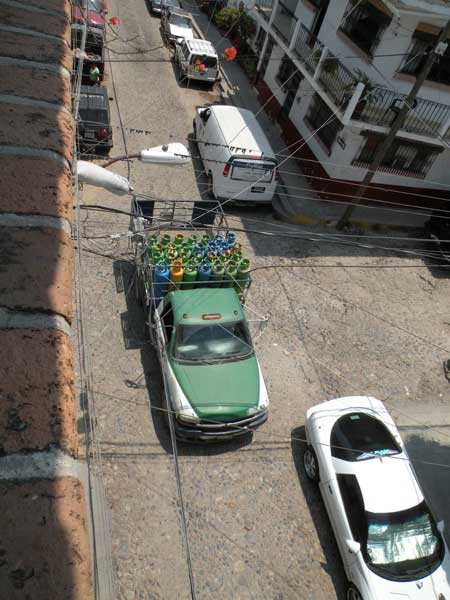 This was taken off my rear balcony a little while ago. The green trunk prowls around the neighborhoods like a damn ice cream truck. It plays a little musical jingle which is periodically interrupted by a male voice saying something that I reckon means "Propane", then it goes back to playing the jingle.
It's not as hot here as I thought it would be, but it is sweltering humid. Being a Washingtonian I am use to this kind of humidity, but it's early in the year for that for me. They say it's a dryer heat in the winter months. So yesterday and today I am avoiding the streets while the sun is high. The Villa has a nice pool I can soak in, and my room is on the top floor and it is to die for, with a lovely view of the town and the ocean on one side, and a balcony with a view of the town on the other. I get nice air flow all day long, and I turn on the AC at night mostly to dry the air out a tad.
Villa David is absolutely lovely! The pictures on the web don't do it justice. I could hang out here the whole weekend, but I want to explore some of the town with my camera too. My fear of being a stranger in a strange land is melting away. What I'm finding is that at least here in the tourist zones I don't need to worry about the language barrier much. That you are seen making an effort really does go a long way. At least in the tourist zones. And it's just a real trip seeing another people's take on living life. I'm having a lot of fun here…finding myself more adventurous then I thought I'd be so soon after arriving.
I'm coming to appreciate Puerto Vallarta as being a good place for a first visit outside the country. It's more authentically Mexican then (so I've been told) Cancun. But it's welcoming to foreigners, and there is enough English spoken here that I quickly became comfortable roaming the streets with my camera alone, and walking into shops along the way to browse and buy. All the shop owners know "How much?"
As I was walking along I noticed a blister starting to form on one foot under the pair of sandals I bought in Key West last Christmas. I didn't want it going any further so I looked around for a place to buy a bandage and disinfectant. I'm finding I can make out what most store signs in Spanish say because so many of them resemble English words, and I saw some word close enough to 'Pharmacy' on a sign above a little shop, that I figured it was the same thing as 'Drugstore'. Which it was. What I saw inside looked little different from a small drugstore at home, other then some brand names were new to me. The guy behind the counter said "Hola" and I greeted him likewise and said simply "Band-Aid"? and he nodded and took me over to a counter full of them. I picked out a small tourist size package and glanced at the price…twenty-three pesos. The exchange rate is close enough to 1 to 10 that I just move the decimal when I want to judge the value of anything here. Basically, that pack of bandages was $2.30. Fine. I took it back to the counter and was rung up. I handed him a fifty peso note and he handed me back a twenty peso note, a five peso coin and a two peso coin. My first all-by-myself purchase in a foreign land. Piece of cake. Mathematics and commerce are universal languages.
by
Bruce
|
Link
|
Comments Off

on Gracias