July 27th, 2016
Losing My F*cking Patients!!
So this happened this morning…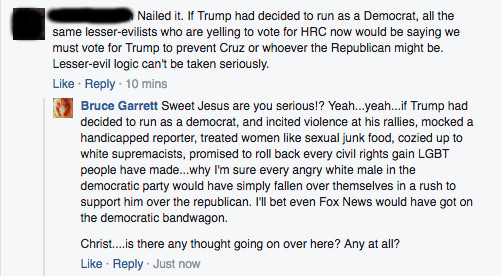 Once again, distilled from a previous post here:
If Trump wins, don't blame me I voted for… won't cut it. Don't blame me I voted for the democrat, I tried to stop him…, is only marginally better. But this is our country, all of us. We are all to blame for what it becomes. In a time like this, it is not enough to wave the flag and strike a pose.
I appreciate how it is that involving yourself in politics can make you feel morally dirty.  Perhaps this is why the old time protestant fundamentalists here in America so ostentatiously kept themselves out of worldly matters. But for those of us who care, and who cannot look away at injustice, that is not our destiny. At its best politics is still mostly compromise and consensus and you are presented with choices that you probably don't like, but can live with, in order to get one small good thing accomplished. At its worst it is a bitter knife fight in the human gutter where you find yourself making decisions and backing choices you desperately didn't want to make, in order to save ground you know you absolutely cannot afford to lose.

But that is our lot in life. If the fight to make this a better world isn't making you feel dirty, you are not in the fight. 
by
Bruce
|
Link
|
Comments Off

on Losing My F*cking Patients!!