October 16th, 2014
Don't Hate Me Because I Disagree With Your Right To Exist.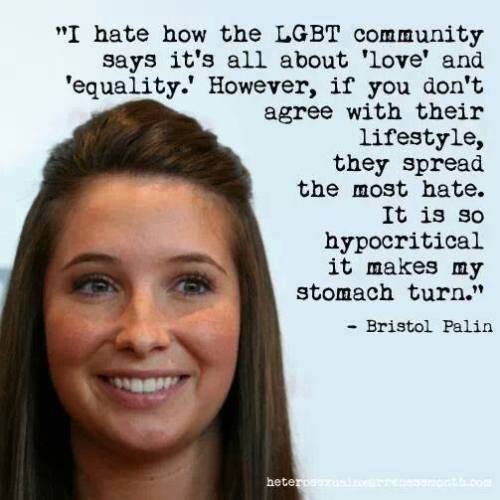 Yesterday after work I got into some old color slides I'd previously scanned in of a picnic I'd been to back in the late 80s with other members of a gay BBS system, and posted them to my Facebook stream. A bunch of folks in my friends list who were there, and their friends because I'd made the photos seeable to friends of friends, chimed in with details on faces I didn't recognise and reminisces. Many reminisces. Some folks in the photos had passed away and we remember them.  The rest of us had merely aged a tad and we remembered how it was back in the day when we were young. And for a wonderful few moments of life we could all be people. Just a bunch of folks remembering a lovely picnic we'd all once had together once upon a time. Thankfully those moments aren't now as few and far between as they were that day back in 1989 when we had our picnic.
This morning I see this fragrant old crap from Bristol Palin in my Facebook stream…probably bellyaching about the fact that same sex couples in Alaska can get married now, just like the opposite sex couples do…and I have to remember that the human gutter still can't see the people for the homosexuals, still regards all the decades it spent kicking us in the face as a mere disagreement, something we should all just take in neighborly stride.
Yes, we hurled every filthy lie about you we could manage during the Proposition 8 campaign, but you shouldn't be so mean and hateful to us. Yes, for decades we've waged a multi million dollar scorched earth political campaign to deny you equal rights, smearing you as child molesters, destroyers of the family and civilization and spreaders of disease and social decay, but you shouldn't be so mean and hateful to us. Yes we've incited violent religious passions against you here in the U.S. and now since that act is folding here, in Africa and Russia, where we tell anyone who will listen that homosexuals want to rape their children and destroy their families and their countries, and wherever we go we do our level best to see to it that gay people are brutalized, beaten and murdered, but you shouldn't be so mean and hateful to us because after all we are only disagreeing with your lifestyle. We have a right to disagree with your lifestyle.
Fine. We have a right to our lives. Understand this you pathetic bigots, bullies and cowards, the days when we suffered in silence in the closet are over. Those photos I posted to share among some old friends weren't just a bunch of homosexuals having a picnic; they were photos of a bunch of homosexuals who were using the emerging computer technologies to reach out to one another. And the day we started doing that was the day we no longer had to see ourselves through heterosexual eyes anymore.
I remember that transition time vividly. When I came out to myself back in December of 1971, everything I knew about homosexuals and homosexuality I'd learned from the heterosexual majority. Then came PCs and modems and in a heartbeat that all changed and we could talk to each other, could see ourselves for the human beings we actually were, not the monsters we were taught we were. And we stopped listening to the likes of you.
You think it's hateful of us to stand up for our own human dignity do you? Well we'll just have to agree to disagree about that. Now fuck off!
by
Bruce
|
Link
|
Comments Off