January 13th, 2014
The Long Memory Of Blood…
I see they're having trouble recalling how glorious World War I was Over There…
Germany yet to plan official WWI events

This year marks 100 years since the start of World War I, which began on July 28th, 1914, and lasted until November 11th, 1918.

The war saw the Allies, including the UK, France and Russia, fighting against the Central Powers of Germany and Austria-Hungary, resulting in more than 37 million casualties.

Although there is much debate over the start of World War I, Germany has been largely blamed for the outbreak of war and as a result has been closely scrutinized over its plans for the 100-year anniversary.

But Schäfer pointed out that the centenary was not solely a German occasion, although it had "a lot to do with Germany".

"What went massively wrong in 1914 also had a lot to do with Europe," he added.
Just the kind of thing to get the victors all riled up, that.  But one thing you have to bear in mind is who the victors in that war were, because it sure wasn't the families of those millions of young men who died in it.
By jingo, Gove's right – those leftie academics have hijacked the Great War

Now the centenary of 1914 has got going, we should do as Michael Gove suggests and celebrate the First World War, instead of taking notice of "left-wing academics", who complain it was a regrettable waste of life.

But yesterday morning, on the radio, they played an interview with Harry Patch, the last man alive who fought for the British in the war. Harry said: "Politicians who took us to war should have been given the guns and told to settle their differences themselves, instead of organising nothing better than legalised mass murder."

Who let him on Radio 4, the dirty unpatriotic left-wing academic? It was all right for Harry, swanning about the Somme with his Marxist intellectual friends, lazing in the trenches discussing "peace studies", but to really know what went on you have to rely on those with first-hand experience, people like Michael Gove. Because as he made clear, he's read a book on the subject and an article in a magazine…

…Those who fought were told that the war was against tyranny, dictators, terrorists, and to defend "brave little Belgium", all the usual stuff that justifies wars, as well as the "war to end all wars" line. Most of the survivors spent the rest of their lives feeling they'd been duped. But if only they'd read that magazine article, like Michael Gove, they'd have known the nightmares and missing limbs were worth it…
Seems the upper classes resent being blamed for that war.  But don't they always…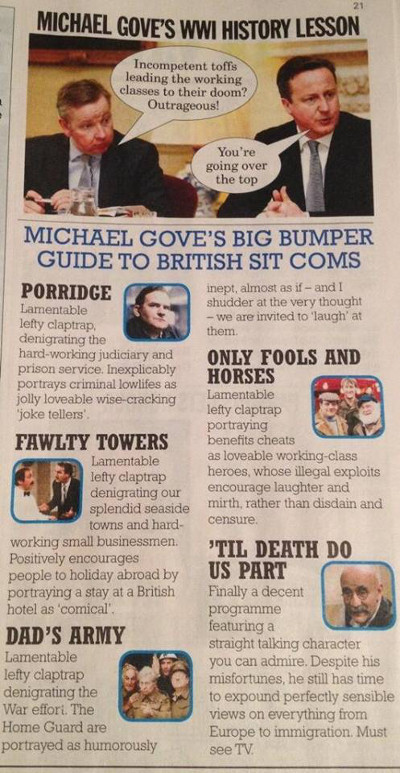 But if the European aristocracy wanted a war, let it be said they had a lot of willing young men ready and eager to go to war.  Der Spiegel is doing a series on the war that's worth reading. It begins by noting that 100 years after the war we are still living with its consequences.  Then it goes into the how and why of it as well as I've ever seen. They give the indifferent aristocracy's pride and arrogance it's due, but there's also this…
…Suddenly it became apparent that right-wing nationalist groups had been banging the drums for the fatherland in Germany, but also in Great Britain and France, for years, and that significant portions of the European youth belonged to paramilitary organizations…

There was a great willingness to go to war for one's country. In England, more volunteers reported for duty than the army could equip. Letters suggest what motivated the men, who were often spurred on by the thirst for adventure or the desire to prove their manhood in a seemingly noble struggle. "I think the war is magnificent. It's like a big picnic, but without the superfluous trappings that normally come with it," noted a British officer.

This notion began to dissipate within weeks. As in the days of Napoleon, the men stormed ahead, cheering all along — and encountered the weapons of the 20th century. Machine guns spat out up to 600 bullets a minute and field artillery fired shrapnel grenades in rapid succession, mowing down the infantrymen. "When a machine like that hit its mark, there was nothing but minced meat left over," a German soldier wrote in a letter to his family.

The dynamics of the industrial revolution had once brought Europe control over a large portion of the world, and now it was striking back…
It wasn't after all, just the upper classes leading the masses by the nose.
Sometimes I find myself reading the histories of the origins of that war and its consequences and wondering if in an equal amount of time we'll come to see the beginnings of world war II in the same light.  But no…the crucial mistakes of that war were in not taking the threat seriously enough, but the threat was real.  World War One it seems to me was a perfect storm of aristocratic ego and arrogance and a disastrously naive romanticized ideal of war that had apparently taken hold in young men all over Europe.  Why that happened I still don't understand…maybe it was always there in European cultures, or perhaps the human male psyche.  In his book "Defying Hitler" Sebastian Haffner writes that the majority of Nazi party recruits were young men too young to have actually fought in the war, and knew it only from newspaper dispatches that kept telling people Germany was winning gloriously right up until the surrender.  Those were the ones blindly eager for the next war to end all wars.  I remember feeling a chill as I read that as the 101st Fighting Keyboarders were at that moment cheering on Bush's excellent Iraq adventure, and the corporate news media was happily going along with the storyline.  Got a lot less glorious as time went on didn't it?
This poor world is still suffering the consequences of the war to end all wars, let alone all the other wars that came afterward.  Yet I lived through a time in my country's history when the people told their leaders they'd had enough of one war and it stopped.  Regrettably, but instructively, that one was followed by one in which, as in Haffner's Germany, so many young men who'd never gone to war had come to see it as a glorious thing, and couldn't wait for the next one.
All adolescents, but perhaps especially boys, need to learn the reality of what war does, not just to a human body but also to a nation.  When choosing books to feed high schoolers bear the following in mind: Tom Clancy's poor vision made him ineligible for service, Kurt Vonnegut was a soldier and prisoner of war during world war II, and as a German prisoner witnessed the firebombing of Dresden with his own two eyes.  Listen to the stories of men such as Harry Patch, and keep them close, because when the last soldier who fought dies there will be lots of older men, some rich and powerful others merely small, bitter and resentful of their own existence, more than willing to tell the next generation of young males all about how glorious war is, and that it will make men out of them.
by
Bruce
|
Link
|
Comments Off