September 16th, 2016
In This Wonderful Age of Social Media, Why I Blog
This graph I saw just now on Facebook says it all.  Mostly.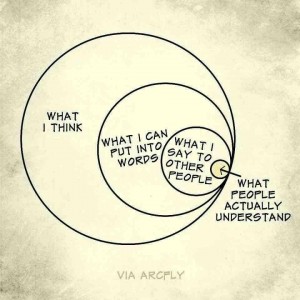 Why I blog.
I don't get interrupted in the middle of answering a question or explaining something.
I don't get told to make it brief. I can make it as long or as short as I feel it needs to be.
I can think about what I want to say, write it out, and then tweak it until I'm satisfied with it.
I can put it out there and not have to worry about what people actually understand; because some will and some won't but either way I got it out there and I'm happy with it. (This also applies to my artwork and photography)
People who think I'm over verbose or don't like what I have to say don't have to read my blog. Unlike how Facebook and Twitter decide what you will see in your newsfeed or tweet stream, you actually have to go visit my website to read my blog. It's an active not a passive activity. So if my words are not to your liking then you can completely ignore my blog and be welcome. There are cats and Willy Wonka memes out there you probably haven't seen yet.
It gives me a record of my life and thoughts I can look back on to better understand where I've been and where I am now.
Another reason I blog: It's taken me decades to claw my way out of the shell I left Jr. High School in due to bullying, plus that closet those of us who were growing up gay in the late 60s and early 70s inevitably shut ourselves into. And while I'm still not the free and cheerful kid I once was I'm better at just being Me now than I've been since I was a teenager. But some days when it feels like I'm being shoved back into that cocoon again for various professional and personal reasons, I know I can always turn to my blog, and my artwork, and get it out one way or another. This is how some of us, who've never found our significant other, computer nerds mostly I reckon, cope with trying to be understood.
I've said here before, this is a life blog. That's something blogs just were before they became a media for political expression. Nowadays there are probably as many blogs out there as reasons people blog. Facebook, Twitter and other social media have cut into what was for a while a vibrant blog culture based around blogrolls and readers, but for those of us who have a need to get it out there in our own voices blogging is still an ongoing thing. Just recently a writer I follow, Jim Wright, had a post he put up on Facebook taken off after some unknown jackasses complained about it. The post in question was a heartfelt and angry reflection on the anniversary of the 9-11 attacks, so you can see why it might not have been to everyone's liking. But Wright is a thoroughly decent man, a retired US Navy Chief Warrant Officer and he knows how to make himself clear even to nitwits. Eventually Facebook put it back up and apologized, but you could always read it on his personal website, Stonekettle Station. This is why it's a good thing blogs are still out here.
by
Bruce
|
Link
|
Comments Off

on In This Wonderful Age of Social Media, Why I Blog