April 7th, 2015
No You Are Not Being Forced To Participate In It. No, Not That Thing, The Other Thing…
On my Facebook stream just now…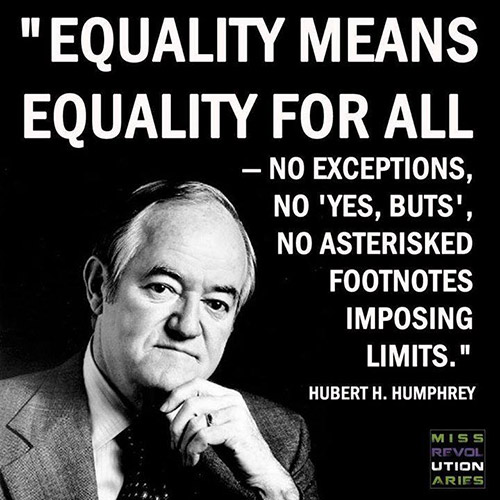 The complaining now is they're objecting to being forced to participate in a gay wedding. Please respect our deeply held sincere religious belief that your wedding is a fraudulent parody of the genuine love and commitment between a man and a woman. Do not force us to accept your counterfeit relationship as real. We are not prejudiced against anybody.  And so on…
Never mind for a moment the insult to same sex couples all wrapped in piety.  What they're being forced to participate in, against their will, isn't same sex marriage, it's The United States of America. You know…that place where on Main Street USA down at the corner store my money is just as good as yours.
Sure they could go somewhere else…somewhere the ruling government shares their sincerely held belief that homosexuals don't love, they just have sex and that needs to be stamped out or civilization will fall and God will rain fire down upon us. But the problem is those places don't have the nice perks you get from living in a civilized nation. Perks that come from having a diverse population whose individuals have the freedom to participate in the common marketplace regardless of their sex, race, creed or national origins. At least that's the ideal anyway, and to the extent this country has lived up to that ideal it has prospered from the work and creative energy you get from allowing people from all walks of life, some of whom might think a little differently to…you know…think a little differently. So the cake bakers and their defenders would rather stay here and enjoy the benefits of other people's hard work and creative talents without having to treat those people as neighbors, as fellow Americans.
Of course there are no homosexuals in the culinary arts. Of course they never contributed to the collective knowledge that is the artistic core of our business, let alone any of the other technology that supports it.
The concern trolls are out and about now, lecturing the gay community to not be so…well…militant in our struggle for equality. In the New York Times David Brooks reliably wags a finger and warns us we risk loosing our moral high ground by misusing our new found political clout. Well once upon a time in a different civil rights struggle the great political cartoonist Herblock had an answer to that…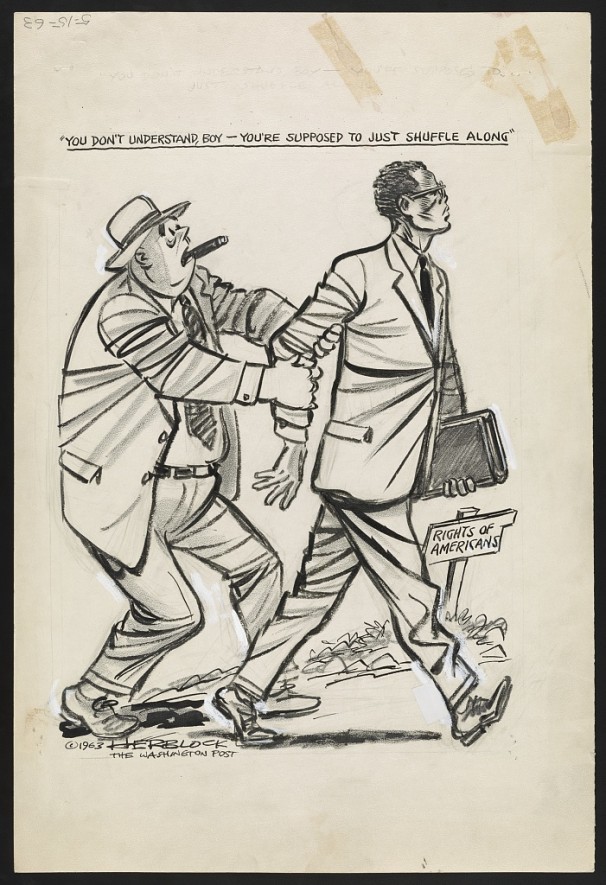 But the fact is it isn't our limited and disorganized political clout Indiana was feeling, but the disgust of heterosexuals who are getting really fed up seeing their friends and family being treated like dirt. Sure, blame the militant homosexual conspiracy, but it wasn't just us who raised that massive stink when Pence signed that bill into law, and you can tell it wasn't just us because this time the bigots had to back down, and they've never had a hard time sticking their thumbs in our eyes. But people are getting tired of it now. People with gay sons and daughters. People with gay neighbors and friends. People with functioning human hearts.
The Daily Beast had a really good article the other day concerning Anita Bryant and the Myth of the Militant Homosexual you should read…
The key to Bryant's "discrimination" strategy was to portray equal rights advocates as anti-Christian oppressors. She warned of "militant homosexuals who are highly financed, highly organized." Their true objective, she claimed, was not the right to hold jobs and buy houses. Since they were unable to reproduce biologically, their only hope of survival was "to recruit your children and teach them the virtue of becoming a homosexual."
What makes the David Brooks column so offensive is he's doing basically what Bryant did back in 1977, slyly riffing on that notion of a powerful gay cabal but without actually saying it. And of course we're all militants unless we're willing to stay in the closet and accept our pariah status among decent normal people.
If I'm remembered for anything I've ever said on this blog or elsewhere I hope at least it's this one thing: A militant homosexual is a homosexual who doesn't think there is anything wrong with being a homosexual. A militant homosexual activist is a homosexual who acts like they don't think there is anything wrong with being a homosexual.
That's it. That's really all there is to it. You don't have to march in Pride Day parades. You don't have to wave the rainbow flag. You don't have to stand in a protest line. All it takes to be regarded as a militant homosexual is you behave exactly like anyone else would when people who don't know you from Adam spit in your face, call you names, and treat the garden of your life as if it was their household trashcan. You react to that like anyone else would and Presto, you've become a militant homosexual, and never mind that your life and your interest in politics is pretty much the same as anyone else.
My chances for marriage are pretty much done with by now. I'm 61 and never even came close to having a boyfriend, let alone someone to settle down with and begin a life together. My life is almost done at this stage. I am single and alone. What I have to look back on, is a lifetime of fighting against the hatred that doesn't just spit in our faces, but which actively and with passion does its level best to destroy any possibility of love and joy the moment two people of the same sex take notice of each other and their hearts skip a beat. I've written elsewhere of how it's taken chances, so many chances away from me.  This is why I am still in the fight, even if the prize is lost forever to me.  I know the damage it's done to me, I'll be goddamned if I let it keep on damaging young hearts in love. If you think this is just a struggle over wedding cakes you are sadly mistaken. If you think it is a fight over same-sex weddings you are still not getting it. The same bitter venomous contempt for gay couples about to get married will with gusto act to prevent them from even setting eyes on each other given a chance. Ask me how I know. The hated Other simply cannot be allowed to love and be loved. Because love stays the course. Because love endures. Because love can move mountains. Because the last thing you want the scapegoat to be able to do, is move mountains.
by
Bruce
|
Link
|
Comments Off