April 23rd, 2014
Love The Sinner, Hate The Love
This link came across my news stream a few days ago…
As they say, "hate the sin, love the sinner"
It's one of those self excusing bromides that some of us in this struggle have been hearing for decades.  You wonder if the people uttering it even bother to listen to themselves saying it.  Because they sure don't hear us telling them that to hate our human needs and desires and demand we renounce them or face eternal hellfire and damnation is in fact, to hate us also…
The liberal evangelical Tony Campolo has called on Christians to love their gay neighbors as themselves, arguing that the Bible commands it, even as it similarly commands that gay sex is a sin. Campolo acknowledges the difficulties inherent in this seeming contradiction. Campolo told CNN, "I would say there's a significant portion of the evangelical community that, for lack of a better word, is homophobic, that is nasty and mean."

Campolo, like many religious Christians, believes the biblical standard is sex only within marriage between a man and a woman, celibacy outside it. He once recounted, "I can't tell you how many times people have said, 'I love your attitude, you've got tears in your eyes when you speak to me, you have compassion in your heart, but you're breaking my heart when you tell me that I am called to celibacy.'"
But it's not just celibacy they're demanding of us. Let's be honest here.  When they say love the sinner, hate the sin, as though having sex was all there was to our human need, they're tell us us that, after all, our sexuality is a thing easily cleaved from our selves, unlike how it is for heterosexuals, whom God made to join together in a perfect union of souls. Homosexuals don't love, they just have sex.  So just stop having sex…that's all we're asking, all God is asking.  But that is not all that is being asked of us.  What is being asked of us, Oh So Compassionately, is that we live our lives bereft of love.  And if you want to hear them trivialize our human hearts even more, listen to them say when we tell them this Oh I love my sister, or my brother, or my pet dog too, but I don't need to have sex with them.
NOM board member Orson Scott Card once said it outright…
"However emotionally bonded a pair of homosexual lovers may feel themselves to be, what they are doing is not marriage. Nor does society benefit in any way from treating it as if it were…"

"They steal from me what I treasure most, and gain for themselves nothing at all. They won't be married. They'll just be playing dress-up in their parents' clothes…"

-Orson Scott Card, Homosexual "Marriage" and Civilization
However emotionally bonded a pair of homosexual lovers may feel themselves to be…  Homosexuals may speak of love, but they don't really know what that word means. They're confusing a distorted sexual desire with the higher nobler emotions heterosexuals feel toward their mates.  Sin does that to a person.  We're only asking them to stop having sex. You'd think we were asking them to cut their hearts out.  The sin of lust has distorted their feelings.  We heterosexuals after all, know that sex does not define a person or a relationship.  Love is about more than sex.
And so it is. It's often argued that gay couples cannot rise to the level of marriage because they don't produce children, and marriage is mostly about family life. But this argument is a sham, and it mirrors that other sham argument that being homosexual is not a sin, only engaging in homosexual acts is. If only the homosexuals just didn't have sex, they could be welcomed into the kingdom of Heaven too…just like the rest of us. But heterosexual couples medically or by age incapable of having sex, are as welcome to marriage as they are the Kingdom and nobody in the love the sinner hate the sin camp is saying that same-sex couples can marry as long as they don't have sex.  Oh goodness no.
Heterosexual couples that stick together even if they are denied a sex life are seen as vindicating the power of love. That is why sterility among heterosexuals is no barrier to marriage. But the homosexual couple that fights an entire lifetime for the right to marry is waging an attack on God almighty, and on love and marriage and family and all human decency, whether they can have sex or not.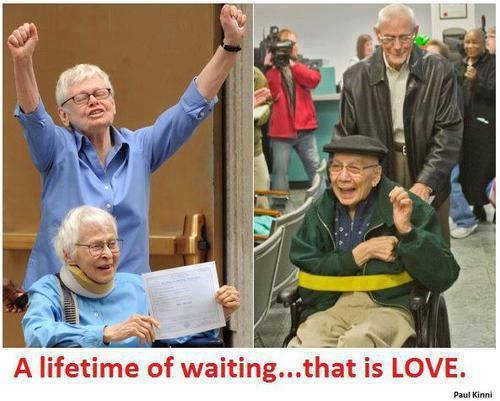 However emotionally bonded a pair of homosexual lovers may feel themselves to be…  In 1983, Sharon Kowalski suffered severe brain injuries in a motorcycle accident leaving her unable to care for herself. Her lover, Karen Thompson, with whom she had exchanged wedding bands and shared a house, had to fight a long and bitter legal battle with Kowalski's parents, who refused to allow Thompson any contact at all with their daughter. When Sharon, with difficulty, typed her wishes to go back home with Karen on a keyboard provided by a doctor, her parents took the keyboard away. At one point, Donald Kowalski, Sharon's father, asked a reporter in exasperated frustration "What does that woman want with my daughter…she's in diapers!" For almost nine years Thompson fought it out in court with Kowalski's parents, refusing to let the woman she loved be condemned to life in a nursing home where she would be kept isolated from the world outside and denied any therapy that would have allowed her to communicate her wishes to be taken back home to Karen. When she finally won, Donald Kowalski called her an animal.
What does that woman want with my daughter…  We are not the ones who do not know what love truly is, but we know perfectly well what bigots think sin is…they've been telling it to us for decades, for generations.  A same-sex couple who cannot have sex would if unrepentant about their desires all the same, be ineligible for the Kingdom of God, let alone marriage. It's not about the Act, if not engaging in the Act makes no difference. Their crime is that they love, and love is not permitted to homosexuals.  When they say love the sinner but hate the sin, it isn't homosexual sex that they're calling sin.  The sin is that we love.
by
Bruce
|
Link
|
React!