October 27th, 2017
Dreams Stitching Together Random Parts Of Your Life
I was having an odd dream about Woodward, my old high school, last night. I was in a Greenbelt hotel staging myself close to Goddard Space Flight Center because I had to be there bright eyed and bushy tailed first thing the following morning to get my fingers printed for a security clearance level change. The significance of that being that I wasn't in my usual bed in my little Baltimore rowhouse, and that not being where my sleeping body expects to be often provokes strange, vivid dreams.
I actually have pretty regular dreams about Woodward and they're always pleasant, as opposed to the dreams about my Jr High Schools. But even the high school dreams can drift into strange territory, particularly if I'm dreaming that I'm a teenager again. That strangeness will manifest itself in how images of the life I have now as an adult merge…weirdly…with memories of the past. For example: bits a pieces of the neighborhood I'm living in now, or places I've visited since high school, showing up in the neighborhood around the school. At this stage of my life I often have dreams where I'm back at the apartment complex I lived in during high school, but it has bits and pieces of every other apartment complex I've ever lived in added to it. While you're in the dream this does not seem strange, but then you wake up and it's a bit mind bending. 
Last night was like that. I was wandering around the hallways, and it seemed as if Woodward was being emptied of everything inside of it. But it was also full of elementary school kids and their teachers who seemed to be having some sort of community event in the old school building. It made me sad to see almost all the furniture gone, as if the building was about to be torn down, which was very odd in retrospect because news from Rockville lately is they want/need to expand Woodward, not close it, because of enrollment figures that the larger school down the street, Walt Whitman can't handle. Further adding to the effect was the floor tiles seemed to have been taken up and I was walking over old wooden planks. The dream was so vivid I could feel the old wooden plank creaking a bit under my feet as I stepped on them.
Okay…I know where that one came from. I moved out of a storage unit I'd rented for the summer and that building, cobbled together from one very old city warehouse and a newer more modern building attached to it, had those exact same old wooden floors.This is how my vivid dreams weirdly mix and match details from out of my memories. So Woodward got the floors from my storage room. The part about how it was full of kids and teachers celebrating something I'm still thinking over. There were also all kinds of artwork on the walls of the sort you see in elementary school hallways…paintings paper mache art, paper collages. It was all bright and cheerful but set against a dark background of a place I dearly loved being vacated.
In my dream I wandered about the hallways, slightly afraid that one of the adults there would challenge my presence. What are you doing here? Whenever I passed someone in the hall I just acted like I belonged there, that I had some purpose I was attending to, and nobody bothered me. Eventually I passed a classroom where a certain someone used to sit at the end of a day, during the tail end of my junior year. If I passed by and he was still there I'd peek apprehensively in as I walked by. If you've ever watched that wonderful little animated short In A Heartbeat…I was Sherwin…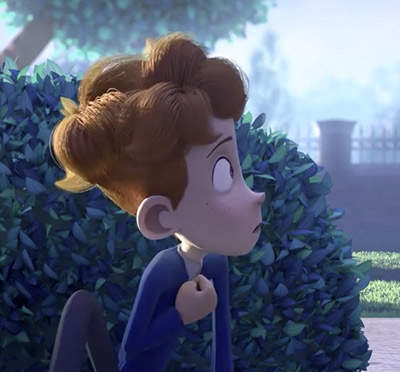 …beguiled, utterly clueless, unsure and more than a little afraid to acknowledge what I was feeling then…only that the sight of him made me smile, made the sun shine brighter, made the stresses of my day rest lighter on me…
Now the classroom was mostly empty. I walked in to stand where the desk he sat at was. Inside were a few objects of the kind you get at the very end of moving out…little odds and ends that for one reason or another didn't make it into a box or the moving van until the very end. The last remnants of what was once there. If the heart is a house… A few small boxes sat in corner, next to a board leaning up against a wall that might have been part of a bookshelf. I wanted to see what he saw out the window while he sat there…for some reason in the dream that seemed important. So I looked and what I saw was a stunning view of one of the tall narrow rock walls in Arches National Park…I'd once hiked to a spot where they were visible…again, something out of my past. But it wasn't in Arches, it was here just outside of Woodward, and surrounded by a lush forest around its base and flowering bushes. The sun was low on the horizon hitting it, casting it in a lovely reddish glow.
My jaw dropped. It was stunningly beautiful. And…because in dreams your mind isn't quite all there…I thought to myself, Is that Sugarloaf Mountain? No…can't be…that's all the way out in Comus…
…and then I woke up, and I was in Greenbelt, and it was nearly morning and I had to go get my fingers printed…