September 13th, 2016
The Man With No Conscience Rides Into Town…
I see the new Clint Eastwood movie is getting its first reviews beyond the right wing swamp…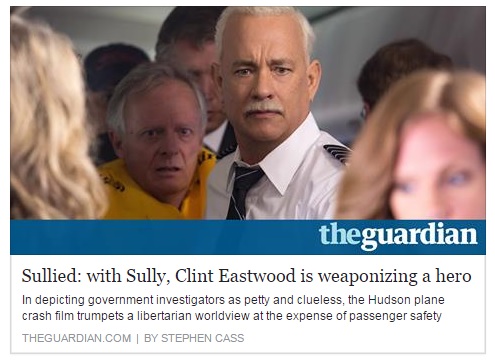 Sully is, in theory, based on Sullenberger's 2009 memoir Highest Duty (co-authored with Jeffrey Zaslow). "Until I read the script, I didn't know the investigative board was trying to paint the picture that he had done the wrong thing. They were kind of railroading him," says Eastwood in one promotional trailer. It's not surprising Eastwood was ignorant of any railroading by the National Transportation Safety Board (NTSB), since it's a narrative absent from Highest Duty, or anything actually said or written by the NTSB.
Go read the whole thing to see the takedown of the movie's central lie.  This movie laughs in your face and lies to you. There's just no other way to put it. Its central fact, that the National Traffic Safety Board tried to railroad pilot Chesley "Sully" Sullenberger and co-pilot Jeffrey Skiles, is a lie. A damnable lie.
But a lie you could see coming in the first trailer released for it. This is Talks To An Empty Chair Eastwood telling the audience in the Fox News cocoon everything they want to hear about how evil the federal government is. In the process he's turned people who lived these events into stick figures in an antigovernment morality play, meant not to tell the story of an American hero but to encourage Americans to fear and mistrust their own government. Eastwood spits in the faces good people who work diligently every day to make travel safer for all of us. Because in the libertarian mindset, a government that can require corporations to care about anything other than  profit, such as customer safety, can only be evil.
It's a damnable lie, easily seen for what it is with even a cursory  fact checking of the sources. But Eastwood knows his audience. They don't want facts, they want their bigotries validated. Even if it means that someday the aircraft they're on crashes and burns because CEO compensation mattered more than their lives, and lawsuit settlements were seen to be less costly than fixing a potential life threatening problem.