June 16th, 2016
The Ball And Chain You Let Them Put On You
This came down my Facebook stream earlier…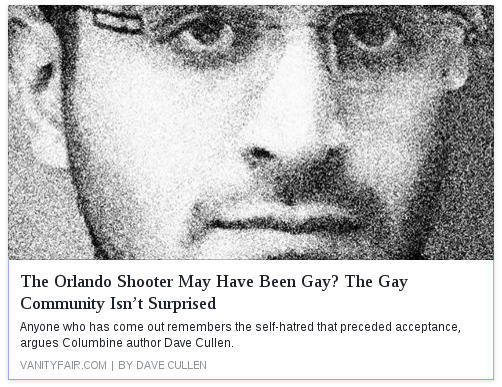 Is it hard to picture a troubled gay guy lashing out at his own kind? When you hate the gay, it's much easier to attack it in other people than to face down your own demons. Craig Ferguson has been repeating a joke for years that goes something like this: What would we do without gays? Who would design all the clothes? Who would arrange all the flowers? Who would pass all the anti-gay legislation? He always gets a big laugh…
I never hated myself. I came out to myself in a rush of first love and it honestly felt like the most wonderful thing that had ever happened to me. Like all the silly love songs and poems, the stars seemed to shine a little brighter, the birds in the trees sang a little more sweetly, and I walked with a lighter more carefree step than I ever had before. It was wonderful. But the wound ran deeper than I thought.  
It was the iron ball and chain of low expectations regarding my place in the world, which I would always excuse as my simply a not having a very competitive nature. I never tried very hard to make a place for myself in the realms of my first loves, cartooning, painting and photography. I kept my artwork to myself, and those few times I did venture out to try and market myself, or find work as an illustrator or photographer, I barely knocked on the door, accepting the first rejections I got as final. In retrospect something very deep down inside of me seemed to know I'd never be accepted in the lands of my dreams. I had no clue what I would do for a living, accepted that I would always have a low income life, going from one menial job to another, renting rooms maybe in other people's homes if I was lucky, but never a place of my own, never a good job that I loved. That was for other people. I never bothered somehow, to examine why I felt that way very closely. I had an assortment of ready excuses. No college degree. Not very good at self marketing. Maybe I just wasn't as  talented as I thought…  
I stumbled into my career as a software developer purely by chance; the PC and dot-com booms created such a booming job market that anyone who could code even a little was fairly dragged into it. I had a knack for logical thinking that enabled me to figure out how to turn requirements into software, even if it never dared look within as to why I felt so unlikely to succeed at a career. Right from the beginning I got praise for the quality of my work, rose in skill and wage level from one job to another, and ending up working at Space Telescope making six figures. It was a dream come true it seemed. Deep down I was completely scared I didn't deserve any of it. I think it was only when the director of the Institute handed me a special achievement award at a ceremony a couple years ago that I finally began to really believe I belonged there, among those other highly skilled professionals. I was 60. Somehow it's still harder to acknowledge to myself that I'm one of them than it was to admit to myself that I'm gay. It still feels pretentious. I have a little Baltimore rowhouse now, in a city neighborhood that is on the rise, and a nice car, and a dream come true job. And my first dreams are all buried in the past. I pursue them now in my basement art room in my spare time.
And then of course, there's how low self esteem impacts your love life. Some folks just write love off altogether and dive into the one night stand no strings no complications scene. Others of us just stand quietly in a corner with a flower in hand and hopeful expression on our faces and the unkept look of people who forget sometimes to take care of themselves because they know somehow it doesn't matter all that much. Please love us. Please don't break our hearts. But the heart was already broken even before you came out to yourself, in that first moment when you flinched away from knowing. Gay Pride only goes so far healing the wound. You have to work at it, you have to dig down deep to really get to all the subtle little places where it still exists, still hurts still holds you down.
If you've never heard the term internalized homophobia, and it seems slightly odd to you, welcome to our world. It's second nature to every gay guy, to the extent that few of us ever completely erase it. Vestiges linger, and catch us off guard when they rear up in awkward moments, decades later…
I never hated myself. Never. But deep down I have always felt like I was standing on the outside of life looking in. You really see it in my art sometimes. Internalized homophobia isn't always a kind of murderous self hate as it apparently was for the author of this piece. I've seen that in other gay people. I think we all have. It's a real thing. Sometimes though, it's just the ball and chain on your soul that you just got used to, until you stopped even noticing it was there, and how much of the precious joy of life it was taking from you.