October 12th, 2015
Without Compromise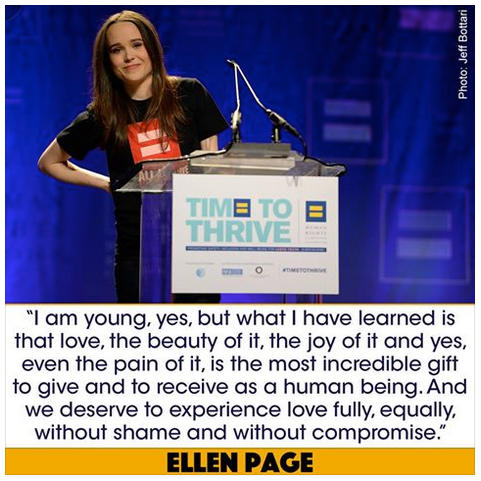 "If we took just five minutes to recognize each other's beauty instead of attacking each other for our differences—that's not hard, it's really an easier and better way to live. And ultimately, it saves lives. Then again, it can be the hardest thing—because loving other people starts with loving ourselves and accepting ourselves. And I know many of you have struggled with this, and I draw upon your strength and your support in ways that you will never know.

"And I am here today because I am gay. And because maybe I can make a difference to help others have an easier and more hopeful time. Regardless, for me, I feel a personal obligation and a social responsibility. I also do it selfishly, because I'm tired of hiding. And I'm tired of lying by omission. I suffered for years because I was scared to be out. My spirit suffered, my mental health suffered, and my relationships suffered. And I'm standing here today, with all of you, on the other side of that pain. And I am young, yes. But what I have learned is that love—the beauty of it, the joy of it, and yes, even the pain of it—is the most incredible gift to give and to receive as a human being. And we deserve to experience love fully, equally, without shame, and without compromise. There are too many kids out there suffering from bullying, rejection, or simply being mistreated because of who they are.
Full text of her speech at The Human Rights Foundation conference Here.